Communication - 93% is Body Language!!

United Arab Emirates
February 1, 2012 2:20am CST
I was watching this interesting documentary on Body Language. Only 7% is what we communicate through words, 93% is communicated through actions,signs,looks,facial expressions,gestures,postures and more than 3000+ types and ways of expressing.. We may not pay much attention but body language does speak alot about a person and what they are really trying to say. Have you ever payed attention? After watching this video the only person I can observe it my husband and yes, it does make a huge difference! Technology is come so far that there are experts who can tell exactly what the person is saying non-verbally without having to say it from the mouth!! So what do you notice?
8 responses

• Philippines
1 Feb 12
Hi Sis

Yes I think I have to agree with that. Whenever I feel hurt or irritated with someone and I cannot say what I feel for the reason, I don't speak so lively and happy. I will not talk and can't even force myself to smile. I would rather go somewhere or sleep until my mood is okay again. So, I guess when someone seems so quiet and we know that this is not his/her normal self, then it's a clue that s/he is in a bad mood or angry at you.

• United Arab Emirates
1 Feb 12
Hello Sister "Hugs"? Are you back? I hope your doing good :D ! So happy to see your response.. Well true sis, that often when we are upset,angry,moody,irritated,lying,afraid we show these emotions instantly and we cant hide them or fake them no matter what. Even if we are giving a fake smile and we are sad from inside there will be a body movement that will show we are sad. Maybe our eyes are not wide open, or are hands are moving in a unusual way. So there is always a loop hole that tells the truth about what is actually going on. We normally day to day lives dont take that seriously or even take the time to notice it. But its very crucial at certain stages of life! So its important to keep a good notice on the body language as well as words! after all 93% communication is actually done through body language! Cheers my Sister, Thanks for the response, Take care!!

• Philippines
1 Feb 12
It's okay dear Sis I used to have typo errors too

Yes I am finally back and doing good. One changes in me is that I feel so sleepy at 10PM already now it's gonna be 11PM in 10 minutes, and I feel really really sleepy. Maybe because in a week I did not spent time in front of the computer and sometimes we sleep a bit early and just sleep late when we are chatting a lot. Yes it is hard to fake whatever we feel. It will show in our facial expressions/body movements. A friend of mine once told me after telling her my heartaches, that she noticed it on my photo that there was something different in me... in the way I smile, my aura... so she said it really shows in my face even if I am smiling that I was going through something.


•
1 Feb 12
Maybe but only if what you say is content free as is the fashion. all the best urban

•
2 Feb 12
Yes, the empty blather that many indulge in all the best urban

• Philippines
1 Feb 12
oh yeah.. i saw this in one documentary done in discovery channel and it takes a pro and it takes someone who really knows a person to say if that person is lying or not. =) i think to be able to know this is really good and it would be wonderful to see and decipher a person's thoughts through his actions.

• United Arab Emirates
1 Feb 12
Hello Chiyosan, Well I dont know which tv aired it but I saw it on youtube so it was really fascinating. It shows us how much people can play with their words, but body language speaks the truth always no matter what. Because what you are, you cant hide it no matter how much you want to act it out - there is always a small hint you leave by. Thanks for the response!

• Philippines
1 Feb 12
I really like to observe people especially on how they act and the way they talk.Yes it's true we can know a person on how they react on things and in a situation and how they would deal about it.This is what it goes Action speaks louder than words.Happy my lotting!

• United Arab Emirates
1 Feb 12
Hello Alquizar, Well that is what my mother says!! That be careful what you do, where you look and what you put on your face because action speaks louder than words! there are people who are very observant and that is a good thing.. my husband is like that but sometimes his observing is wrong! Thanks for the response Happy Observing!

• India
1 Feb 12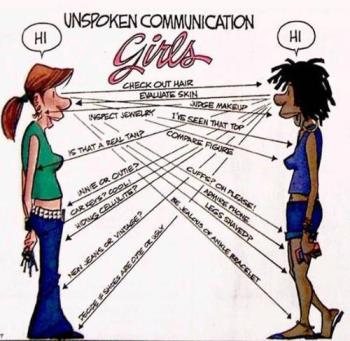 Hi dear.. You are right. Our gesture and body language exposes our thoughts more times than out verbal communications. An teacher from education department told me this fact years ago. What i notice? the picture attached here will tell you a lot......

Have a nice time.

• United Arab Emirates
1 Feb 12
Hello Dear, Well Yes but we tend to ignore them and most of the time such ignorance can cause us alot of damage. For example of some guy is lying to a girl about loving her or cheating on her. Or if some business man is conning another business man.. it could make a lot of difference. Also political leaders they are the best in changing their body language to appeal the eyes of the people, they are not their natural self because they lie so much!! Thanks for the picture! I'll check it out! Cheers Thanks for the response!

• Netherlands
1 Feb 12
What I notice is that most people, esp. men are blind for body language. Plus that those 7% we all hear is weighted way too much if this is really such a small amount of the whole communication. It also means that calling, texting, chatting and emailing is useless/worthless if you can't see the body language. I also wonder how people can have so many fights just about 7% or way less of what we communicate about. Also many people are forced to talk. No matter if you like it or not. If you don't like to talk people are not able to see what you mean (or they find you weird or say you are probably in a bad mood or bored or not cosy enough). I don't agree that it's technology that makes it possible to tell exactly what people mean. We already know that people who are used to lie never will be caught by any machine or human being. We also know that it's seldom true that a liar is nervous so you can catch him/her by that (liars are seldom nervous). We also know that it's the liar who has a solid story and an answer to every question (not the honest person). I think many of us forget about the body language. I also think words seldom are counting, better listen to the kind of voice, is it emotional or not, does it sound sad or aggressive, is there a warning or threatment in the voice.. this can tell you way more as words can.. or a good looking person can (don't let yourself be fooled either by what people look like).

• United Arab Emirates
1 Feb 12
Hello Kitty, Thanks for your nice informative response. Well you are right that when we are talking on phone, on the internet we are not able to see the body language which makes a huge difference because often looking at a persons facial expressions you can make out how he or she is really feeling. But the truth is that many of us dont focus on the body language. We just dont see it as something so important, so we ignore it. Its very important because as I watched the documentary there were many who lied and people accepted it, the experts pointed out exactly what the body language is saying and that is how it turned out to be. Ofcourse there are thousands of ways to see body language not just by facial expressions, but eye movement, eye brows movement, hand movement, etc etc.. So its not a lie detector, there are people who have given their whole life studying human behavior and that is why they are known as experts. Many politicians hire such experts to ask to exactly what to do so that the public will see a good image and accept what they are saying, that is how they fool us! Hilary Clinton is a big example, they documented her well over time and how she changed her body language and how she was being coached it was not natural because she was not saying it from her heart. I am so interested in this, that I am doing more research on it. Cheers my friend, Happy Observing!

• United States
2 Feb 12
I notice if someone doesn't look me in the eye or pulls away from me out of shyness. It lets me know how experienced they are and what they've been through within reason. Also shows how much confidence they have in what they're after and how much they're into you.

• United States
1 Feb 12
I am definitely trying to instill the importance of body language into my children. I try to stress that it's cool to stand up straight, and look people in the eye when you are talking to someone. That it is cool to carry yourself in a manner that requisits respect from others, whether you are a stock broker, or a skater. Great discussion.