Spammer Without A Clue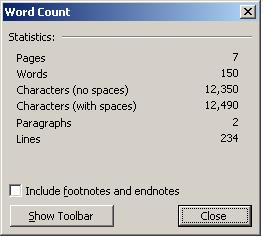 February 2, 2012 7:39am CST
Excuse the little play on words with the "Rebel Without A Cause" title, there. I just received the most completely clueless blog comment spam I have ever seen. Seriously. I pasted it into Word just to see how ridiculous it was. It's 7 pages long, consisting of nothing but URLs about enlarging your man-bits: 234 lines with over 12,000 characters. I posted the resultant screenshot (not the URLs, just the stats) so you could have a chuckle. Now... my question is: does this person actually think that, even if their comment somehow made it onto my blog (not a snowball's chance in hell of that), visitors would actually pay any attention? I mean, it's not like it's even an advert. It's just a 7-page-long list of URLs with no description, no content or anything. What could the spammer possibly achieve by having all that junk on someone's comments? And before you ask, no - I don't have dofollow links, so it's not even for link-juice. This is spam-marketing reaching new heights of stupidity, in my opinion. That is, unless I'm missing something that makes the activity somehow worthwhile. Anyone have any idea why they'd do this? I can't figure it out.
9 responses

•
2 Feb 12
i don't really have any idea why anyone does it, but i used to have a very strange relationship with someone, i won't bore you with the details, that used to send me very clever spam emails when he was annoyed with me. and they were very clever, but annoying, but they were also funny, so i would be both annoyed but laugh. but he had no expectation that i would buy anything he sent me a link to, it was just his way of expressing annoyance with me. maybe someone is just doing it, not intending to persuade anyone to follow a link, but just as a sort of attention seeking, weird way of being annoying, or something. maybe they are someone who would secretly like to do what you do, but can't. people do strange things.

• United States
2 Feb 12
Oh good, I'm not the only one who thinks spam is sent by annoying people. Because really, who else would send a girl an offer to enlarge non-existant body parts and guys birth control?

•
2 Feb 12
yes, i am sure it is done to annoy, rather than genuinely intended to sell, even when it comes from people i don't know.

• Bandar Lampung, Indonesia
2 Feb 12
I have a few ideas : -- The poster was absent-minded and posted a list of personal bookmarks in your blog instead of a comment. -- Your blog was about "enlarging your man-bits" and he wanted to complete your links. -- The poster is one responder here, and he made it to see if you would use its educative post to start a discussion.

•
2 Feb 12
"The poster was absent-minded and posted a list of personal bookmarks in your blog instead of a comment" - that's brilliant.


• India
3 Feb 12
I agree with topffer... He might have the first one Out of confusion!There might be surfing several website at that time.I don't think anyone will be so foolish.I feel it was an accident and not an incident.U need to be thankful to the "comments moderation" tab in blogger.Otherwise your blog might have become an "url book" by now.

•
3 Feb 12
I'm on WP, not Blogger, but yes... I think some of them try to get past moderation by posting a semi-normal comment (so they get approved) then posting spam. They don't realise that all comments get sent by email, so the blog owner will see their spam anyway and revoke their permissions. Duh.



• United States
6 Feb 12
I think that is actually funny. I am amazed that someone would make a seven page thing like that. What was he trying to accomplish, writing a speech? I mean, I don't get it. Maybe a short story, LOL. I wish you would have taken some screen shots of the article itself. Some people either don't know or just don't care.

•
6 Feb 12
I considered that but it would've been a boring screenshot - there was no "article", it was literally just line after line (after line after line) of individual URLs, one after the other. Like a huge shopping list for a deranged millionaire or something.


• United States
4 Feb 12
Some emails like this are sent out by people and others by bots or computers to see if they get any hits. The best thing to do when you get something from an unknown person is to send it directly into the spam folder or just plain delete it. Opening some of these emails with no place to actual link to may contain virus' or attach to your computer to pull information out that is personal or to use your email address and contact list to send more of these to others or your friends. It can get messy and be damaging. Be careful!


• United States
25 Feb 12
I would be curious of the contents. You should post the content of that comment, unless it is too much or mylot does not allow you to do this. As I comment on this, I should have checked on your blog.

•
25 Feb 12
The content was a 7-page list of URLs. Nothing else. Why on earth would I post that here?

The comment also never made it onto the blog: it was caught by Akismet (of course) and deleted, post-haste!

• Philippines
3 Feb 12
12,000 characters!?! 7-pages long!?! That's insane! I have no idea how they do that. So far I have not received such a spam on my blog although I regularly still received a spam.

•
3 Feb 12
First time for me, too. I'm used to the junk we all get (three or fours lines and a URL or a semi-competent comment with a URL in the commenter's details) but this was just... bizarre.


• United States
2 Feb 12
I would be lost on this one as well. He is just throwing out url's to the universe, hoping something will stick somewhere. It is funny and a complete waste, in my opinion.

•
3 Feb 12
I'll second that - GREAT expression. Spam like silly putty...