Are you an animal abuser?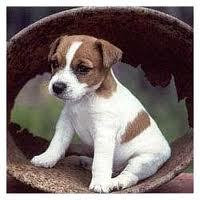 United States
February 3, 2012 9:39am CST
ok I know you are probably thinking what kind of question is that? well let me explain, my boyfriend found a puppy wondering the streets with no collar, tags, nothing, and brought him home. I fed, and bathed him. Well when I walk over near him he ducks down and covers his head with his paws as to hide :( then I got to thinking that he must have been beaten and that's why he ran off. who would do such a thing? its so sad, he's a sweet little boy, we think hes a jack Russel maybe 6 months so hes little. My boys adore him, he has a big backyard to run and will be well taken care of here. I'm sure it will take a little while for him to completely trust us but I can tell that if he was beaten it must of been all along because hes so young :( anyway sorry for the title just wanted to get you attention and to make you think that it happens all the time and not to just children sadly it happens everywhere.
10 responses

• Philippines
3 Feb 12
Oh,I check the photo and he's so cute and lovable. I am expecting my doggy to give birth next week and I am so excited with the new puppies. We love dogs and my kids always take good care of our dogs :) I wonder how and why people could be abusive to their pets :x

• Philippines
4 Feb 12
hi jai I agree with you! the dog in the photo is so cute and I just can't imagine someone hurting such an adorable puppy like that. I hope you will also upload some photos of your "babies" as I also love dogs.


• United States
7 Feb 12
Well, if he was thank goodness you found him and that he has a happy healthy home now. I hope he will come around and trust you more too, after he sees how you're treating him better than anyone ever has before. People who beat an animal are just sad pathetic individuals who probably should be beaten themselves, I just hate to know about things like animal abusers. They are just cowards, who one day will get theirs. They say there is a special place in hell for animal and child abusers and I beleive that 10000%. Which means after they die their soul will go there and be treated in a mercilessly way too. God doesn't forgive everything as you think he does...

• United States
4 Feb 12
he's so adorable!! i can't stand seeing any animal being hurt. last year, we picked up an 8 yr old husky from the pound. it took a while for him to get used to us, but he makes our family complete. we also have a 6 yr old chihuaha. she's our baby and is totally spoiled!

• Canada
4 Feb 12
I agree. I can't afford to do that to any animals specially dogs because they are man's best friend. We should take care of them because who knows it might save your life too!

• United States
4 Feb 12
Hi floridachick, I first want to say I am not an animal lover... But I would never abuse an animal because they have feeling also. I am so afraid of dogs and don't like cats...I can tolerate fish... My daughter and her family has a pit bull/bull matiff mix and has had him since birth and he is not 6 years old...and a very protective dog but huge and very very strong...If he whips that tail against your leg you can count on a huge black and blue mark for sure... I am not afraid of king at all... But I think people who abuse animals shoud be punished as if they harmed a people...its just not right and they should be treated as a living thing...I have seen some pictures of abused cats and dogs and its just darn sad to watch....

• United States
3 Feb 12
NO, I'm NOT an animal abuser!!! I don't want to be abused so, therefore, I cannot abuse anybody or anything!!! Now to point out the other side... It does appear that he was abused. However, if you took in my dog, you'd say the same thing. If you reach out to pat him on the head, he ducks & pulls away. For the life of me, I don't understand why!!! I promise that I've NEVER abused him!!! Since I've been single the entire time I've had him, I'm the ONLY one who could have created his reaction!!! When I want to pet him, I have to scratch his chin first & then move around to the top of his head. He doesn't care if I scratch his chin, but I can't just scratch the top of his head first. I think it is just a personal preference of his & he can't verbalize his preference so he shows me the only way he knows how!!!

• United States
3 Feb 12
It's always heartbreaking to hear about an animal that has been abused. Like children, animals are helpless and depend on us for care and it's sad to know that they've been abused. Luckily it seems like he's found a good place to get cared for and loved. I'm sure that with time, he'll warm up to you guys and will forget about the abuse, especially since he's just a puppy. Good luck with him :)

• Philippines
3 Feb 12
hi Floridachick first regarding the title, for me it's okay as that is also my way of giving my discussions title I always think of intesting/intriguing title for all my discussions, for me coming up with an interesting discussion is part of making a good discussion and it does help attract fellow mylottters attention. BAck to the topic I really hate people who abuse or torture dogs. Good thing you are the one who found that cute little puppy because from your words I believe that puppy will really be well taken care of.

• United States
3 Feb 12
I agree. I could never harm an other person or an animal, I would never be able to do that. Of course I don't want it, but if I'd want it, I still think I wouldn't be able to do it because I've got feelings. I love my Hamsters and I'd never hurt them! They are too precious. I love all kinds of animals so no, I'm not an animal abuser