Chicken Killers

February 6, 2012 5:01am CST
Our neighbour, for some unfathomable reason, decided to let his chickens free range with no supervision by the side of the road leading to our house the other day. One of our dogs, who was walking with friends of ours, grabbed a chicken and injured it before anyone could grab him. If this was your dog, what would you do? The dog is obviously in the wrong for injuring a chicken, but it is a dog with instincts to do exactly that. When the chickens are wandering around freely in an area where he is allowed to walk, can you blame him for wanting to play? Is our neighbour wrong for leaving the chickens free where they were? He was nowhere in sight. We keep chickens ourselves, and they are allowed free range occasionally when I'm around to keep an eye on them. But I would not expect other people's dogs to come wandering through my veg garden, whereas by the road it is a very real possibility Previously, at our old house, all my chickens were taken by local dogs and I just look at it as one of the risks of keeping chickens unprotected in an area where dogs commonly run free. My dogs were protecting my property and could be trusted with our own poultry so local dogs didn't tend to come close, but they had obviously all gone off to explore elsewhere at that time. I've dealt with the issue now, but I'm just interested to know what other people would have done in my situation.
11 responses

• United States
6 Feb 12
My Dad was justice of the peace for 4 years. He usually found each person 50% responsible. Dog should be on a leash when walking near a road. There should also be a fence between the road and the chickens. If the dog had been on a lesh and the fense had been near the road, probably wouldn't have happened. Gavel comes down, you have to pay for half a chicken, next case. Plus doesn't want to see either of you again because there will be a fense up and the dog will be on a leash or everyone is in contempt of town court for not learning a darn thing the first time (he couldn't make that stick, but more people walked their dogs on leashes, more fenses went up, and we didn't see the same people over and over again. Plus some people just knew what he was going to say and settled out of court). That was Dad's decision, compromise and make them both ticked at you, but also make sure they both changed and didn't come back.

•
6 Feb 12
I actually went and found the guy and paid for the injured chicken, took it home and had a delicious dinner. It's not worth arguing with neighbours. His chickens have a perfectly good run next to where they were loose, but he'd obviously decided they needed a bit of a change. Fair enough, but pretty daft to leave them untended when the village is chock full of loose dogs. If it hadn't been mine, I'm certain someone else's would have had them, or a fox or one of the other predators we have here who like a tasty, plump chicken with no defences. I was just interested in other people's take on the situation.

• United States
6 Feb 12
That's good. We have leash laws here. If your dog isn't on your property, it's supposed to be on a leash. We also have laws that farmers are supposed to have fenses up where they have their animals. So if all dogs are on their propety or on a leash and all farms have fences where they have animals, what problem? Of course some dogs get away from owners and some farm animals escape, but prevension makes for this happening a lot less often. We also have a law thats name lies. It's called no fault and actually, that's a lie. It's everyone is at fault. So you're better off to solve the problem yourself like you did. Plus you get a tastey chicken.


• United States
19 Feb 12
Hi, I would say the neighbor should confine the chickens to their own property.Most people keep chickens in a fenced in coop.Many dogs have to insticy to go after chickens,they don't know it's a pet.What annoys me is there's this animal shelter in the next town from me,they're located on a major highway ,they have loose chickens there.The chickens come out into the highway and they don't even watch them.I'm sure some of them have been killed in the highway.They don't show fear about coming out in the highway. In your case I think it's ok if you watch the chickens.

• Canada
9 Feb 12
I agree with you. Dog owners are responsible for dogs, but you are only human, and can only be responsible to a certain point. It's not the dog's fault that he has instincts to do what he did, but it is not your fault when you have done your best to watch the dog, and he still grabs something. Dogs are not like us. Humans can turn from temptations, but it's not always easy for animals.

• Canada
9 Feb 12
I think if I had chickens, the decision to make them free range would be dependent on whether there are dogs in the neighborhood. Yes, other people shouldn't destroy our property, but when our properties are animals where there is a natural order of things, we shouldn't expect human law to take precedence. I don't think your neighbor should blame you considering they were on the road.

• China
7 Feb 12
There is no help for it.Your neighbour should coop the chickens up or keep sight of them if he let his chickens free range,otherwise,although your dog doesn't worry them,other people's dog could do that.A dog is faithful and can hunts by instinct.

• United States
7 Feb 12
if you had a dog that killed your chickens, a "normal" farmer gets rid of that dog - but this was your dog and someone else's chicken and its not like he went into his YARD or property to look for it... I think your neighbor needs to be more responsible about his chickens... I know a few of my neighbors in town have some chickens, if they got flattened by a car - now who's fault would that be???

• Philippines
7 Feb 12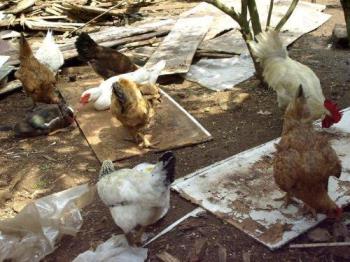 Well if you have chicken you should be responsible enough to keep them lest they get really mauled by dogs. In my home I have a pair of chicken and they are kept in a wooden chicken house, otherwise my 3 dogs would feast on them. But one time, the female hen was able to sneak out of the chicken house and my brown dog saw her, he ran after the hen and caught her by the feather so the hen cried out loud as if calling for help. I heard the crying and went out and as I saw the mauling scene, I immediately got a piece of wood and hit my dog right on his head so he would release the chicken. He would not so I hit his head harder for the 3 times more and only then did he let go of the chicken which was already bleeding but luckily. Poor chicken but luckily she survived. Wheww! the chicken was terrified and I was really so exhausted. That's the trouble of keeping so many pets around.


• United States
6 Feb 12
I have to agree that it wasn't the dog's fault. The chickens were out for free range and not supervised. Anyone could have run over them and the owner wouldn't have known who was responsible. It sounds like you handled the situation gracefully by buying the chicken. I hope the neighbor learned his lesson!

• United States
6 Feb 12
It's not your dog's fault, it's the chicken owner's fault. Free range does not mean the animals should be on their own and unprotected! In fact, that owner was being inhumane and should be charged with abusing his animals because he did not provide them protection from predators. I swear, people are getting so stupid I think it is a virus that has grown to epidemic proportions.


•
6 Feb 12
Had it not been my dog, I bet it would have been someone else's. Or a fox. Or any one of the many other things that like a nice tasty defenceless chicken around here. I bought the chicken from the guy and it was quite delicious (the dog didn't kill it, but I subsequently did as it was injured), as I would prefer not to argue with him. But I do feel bad that I now feel obliged to keep this particular dog tethered during daylight hours.

• Philippines
6 Feb 12
Hi! I have experienced that exact scenario. Our dogs were really like hunters. They just kill the chicken but they don't eat it. That was before we tied them because our neighbours were complaining about it and we kept on paying for the loss of their chickens. I hope we will be able to build our new fence so that our dogs can now be free to roam in our lot.;)

•
6 Feb 12
I now only let this particular dog loose after dusk, when any sensible chicken keeper would have his chickens housed and safe. I don't blame the dog at all. I reckon a chicken wandering on a public road where it's known that dogs live is fair game and it's owner daft. But I bought the chicken anyway, it's not worth arguing.

• Romania
6 Feb 12
I don't think it was the dog's fault (or yours). As you said, the dog was just doing its job. Then again, if it was me in this situation, I would have probably paid for the chicken, if the neighbor wanted me to. I hate having conflicts with neighbors, and I go to great lengths to avoid them. These things spark out the tiniest issues, and degenerate so quickly...

•
6 Feb 12
I did exactly that actually. The chicken was just injured, but I bought it and it made a very nice dinner :) Had the chickens been in the guy's garden I would have been far crosser with the dog, but on a road you would expect dogs to be walking on it is just asking for trouble