Banana stems~~~! Never knew they could be eaten!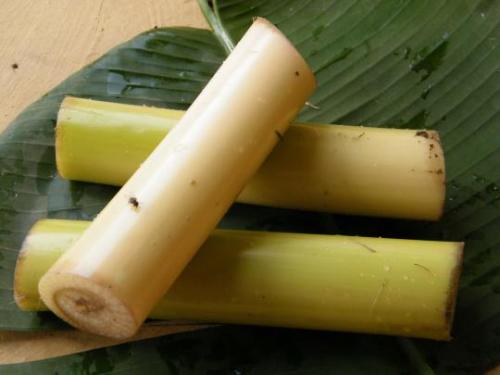 Singapore
February 8, 2012 3:48am CST
Did you know that the banana stem can be eaten? I never knew it could be eaten, let alone the benefits that comes with consuming the banana stem. Stumbled across some articles on banana stems while researching for some information. Also, thanks to the tip from a friend, went looking for benefits of the banana stem. Would you try it if you could? I wonder, where in the local markets, can I get this banana stem, if not just for the sake of trying what it tastes like!

8 responses

• India
8 Feb 12
Banana stem is an excellent medicine for people with kidney stones.It helps in getting rid of the stones in the nautral way. It is available in plenty in india and there are many recipes that can be prepared from it. The juice of this banana stem helps in reducing the excess fat in the body when taken in the early morning on an empty stomach. Take the help of any south indian in Singapore and they will help you in getting banana stem from the local market. Happy mylotting.

• India
8 Feb 12
Hello aghong, I remember I used to eat this in my childhood along with rice (tasty one)

I am from South India where various types of bananas are available and most of the homes have their own banana plants. The stems are using to make curry adding pluses and coconuts and it is very tasty. The inner part is using to make dishes. We never purchase this but getting from our own plants and I think most of the people are taking from their own lands. Once the fruits are about to ripen it will cut and then the stems are using for different purposes. If it is not used for home kitchen then it will give to cows or other animals at home. Recently people are rarely using to eat this. As the times changes habits also become changed. But surely the earlier people were healthy enough.



• Singapore
11 Feb 12
I know, get it from the banana tree, and before that, ask for permission from the banana spirit! lol

I've never heard about banana stem because i've only known banana as a fruit and nothing more. How does the stem look like remains a mystery to me as well.. haha

Maybe u can try those wet markets or maybe Golden Mile where some Thais are using some weird parts of fruits, food for cooking.. haha


• Guangzhou, China
10 Feb 12
I also don't know that banana stems are eatable. It sounds very weird to eat them in my opinion:) But it is also a good idea since it will not waste the etable thing:) I just wonder how to cook it. Perhaps it will be delicious, too. I love China




• Philippines
8 Feb 12
Banana stems here in my country is called "ubod" and are eaten often. We have a dish called "Lumpiang Ubod" which is the banana stems with rice paper, similar to foo yung only it's not fried. My mom and I usually stir fry banana stems with a little ground beef and it is very delicious. I never learned how to cook it from her and it is one of the dishes that I do miss now that she is gone. In case you are wondering about the taste, they have a nutty flavor especially if they are very fresh. People here in my country would know if the banana stems aren't fresh or are too old (they have to be young banana trees) because it would feel like as if you are eating wood and they are tough. The best banana stems are those that retain their crispness even after cooking.

• United States
8 Feb 12
By the stems, do you mean the stub that is still attached to the banana when you buy one/a bunch or is there a stem that gets cut off from the entire plant before then that is truly the stem? I have not heard of it being eaten but I would like to try it, especially if the above is true, about losing weight from the juice that someone typed. I will try many things for losing weight, haha. I think that many different cultures have alot of interesting ways of finding cures for various ailments and also remedies. I like hearing about those things. Thanks for sharing, it was a great discussion topic!

• Sweden
8 Feb 12
That was interesting..

We have no banana plants here, but if I have the chance to go to soutern Europe, there might be some - near the Mediterranean Sea. I have never heard of banana stems and that they were edible! There might also be some in big cities in the north too. Thanks for telling about them..