Have you ever think your legs and feet needs care as the other body parts do?

Philippines
February 8, 2012 11:24pm CST
I have just think how are my feet and both legs handle to carry my body weight every time I stand and walks to all the destinations I go.I have just think that it needs some caring just like what other people have done to their legs and feet.I sometimes felt some pain especially that I am already aging.I see to it that I have to hang up my both legs for a couple of minutes so it can have some sort of relaxation with my everyday routines.I am very health conscious that is why I watch my diets and always walk to have a sort of exercise.
2 responses


• Philippines
9 Feb 12
We could just realized our body parts when we are hurt in those parts due to accident or anything that hit it unintentionally that really damage it.It is felt very painfully in those parts especially when you are not trying to hurt it then was bump up by your other body part,there I am in agony.That is all part of being very rush so as not to be be late to our schedules.

• Calgary, Alberta
9 Feb 12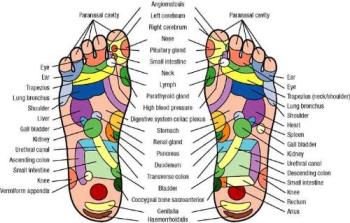 the feet have reflexology points connected to all parts of your body and if those parts are stimulated by a massage it will benefit a certain organ of your body, Thats a foot massage feels better than a back massage. so a foot massage is like having a full body massage. You cannot underestimate the benifits of a foot massage. a full body massage more expensive than a back massage and a foot massage. so if you have less money and you want a massage that can benifit your whole body go for a foot massage. this is the reflexology map of your feet:

• Philippines
9 Feb 12
I think I am just relaxing both my feet and legs from my daily routines,so hanging it up in the bed side or in the walls of my room is more than suitable for my condition to relax.I do not need to have someone to manipulate my foot for a foot massage or conduct a body massage for me.I am a Massage Therapist myself and I have colleagues who are very willing to give me a free massage as I also does to all of them when it is needed due to our daily work,that is why we ourselves are working hand in hand to just massage ourselves when one needs a good massage instead of paying to other therapist.Thank you very much my friend for your concern that I really do not need any massage.