Moneyball: You're such a loser dad!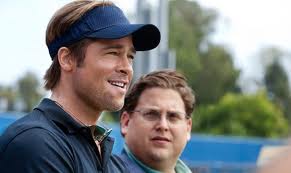 Canada
February 9, 2012 1:13pm CST
One of the movies I've seen recently was Moneyball. Although the kids didn't much appreciate watching the movie, they did like the end scene very much. It was when Brad Pitt was driving his truck and on the radio was his daughter singing a song for her dad with some revised lyrics. Let me try attaching a youtube link: http://www.youtube.com/watch?v=MfUbixnAnVQ My kids like it so much that we always sing 'you're such a loser dad' when we're driving around in the van. Have you seen this movie? Do you think the movie was any good? Do you like the song? Do you like singing it even though you don't like what it's saying?
4 responses

• United States
17 Feb 12
I saw it and I thought it was ok, not great and overrated based on the hype it was generating. It's based on Michael Lewis' book of the same title that came out around 2000. The story was interesting to see played out on the big screen and I am a baseball fan but I wasn't blown away by the movie. First, other than Brad Pitt fans and baseball fans, I'm not really sure who this movie was appealing to. There were tender moments revolving around family (of which there were were little in the book) but none of them ever pulled at my heart strings. Second, the references and subtle innuendo in the dialogue was probably missed by all but the more-than-casual baseball fan. Most of the characters were based on real life people ("Mark" as Cleveland's G.M. was supposed to portray Mark Shapiro for example). Last, and there's just no excuse for this, when Phillip Seymour Hoffman has less screen time and lines than Chris Pratt (who I think is hysterical on Parks and Recreation), there's a huge problem. Just my take. It was enjoyable for me. I read the book. I like baseball. I'm just not sure everyone else understood a lot of it.

• Canada
17 Feb 12
I'm a sports fan, but not too much into baseball. I have not read the book, but I did see that some of the dialogues are a bit ridiculous. Specially when the scouts were sitting around. Anyway, I guess that's why it appealed to me. I like sports and I could appreciate using numbers to make decisions. But I think you're right that it wouldn't appeal to non-(sports)-fans. Thanks.

• Philippines
14 Feb 12
I've seen this movie recently and I can say that it's one of the great movies this year. This isn't about action scenes or high-end computer generated action graphics but its just a simple true story of baseball. I love it and is very inspiring. I love how the child sing and she have a wonderful voice. This movie is highly recommended to baseball fans and sports fans as well.

• Philippines
10 Feb 12
LoL!
You're such a loser sad
is the lyric that retains in their mind

I liked that Lenka song so much! I have not seen the movie but I have it on my laptop already. I've downloaded it last month but until now - like may other movies in my lappy - I got no time to watch one. Hope it won't be a boring movie.

• Canada
13 Feb 12
So, have you watched it already? I'm not too much into baseball, and not too much of a Brad Pitt fan, but I watched it just because I'm just a sports fan in general. And I like that it's based on a true story. I just don't know if girls might find it boring. Thanks.

• Philippines
13 Feb 12
Nope not yet, bounce... Never got the time to actually start watching any movies now.

• Philippines
10 Feb 12
hi bounce58! i haven't watched the movie yet. after reading the reviews and knowing what the movie is about, it really increased my interest to watch the movie. i'll most likely watch this one in the next weekend to come as it has been really busy and hectic here at work. anyway, going back to your discussion, i had watched that clip before seeing your discussion. it was such a heartfelt scene. like i said, i haven't seen the movie but the reviews i've read is that it is a good one. i'll reserve my comments after watching the movie. as for the song, i really like the song. it is the first time i've heard the song and i msut admit i like it the first time. i haven't listened to the original version of the song as sung by lenka. i didn't bother to. lol! i'll definitely sing the song when i get the chance even though what it is saying is not right! lol! seriously, thsi is one song that i'd love to teach my daughter. of course i'll alter the lyrics to 'you're such a winner dad!'.