Why is it that on the phone or calculator the number 5 has a little dot on it?

Philippines
7 responses

• Cambridge, England
10 Feb 12
Some calculators and phones - and also the keypad on a computer keyboard - have a raised bump on the middle key to help people who use the keypad without looking at it (for example, in the dark or if they are a touch-typist). It serves the same purpose as the raised bumps on the F and J key of most computer and typewriter keyboards: it is a tactile point of reference so that touch typists can place their fingers correctly.


• Philippines
10 Feb 12
i think there is no dot, but a marker. this puts the number 5 to the center of the calculator, and though i am not sure, i am thinking that this particular "dot" or marker meant for the calculator, so that it will serve the same purpose, so you know where the middle part of the calculator is.

• Indonesia
10 Feb 12
Dot? which dot? I didn't see any dot on it. I think different calculator different lay out, right? I've also loooked at my phone calculator, and I didn't find it either. He he


• Philippines
21 Jun 12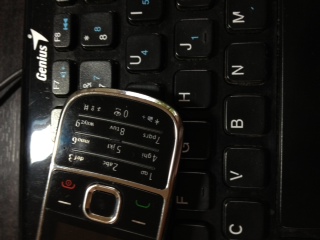 Some, if not all, have these little protruding 'dash' as position indicator. In typing class, we were taught that in order to 'feel' if your fingers are on the right position, you just feel these dashes. Similarly, it's the same with calculators and cellphones - except of course the touch screen phones. haha.. It's usually found on number 5 in the calculator or cellphone simply because 5 is the center of all the keys. In the same way, in keyboards, these are usually found on the letter F and J. Attached is a sample photo of such. I inserted my Nokia Phone and Keyboard showing where those 'dashes' are located. Have a great MyLot experience ahead!

• Taiwan
10 Feb 12
Hi, since you said it, I looked in the computer board and yes it has a dot on number 5 , so, i went to see my phone and also has one dot. uhhhh.. I dont know the answer , in fact , I didnt even noticed that before you mentioned it , jajaj . ok I will wait for more answers for you , to see if anybody knows about that. Have a great day my friend.

• India
10 Feb 12
The dot in the key is to indicate that it is the middle of the numerical keypad so that you can easily type without looking at it. The dot in the f and j in the keypad is to help in placing fingers in the starting position for typing without looking at it.