Well Deserved Medal - America's Most Accomplished Actor - Al Pacino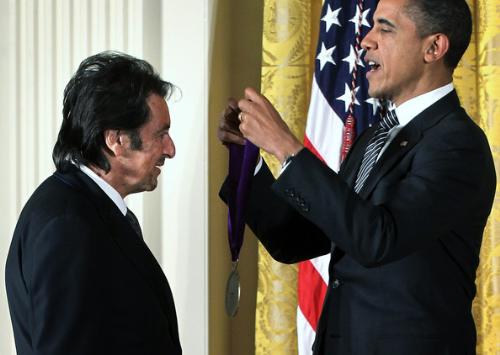 India
February 15, 2012 3:08am CST
Godfather, Scarface, Dog Day Afternoon, Glenngary Glen Ross, Scent of a Woman....wonderful acting....what an actor, he completely DESERVES this award...hope everyone would agree!


4 responses

• Philippines
15 Feb 12
I had been a fan of Al Pacino since I first saw him in The Godfather. I actually got used to him portraying roles of mobsters but I too believe he's one of the finest actors in Hollywood. I was actually surprised that it took the Academy of Motion Picture Arts and Sciences to award him with an Oscar in the role he played in Scent of a Woman, but at least he's getting the recognition he deserves even if it came in a bit late. And what better way to cap it all of than being also bestowed the honor of America's Most Accomplished Actor :)

• Oklahoma City, Oklahoma
3 Dec 12
I don't remember where I first saw him. Maybe it was as The Monster in
Mary Shelley's Frankenstein
, maybe it was as Satan in
The Devil's Advocate
...

or maybe it was him disguised as Robert Deniro in either one of those parts

Weren't those two BOTH in the same movie sometime?

• India
16 Feb 12
Truly amazing actor,a legend of legends.I have seen almost all movies of him and believe me he never disappoints even for a moment.Hats off to him,coming from yet another die hard fan,long live Pacino.

• Chile
3 Mar 13
I have yet to see a not so good movie starred by Al Pacino. THe first time I saw a movie by him, it was only because the movie I went to see had been replaced by Serpico. I didn`t know anything about the movie or the actor, but I was enthraled. He deserves many awards, as I see it.

• Philippines
3 Nov 12
If he's not the finest, he should be the finest! lol :) I am a big fan of Al Pacino and I really am enthralled in how he portrays his characters. Hope he'd make a new movie soon (despite his age, though he's still excellent!)