Mahashivarati in India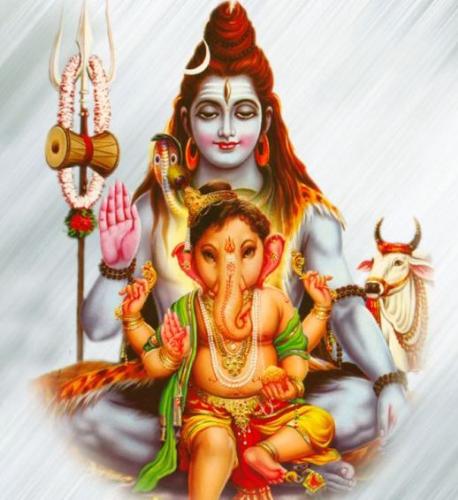 Philippines
February 18, 2012 2:03am CST
hubby is on business tour in india. he is right now in Professor Saraf's home, our professor2010 of my lot, our family friend since he visited our country in 2004. he rang and said it is mahashivarati festival there.

tonight he will be in a Shiva temple, awake with the professor and will pray with him to this god who wears snake in his neck and head, lives in jungles, applies ash over body. we have hindus here too in our place, they too worship Shiva. wish i will visit india soon with hubby, meet the prof again and his wife kalyani.

i am told Shiva temples are there in USA and other countries. i have already visited other temples of other religions (muslims, buddhist, etc) and it was nice. [b]do you have one in your city, state or country? do you try and go and see what is in a temple and other religious places of other religions? i will be waiting for your response. [/b] have a nice day. ann

6 responses

• Bhubaneswar, India
18 Feb 12
Hi ann

As I was about to read this discussion, guess what! Professor Saraf called up and he told me how much fun and togetherness it was when he was with you people

and also that your hubby is expected today. He also told me that your hubby will be visiting Puri tomorrow and Professor's Son will be accompanying. Though they would not enter the temple there, they will offer their prayers from another building right in front of the Temple. Yes, my wife and I both believe in this auspicious day and when I was in better heath, I used to fast on this day without water. But today, I neither do fasting nor visit the temples as on special days, there are long long queues to get a prayer done... And I believe to let the Lord stay in Peace. at least from my end. Wife... she will neither listen to my sage advices

nor follow them when it comes to such things

• Philippines
19 Feb 12
hi thesids, thats nice. a call from the prof.

and maybe you should be signing your responses with your nickname too

it is very nice to learn about this festivity going on in your place. my hubby is telling me how hospitable the indian people are and he is most enjoying the company of the professor and his family. have a nice day. ann


• Garden Grove, California
18 Mar 12
hi tigeraunt how nice that your husband can visit the Professor from mylot.I really like Professor and his wife, have been mylot friends for a longtime. i am also diabetic which i h ave in common with Professor and his wife. I have seen several temples here in the US but now am pretty much shut in with a physical handicap so do not get out as often as I would like.We saw one Buddhist temple as we had Buddhist friends when my husband was sill alive.as for Muslim no no no 9/11 is engraved in mysoul.

• Philippines
18 Mar 12
hi hatley, it was really fun when we had the professor visiting us here in 2004. and he was so kind to offer his home for my husband when the latter visited india. my husband said they got almost the same culture as ours here in the philippines. the little difference is the food. they like theirs with chili while we like most of ours here as sour and sweet.

temples are abundant my husband said and it seems that hindus keep praying every hour.. well thats what he observed though.

i have hindu friends in mylot, and some muslim friends as well. i guess americans cannot be blamed how they feel about muslims because of the 9/11 incident. but i guess i can only say, not all muslims like war. there are so many too who like to live in peace and harmony with other religions. have a great day. ann


• India
25 Feb 12
Sweety Today is 25th , Jose will be in home here, though i could not go with him, i was constantly in touch with him, i have given him one of my SIM cards, Subash took him to a Shiva temple, it is unique in the sense it remains immersed in water for the entire year, it is evacuated on Mahashivaratri only. Jose wore a dhoti like we wear during puja and recited Om Nama Shivay like hindus; a new thing for him.

• Philippines
18 Mar 12
hi professor, it has been a very busy time for me and i have not visited mylot for quite a while. jose said he had a great time with you and he says to thank you for your hospitality. we hope you could visit us again too here in our country. have a great day. ann


• India
19 Feb 12
hello friend, ye it is Mahashivarathri today and most of the shiva bhaktas will be awake for the whole night today! It is believed that, staying awake the whol enight thinking about the lord and offering prayer to him all night with devotion gives us a lot of spiritual energy and leads us to salvation. On this day, in all the shiva temples, there will be abhisheka taking place for the whole day. Shiva is said to be a lover of abhisheka(Showers of water and milk). It is a very auspicious day. You can learn more about Shiva rathri here. http://www.eprarthana.com/offers/sivarathri/sivarathri.asp http://www.shaivam.org/siddhanta/fesshiva.html Thanks, Sarvam Shivamayam! :)

• Philippines
19 Feb 12
hello 5mahi05, the links you sent are very informative. i thought at first that abhisheka is a name of a person.

but then my husband explained to me about the showers of water and milk.

it is great to know all of these. have a nice day. ann


• Philippines
18 Feb 12
hello Ann, Wow, that's nice to hear. I also wish to see and visit dada anytime soon. Bhabycatch a mylotter also attend some festival and events in Hindu temple. I did visit temples here in our country- but I haven't tried to attend their events. I am not sure if bhabycatch will be attending this event here in our country. Have a good day and regards always


• Philippines
19 Feb 12
hi jaiho, that is very nice to know. i have seen a picture of bhabycatch wearing a sari.. and she was with some indian friends, i guess. so i thought at first that she is part indian. maybe she will attend the festivities. have a nice day. ann


• India
8 Jun 12
Dear Anny

Yes he was here, we gave him the best possible treatment, try to come here once, i will take you to all temples and teach you how to cook indian dishes..

Best of luck. Happy posting, cheers.