fish

Philippines
February 18, 2012 4:28am CST
I like to eat fish specially when it's fried and crispy. My favorites are tilapia , galunggong & tulingan. I like eating the tail of the fried tilapia and galunggong first , then it's head . I also like the tilapia cooked in coconut milk with some pechay and chilis while the galunggong in lots of kamyas.

With the tulingan, I like it fried, cooked in coconut milk, adobado and sinaing. I could lots of rice when those one of those three is the viand.

How about you guys ?
6 responses

• Philippines
18 Feb 12
I love those fish too...

We had
chopseuy
and fried
galunggong
for lucnh today! I am missing ginataan too. I hope mom will include preparing tulingan in coconut milk one day, I am missing that already.

• Philippines
20 Feb 12
Yes, fried galunggong is really compatible with any vegetable dish, specially those cooked in coconut mlk, with some crushed chili!

I could eat a crispy fried galunggong until what's left is the tail.


• Philippines
18 Feb 12
hello there madam, well those are my favorites too and "sinaing na tulingan" is very common here in our place. I love it especially when it's cooked with lots of "kamias" and pork fat that melts in your mouth when you eat them. I also love milkfish or "bangus" when it's steak


• Philippines
20 Feb 12
Oh i like sinaing na tulingan very much too, whengcat. And that's right with lots of kamias and lots of pork fat, it becomes so delicious.

But i don't want the pork fat to melt in my mouth. When i cook sinaing na tulingan , i would let the pork fat melt on top of the cooked tulingan as it is about to be served. [em]drool[/em Unfortunately, i am not that fond of bangus.



• Philippines
21 Feb 12
At least if the viand is fish and you get to eat a lot, you will not fear of becoming fat. Unless you ate a lot of rice with it.


• Philippines
23 Feb 12
Well, in that case continue eating fish than meat to be sure that you won't grow any bigger, my friend.


• Philippines
20 Feb 12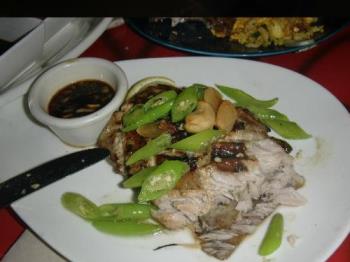 I also fish a lot especially the big and meat ones like blue marlin and tuna. I also love milkfish but sometimes there are seasons that it has a foul taste even if they are not from the freshwater. Blue marlin is expensive but I buy it just the same but lately I learned eating too much might exposed me to too much mercury so I stopped buying for the time being. Maybe I'd eat this only once a month. I also love lapu-lapu, the big one, either steamed or fried with sweet sour sauce.


• Philippines
20 Feb 12
Oh well, i also love other fishes such as what you have mentioned. But as to bangus, i am not very much eating that one. Except, when it is a sizzling bangus, by Gerry's Grill, a famous native restaurant here in the Philippines. They really can make a delicious milkfish recipe! Sweet & Sour is what is best for lapu-lapu. That too, is a delicious fish recipe. So blue marlin has its negative side. Is that true, about it, having mercury?


• Philippines
19 Feb 12
oh God, I just arrived from Alabang town center with my family to celebrate my wedding anniversary

and ate sizzling fish steak in Gerry's Grill, wow! If you happen to pass by B.F. resort in Las Pinas, try "Bibabng's restaurant, it's a small cozy place built with nipa huts, it's like home cooking, try their blue marlin steak in lemon butter sauce, which I think is flown from Gensan

, it's very cheap and affordable for the average Filipino like us, I would surely recommend it

. We have 5 kamyas trees, we just sometime give it away when fruits start falling to the ground, the only problem is when it rains and flowers fall down, yes nice with fish, it's called iba in a local dialect.

• Philippines
20 Feb 12
Oh, Gerry's Grill! I am not fond of Bangus, but their sizzling bangus steak is something that i always order whenever we are eating there. And yes, blue marlin steak in butter sauce is also a recipe of fish that you won't notice that you are eating fish at all. We do call kamyas as "iba" too, here in Bicol. My daughter likes to eat it when it's in a sinaing na fish.


• Philippines
20 Feb 12
ah so you are from Bicol, yes I learned to eat the tilapia wrapped in petchay or to some bok choy and cooked in coconut milk with ginger, I did not like it at first because I was only used to eating charcoal grilled and fried or filleted and fried, but the moment I learned how to eat it, we always make it at home.


• Philippines
21 Feb 12
Oh we call that "picadillo" here. Put some crushed chilis and it would be heavenly, eating them.


• Thiruvananthapuram, India
18 Feb 12
On a fish diet...it is especially good and nourishing. But those items should not be fried and served with lots of spice for additional flavor and taste.

• Philippines
20 Feb 12
They are so delicious when fried, specially when they are well fired until they are crispy. You just have to fry them in Canola oil so it's cholesterol free. When they are fried, they don't have the after taste of being fishy . But cooking them in coconut milk with some chilis, will enhance their flavor.