Every Child is Special the movie makes me cry?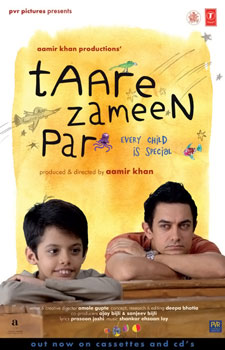 Philippines
February 20, 2012 12:50am CST
Every Child is Special is a Hindi movie with the title Taare Zameen Par. My teacher makes as an assignment to watch the said movie. I download it in the internet. I could relate to the movie since everyone of us becomes little child who were curious about the world and the real issues involving children treatment of their teacher and classmates. The experience of the child who thought to be a special child with learning disability turn out to be a genius with his special skills. He isolated his self with the mockery of the educational constitution because at the start they fail to recognize his other special skills. Here the link http://en.wikipedia.org/wiki/Taare_Zameen_Par
5 responses

• India
31 Mar 12
SO True. This Movie is one of the finest Movie . They have really captured the innocence of a child . One of my favorite movie



• Philippines
14 Sep 12
yes, that why i like the movies very much. i like to watch it repetitively with my young nieces and nephew and somehow they could relate on it. every child is special is so true and let us allow them to discover their interest along guide them but do not impose harsh rule where they think there world collapse when they realize they have no control over there decision. this movies is for everyone delight to watch and fill with laughter, joy, sadness and happiness.

• Philippines
25 Feb 12
This is one of the movies which gives the viewers inspiration and hope in life. I also cried watching this film just like my wife. A comedy/drama film which is a very good choice for family entertainment. Two thumbs up!

• Philippines
14 Sep 12
the movie takes a look on the kind of world as describe by the mind of a special child. many think he s totally an idiot as simple instruction he could not learn. but, the truth he suffer from a defect called dyslexic where he look at certain letter moving and interchange. so when he read a spelling of certain word he could not pronounce straightly. this drives his professor nuts and children laugh at her. being trap alone he think of surrendering his skills by abandoning them and retrieve silently in imaginary world within the boundary of his mind. the lesson of the movie is we need to be understanding of every child is different and they have their own talent so it s far not to compare them with other child of his ages. they have different talents and they are separate where comparing result to lose of confident and low self esteem. the parents also need to understand that the children mind is very delicate and we could not force instant our ideas to them and get programmed like what we used to do. i t takes time for all the children to discover their interest and let them nurture and nourish what they like to do things and allow them to enjoy it.

• India
22 Feb 12
yea great theme with the great actors.film makes us think about changing the way of study and tutor. another great movie with somewhat related theme i likked was the movie "freedom writers"

• Philippines
14 Sep 12
very true and i love the creative cartoon and the energetic background song s very inspiring. i love the simplicity of life the family goes and the wife everyday struggle routine as you could relate happening in real lives. the way to have a family requires lot of patience and commitment. the proper way to raise a child is though proper discipline where the child fault is not being blame every time the child is getting spank. the child get humiliated by his peers and the parents being call they resolve it by sending hm to boarding school where he perform the worst until a kind, caring and understanding teacher comes to rescue him and return him to enjoy his normal childhood.

• Philippines
22 Feb 12
I could say that this movie is one of my favorite Indian movies aside from the 3 Idiots and Who Wants to be a Millionaire. With this movie, I learned a lot. I also cried because it was able to capture my heart. I love the song Bum Bum Bole. It is so joyful. And lastly, Aamir Khan is there! He is my idol!

• Philippines
14 Sep 12
yes, aamir khan is very handsome and talented actor. he only do movies offer with quality performance and refuse movies offer with no values when it come to the script. he is very busy and his role as understanding teacher is very emotional especially the touching scenes where he confess that he also have the same problem when he encounter during his childhood days and someone help him to conquer his disability. so he could relate and the child open up and start to regain his active participation. the child had a great talent and a good painter. his art manifest his imagination and so the school recognize him and even rewarded being his work as a cover of the yearbook.

• Philippines
21 Feb 12
yes, the movie has a very emotional theme and most parents and educational institution should let their children and students watch this the movie s all about a good way to treat children and praise them even they are not bright since they have their own special quality that need to be discover. each child need to be treated equally with no favoritism.

• Philippines
14 Sep 12
very true and there are scenes where the main character get depress that he would not talk anymore and lose interest. the good thing the teacher newly assigned is very understanding of the child has a dyslexic where the letter get interchange so he could not properly read them. the other teacher misunderstood the child and think he is an idiot because a simple instruction he could not follow. n the moves i see the effect of a child being bulled by children and of the teacher. it is hard to be trap in those situation that is why the child create a world only he know and could imagine away from the cruel world who at first refuse to accept on what he is.