Considering Seasonally Living In North Jersey - Advice?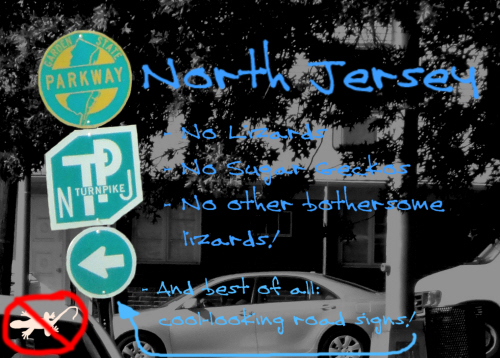 United States
February 20, 2012 5:16pm CST
I just started a home-based business (name not disclosed), and I promised myself that if I'm successful, I'll live in North Jersey for about half a year and then in Florida (where I now live) for another half and so on. I feel so homesick for the northern part of the state I was born and raised. They have huge-ape Filipino communities, road signs I recognize (like the turnpike trailblazers with the "TP" in the center), and wonderful autism programs. But I was reminded time and time again that it's expensive. I wanted so badly to live there at least seasonally. I have selective scoliodentosaurophobia. Florida has a lot of lizards that set my teeth on edge. Sure, I can deal with them outside a bit, but I can't stand at least a stray one inside! I just wanted something modest and manageable to live, like a condo or apartment, so even if I have a lot of money I make from the business I won't have to fret too much on expenses. So, aside from traffic (like on, say, Irksome Route 17 on a Saturday afternoon in Paramus where people rush to the malls), what can I expect when I move back to the place I was a native of?
2 responses

• United States
21 Feb 12
If you wanted to live near New Jersey and spent less money, you could consider the Poconos just over the river off I-80. Housing costs are a lot cheaper, there's less traffic, and you'd still be about 90 minutes away from the part of North Jersey you're talking about. If you wanted more information, I am a realtor there and I could help you find a place.

• United States
21 Feb 12
Chris Christie...the dumb Governor, is the latest topic, so nothing to expect. Also gas price is at above $3.00. So I don't know what else to say, since I live in New Jersey for most of my life.