I must have overdone Christmas again

February 22, 2012 5:09pm CST
I had to empty the cupboard under the stairs today to read the electric meter, and I found toys which hadn't even been taken out of their packaging. Plus other toys which were opened at Christmas, put back in their boxes, and haven't been touched or thought of since. I bought less last year than ever, because I didn't have so much money, but this year I will cut down further. I'm obviously buying them too much. The VTech laptop my son asked for is now for sale on ebay, having been played with just once. My older daughter asked for a particular doll, which is still boxed. I didn't buy a whole lot for the little one as she was just over a year old, but she has played with all her presents and appreciates them, so maybe my other two will appreciate things more when they don't have so much.
11 responses

• United States
22 Feb 12
I buy alot after Christmas for next year...and sometimes I forget what I bought and find it long after the season while I am spring cleaning...so you are not alone. I do hope your kids appreciate what you give them...its not easy to come by money for alot of gifts!

•
23 Feb 12
I have a toy cleaning set (broom, mop etc) in the loft. I bought it for my son but he is now nearly 5, I think I bought it about 3 years ago! My little one can have it for her second birthday in September

•
27 Feb 12
It is always hard for parents to know just how much they should buy for their child at Christmas. I always think that I should buy them enough toys to keep them occupied for the rest of the holidays before they go back to school, because then things will get back to normal and they won't get the chance to play with all of their toys. I would buy my children one main toy, some chocolate/sweets, a few books, and then maybe some games as well that we could play together as a family. I would not spend too much on them, because you're right when you say that things just don't get used if we buy too much.


• Canada
23 Feb 12
We didn't buy much of anything for our son this year, because we knew he would get a lot of gifts from other relatives. So far he seems to have enjoyed all of his gifts, but he does have more than he needs. It's hard to know what toy it is your child will actually enjoy and play with, so it's very easy to get stuck in a situation where you buy too much. I'm sure you'll find the right balance of just enough gifts soon.

• United States
23 Feb 12
Wow it does sound as if you over did Christmas just a bit. The past several years we have not had much money so Christmas has been very sparse. Most of the little kids presents have come from other family members. The older boys got small giftcards and that was it. I am hoping that this year will be better. Perhaps cutting back this year will help your kids to appreciate their gifts more.

• Philippines
23 Feb 12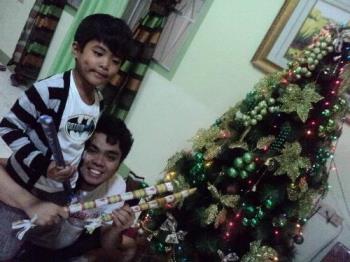 Yes indeed you have to cut down further. I have also realized this and have been cutting down each Christmas.In every thing we should practice moderation. In the first place, Christmas is not about buying just about anything that would please ourselves and loved ones. There is more than material things about Christmas and the real REASON about the season should rather be our focus instead of the materialism and commercialism that spoil the true meaning of Christmas.

• United States
23 Feb 12
I usually go over board on christmas with my little cousins. I want them to have the time of there life with presents and i love seeing them happy and i dont mind spending on them. I kind of go all out with the boyfriend. He buys me maybe three to four things but usually all jewlery and its more expensivge then the htings i buy him. I buy him clothes, and maybe a watch that isnt to much and then some other little things. This year i think its going to be different a lot different. I might try to start in august again getting presents but i wont be buying expensive things that for sure i will try to get of course everyone something but buying a house this year is my prority so i may not have as much money this year to purchase nice presents like i did last year for everyone.

• United States
23 Feb 12
@marianne
Such is human nature. We all want magnificant toys until we get them and we see that they are not all that we had hoped they would be. Children are fickle little creatures, but we gotta love them. Our kids are all of ages that they are hard to buy for, so for the last couple years we have set an amount that we could afford to spend and gave each on a gift card. That way, everyone gets what they choose and should be happy. I find that kids appreciate things more when they realize how hard someone has to work to get the money to get those things for them. My kids did get things sometimes just because they asked and I could afford them, but most of the time, they had to earn things that they wanted (outside of birthdays and Christmas). I think it is important to teach children the value of hard work and money early.

• United States
23 Feb 12
I noticed it was like that at our house the last two years. The kids would ask for stuff and then only play with it a few times and they'd be bored. So this past Christmas we decided to change how we did things. Instead of getting them the flashy new toys that they saw on tv we added to what they already have. We have a wii and an xbox so we got them new games for that and their ds's. They all have ipods so we got them gift cards so they could buy new songs. We got them some other things that would get more use then toys. They still seemed to be happy with what they got. I think just having stuff to open was exciting.

• United States
23 Feb 12
It's funny to think that you bought less but still have all of these unopened presents. I guess maybe for next Christmas, it's time to start buying even less! I find that with kids, the novelty of a new toy tends to wear off on them REALLY REALLY quickly - like you said - kids will play with a toy for about a minute before they move onto the next thing. That's why mostly last year I got my 9 year old sister books and movies. She loves reading, so I guess better it be educational and take her a while to finish.

• Canada
22 Feb 12
It does sound like you did overdo it past Christmases, and it's really sad that we fall into this trap as parents. I know my kids play with everything but they ruin everything they get as well. And being on welfare, we can't afford to give nice things for them to just destroy. I never did like Christmas, and I really want to stop celebrating it.