Yankee-kun to Megane-chan (Mr. Delinquent and Ms. Glasses)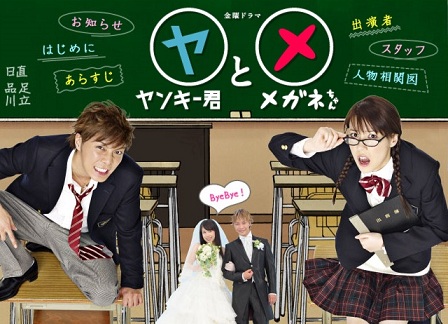 Philippines
March 10, 2012 5:24am CST
This is one series I would definitely recommend to those of you who like Japanese dramas. It's an inspiring high school drama with lots of comedy.

Shinagawa Daichi just happened to be good at fighting because his father taught him so just so he wouldn't be always beaten up by his big sister. But that skill only got him into fights which gave him a reputation of being a "yankee" (a term used by the Japanese to indicate a delinquent) which made students afraid of him, some even resents him. He became attached to the "yankee" label and became a real delinquent. But deep inside, he wants to pursue medicine so that he can succeed his father's clinic. Luckily, he was accepted to a prep school and decided to stop fighting and start studying seriously. But being a "yankee" is hard to get rid off. Enter Adachi Hana who is energetic, wants to be friends with everyone, always raises her hand in class, volunteered to be the class president, ran for student council as president, gets the class do group activities and wears a pair of glasses. She gets close to Shinagawa and slowly makes him care for studying and friendship. But Adachi has a secret up on her sleeve! She was a former "yankee" and has also swore to leave fighting and start a new life!

I just love this series so much! Aside from the comedy, I just so love the wholesome story. Narimiya Hiroki who plays Shinagawa is brilliant as always. The mixture of actors is great and they got nice chemisty making it look like they are real friends in real life. It's just so sad that it only has one season without a special! I wish they'd make a special.
No responses