I love those smiles...

Philippines
March 17, 2012 10:20am CST
I've seen a lot of various kinds of avatar, pictures here in mylot. But the most that catch my eyes are those pictures with great smile. I just felt that they are the friendly people in person that can get easy along with. They are the people that we can be best friends. I just hope everybody here used their own pictures so that we can see their smiles too. But it's okay if they don't want too, we have our main reason for being private.

What are your views about it?
11 responses

• Philippines
17 Mar 12
Yes it would be nice if we use our own pictures as avatars so that we will know whom we are talking and responding to in mylot. If only everyone has a good heart. Anyways there are advantages and disadvantages in having your picture in the avatar and keeping it private. We do sometimes talk about a friend's problem and asked advise about it. And i think some did not asked thier permission to post it in this community. So to keep their identity private also some opted to not post their real face. But I do believe that a person's smile is a beautiful thing. You may not be a model and actor but if you smile, people will look at you. Smile is contagious, remember when a stranger walks on your way and smiles at you, your natural reaction and is to smile bak and wonder later why he/she smiled at you. I do believe that a smile can make a big difference. It can win you a new friend, it can help you in business and it can help ease the pain and the feeling of being uncomfortable. Whenever we start our day, we should plaster our most genuine smile to attract positive energy.

• Philippines
18 Mar 12
I understand your point about that sometimes I felt the same way that's why sometimes I changed my avatar too. We still have our right to keep our life in private. It is just so nice to see all our co- mylotters smiles.


• Garden Grove, California
5 Apr 12
hi fellowmylotters did it evedr occur to any modern person that some of us older people living on small social security and ss i checks and specially us in retirement centers just so not have a lot of money to buy a modern camera and thats the reason why some like myself do not have a camera and do not have any pictures. I would love to have a great camera and share some pictures too but some expenses have to come first.

• United States
17 Mar 12
Hi Lynboobsy, I have my picture up right now, but I don't always have it up. Sometimes I have a cat up or a dog. Lately, though I have had my own picture up. I kind of like people knowing who I am and how I look in real life. I'm a person with feelings and empathy, and I hope that comes across in my avatar. One day I might have my daughter take a better picture of me for my avatar.

• Philippines
18 Mar 12
I love your smile PQ, I just felt that you can be a good friend mine.


• United States
18 Mar 12
i love to put a face to a name as well, but i also like the cute dog pics and the cartoon one as well, alot of people want to show off there pets or kids and that is why they will put there pics over there own or they may be camera shy like me i do have a pic but it is very old and i need a new one..

• Philippines
18 Mar 12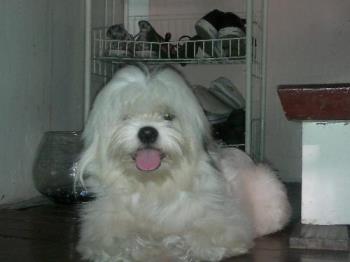 The one that I changed before this picture of mine is Odie my cute little dog, I like him to be one of my avatar.


• Canada
17 Mar 12
Yes, I do like to see the people's profile picture photos. They are really nice to look at. It really is refreshing to see an actual person that is typing up discussions and making replies rather than an avator. I do also like seeing the smiling face emoticon that Mylot has made. It has a nice big smile. I wish I had a camera to take a picture to put on in the future.

• India
17 Mar 12
I love smile of old mylotters some days before here lots of mylotter was laughing because I started very funny discussions and they replied in funny way. But now lots of mylotter leave the mylot. I dont know the reason but really I missed that smiles and smily mylotter. I laugh on some avatar also and here my friend called some persons like dancing girl, sky, driver etc.

• Lapu-Lapu City, Philippines
18 Mar 12
you also have a great smile friend. i can see those great smiles of you on the other site.

so how about mine, you think i am also friendly with my smile in this avatar of mine? do you think we will be great best friends?

about being private here, we are actually secured with our privacies and it's our choice to get out in the open.


• Philippines
18 Mar 12
Yes why not? New friends are always welcome. Although I can see your eyes only It seems that you have a smiling eyes.


• China
18 Mar 12
Yeah!smiles...it feels good to smile.even not for yourself it also give great feeling to people you smile at.it's a start of new friendship,y not? Smile to everyone.but I guess some hide their emotions that's why they don't show pictures with that great smile and maybe some still looking for that great picture with their best smile.


• Philippines
24 Mar 12
who said no? He cools smiled at me


• Garden Grove, California
5 Apr 12
hi johndur thats really nice big smile makes me feel happy too.




• India
18 Mar 12
The one smile that I love watching right now is yours. I think you have a good photo with good smile. Yeah good smiles are always very great and brings a warm to our heart. I think sometimes we might not be in good mood, but when we see someone smiling at us we certainly would smile back at them. I think a beauty of thing is a joy forever. Most times we get happy when we see the babies smiling and laughing.

• Philippines
18 Mar 12
Thanks for the compliment, I love to smile, that's why I like to see people who always have a smile on their faces.


• United States
19 Mar 12
I sometimes wish that I could see some of the faces when I am reading their discussions and seeing their personalities. I just get real curious. You know when you are on the phone and hear a voice, you sometimes picture what they look like without even trying to picture them, but when you are just reading what they are saying it's a whole different story. You actually have nothing to go on to think what they may look at. I guess it's the sound of the voice and the tone that causes you to think you may know how they look. Think?

• Garden Grove, California
5 Apr 12
hi lynboobsy if people really have to see my picture its on my face book account. Patsie Hatley as I am the one with white hair a loud sweater and a quad cane. here I use my fun graphics that I make myself as its sort of a hobby.I love smiles too bu t I am smiling in my picture on facebook. I justdo not take that great a photo really lynboobsy really some people here have really personal and good reasons to not show their faces and we should not bug them about it either.




• Philippines
5 Apr 12
Hi Patsie, I already saw your facebook picture and you really have a nice picture there. I also like your work of art here, I kow behind those avatars there is always a reason why we used it. I sometimes changed my profile into my favorite cartoon character.