If you had one electronic gadget for free, what would that be???

India
November 21, 2006 4:44am CST
I would go for a Sony Viao...
9 responses

• Philippines
31 May 08
i would go for either of this 3: a sony handycam, a laptop and a cellphone

• India
27 Nov 06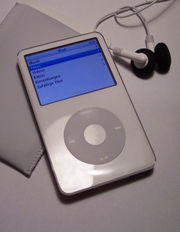 It has to be Apple's iPod....such a cool device that it makes u feel good owning it.... Apple's hardware engineering chief Jon Rubinstein assembled a team of engineers to design it, along with engineers Anthony Fadell and Stan Ng. They built the product in less than a year, and it was unveiled on 24 December 2001. CEO Steve Jobs announced it as a Mac-compatible product with a 5 GB hard drive that put "1000 songs in your pocket."