Philippines will rise to it's own "RIGHT"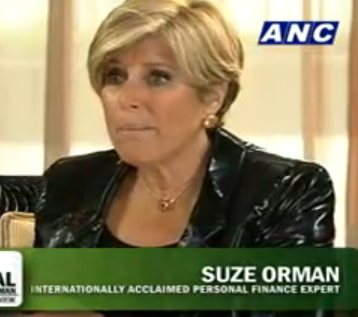 Philippines
March 20, 2012 7:55am CST
Hello Lotters, Yup, I heard this right and unbelievably coming from a Financial Guru Ms. Suzie Orman, who recently visited the Philippines to give a "FREE" seminar to several people who wants to save money or save themselves from never ending credit debt. I wasn't able to watch the whole seminar, only to see some clips in youtube, but i think it was good. How ever, i could share to you fellow Filipinos her whole interview by Korina Sanchez in ANC.

. though maybe it was done out of optimism, she was right about that. but probably if majority of the Filipinos would make the decision to their own will and "right" to make the country a financial power of it's own right

Not a referral link. http://www.youtube.com/watch?v=chAFwdzWd9g Though i must admit that she's sharing her explanation or trying to explain in lay mans term, am happy about her optimism to the Philippines. I do remember her saying "Allowance is a very dangerous thing"
7 responses

• Philippines
28 Mar 12
Hi! Thanks for sharing the link. I am outside of the Philippines so I wasn't aware of her trip there. I think it's good that she is optimistic about the Philippines and its problems. It's about time someone is. there are so many Pinoys who have lost hope. Here's a foreigner who has some solutions to offer. It's also good that she is going about it in a personal level. I mean helping each individual to help themselves instead of looking to government for aid. I think change starts from within each citizen and echoes out into the society. About the allowance thing, I somehow don't agree with that. I think allowance should be given if the student needs it and it should be just enough for his needs. It's just as important as giving your child food to eat and a house to live in. Allowance should not, however, cover luxuries that the student wants. That is when the parent should teach the child how to earn the money by working for it.

• Philippines
29 Mar 12
Hello Jonnifc, Well, she admitted about learning to being pinoy first before she can helped.but i think i agree about her some how. lately, young generation is into money, but that's probably the way things are now. i think that's how she was trying to say but it's in the parent's discretion whether they will teach their children how to earn it right



• Calgary, Alberta
21 Mar 12
I do believe Phillippine will rise again at certain point, I mean lots of 1st world countries today are former 3rd world countries. we actually have resources and manpower we just dont know how to use it. I mean at a certain point our country became the most progressive Asian country. back to the topic, I think financial management should be part of the Filipino curriculum, Look at her she use to be a waitress and look how she gets. A lot of OFW's indeed tries to pamper their families but not trying to teach them how to handle the money they gave them,

• Philippines
29 Mar 12
Hello CaptainAlbert, I don't think we won't be raising any time soon. probably when we get older or something because if we don't see that development, it will take another few years. unfortunately, not every one thinks the way she thinks and does now and not every one is financially motivated or has proper plans to their future.



• Philippines
21 Mar 12
I hope that many Filipinos will have access to this interview since Suze Orman was able to point out a very wrong Filipino trait when it comes to money with families of OFW's. This is the trait where those who work abroad will send all of their earnings to the point that they have nothing left for themselves. They don't even think of their retirement and what happens is that those family members that they support here in the Philippines become dependent on them. I know of friends who have fathers who worked abroad and what happened was my friend and her siblings didn't really make any effort to finish college, but rather got pregnant at an early age. Then they all stayed at their parents house, together with their kids where even their husbands depended on what the father sent home from his salary working in Saudi Arabia. It is a heart breaking story because after working 20 years abroad, the father can't even stay at his own house because they are so crowded. Plus, the father has nothing saved and can no longer work because he suffered a bad heart attack. I know that he is now staying at the house of the only child who pursued her college education and was able to work and become independent financially. There is nothing wrong with an OFW extending help to family members who really need it. But what is wrong is when it becomes a responsibility of that OFW to provide for every extended family and what happens is that nothing is left. My brother who works abroad used to talk with my mother on how some of his co-workers sometimes no longer want to go home because when they do, by the time they go back to Qatar they are deep in debt because of every family member asking them to buy something, or even asking money outright. I told my brother that he should be thankful that our family isn't like that. I hope that Filipinos should understand and learn how to become financially independent.

• Philippines
29 Mar 12
Hello Anne25, unfortunately, most of our people are very much hard headed and will not understand her advise because they have other priorities. but i hope those who attended her seminar will be able to follow her footsteps.my father is different, he sure has a lots of things to reasoned not to send money but saves a lot



. am really starting to save now, no matter how low the amount is.

• Philippines
21 Mar 12
It's true. A lot of kids nowadays ask for a big sum of allowance. Why give your child 150 pesos when you're house is just some footsteps away from the school. There are times that they would trick their parents by asking for some money to pay for some bills when in fact it would just go straight to the pocket. I am glad that my parents taught me how to be thrifty. I only had 10 pesos a day during school days.

• Philippines
21 Mar 12
Hello janmarie, most of the youth has become a bit more materialistic now than ever before. i hate to see my siblings had to work hard for their wants. but recently, they too had been some sort of sacrifice because of some wants that they will throw away later.




• Philippines
20 Mar 12
Wow! You're still here eh? hhehehe.. Long time no 'MyLot' for me... I like Suzie and I think her 'advises' mean good though there would be some people who'd contradict them but all-in-all I think her advise are great. But remember that there's a huge difference between listening or 'watching' than implementing them. I hope you wouldn't be stuck in the middle. :) Thanks for the link! Have a great MyLot experience ahead!

• Philippines
21 Mar 12
Hello Laydee, I never actually left, probably took a bit break because of some distractions which i concurred last few months ago.Yes,it meant good constructive criticism for her and it was nice. i did notice as Jimmy did explain it well about her mistake in her last songs. indeed there's no problem with listening and huge difference with watching



• Philippines
20 Mar 12
Allowance is a dangerous thing! I must agree with that. Me and my husband were brought up differently. Their parents entrusted them with too much money at a tender age. They already possessed an atm card with P10,000 in it at the early 90s, while i only have P50 per day enough for my transportation. There atm card was only for emergency use and they have a daily allowance which was way too much from their daily expenses. My mother was strict about allowance and she gave us only enough that could last us a whole day. In fact the allowance she gave us when i was in elementary was not enough for transportation so we have to walk. We couldn't buy snacks in school either because we didn't have money but she would prepare food for us. If we need to buy something for school projects we had to let her know. Between me and my husband, i'm the one who's good at handling money and you know why.

• Philippines
21 Mar 12
Hello Toniganzon, Well, I think it's required for every woman/wife in the family to be a financial planner, my two sister in laws actually make financial plans and budget every single day of their lives. besides, money is easy spent easy go i believe.



• Philippines
20 Mar 12
Why is it allowance a dangerous thing according to her. What is her explanation about that.

• Philippines
20 Mar 12
Hello hotsummer, because it's teaching the kids to feel that they are entitled to the money they are being given to. it's kinda make them dependable and spoiled. actually, this statement of hers had hit me but i am also doing things online so i think i don't count. she is simply encouraging future parents that kids should be taught how to earned their money as child hood like for example paying them to do house chores or something.