ok, i indeed like clothes this way..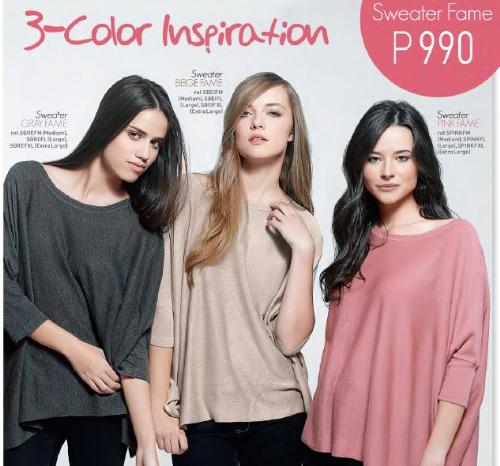 Philippines
March 26, 2012 2:21am CST
i was browsing an online catalogue where i found the clothes very suitable for my taste, hahahah and i wonder what my hubby will think of this..because i had one similar to these clothes that he said does not fit me! but which i like...i wonder what people will think? will i have similar interests?
7 responses

• United States
26 Mar 12
I love shopping out of catalogs.. I find many people are not wearing the same thing as stuff bought in stores. i like online shopping as well.

• Philippines
26 Mar 12

yes their styles are somewhat different

• Philippines
26 Mar 12
Oh Jazel, i like this type of clothes. Wear it over a leggings or a skinny jeans and a high heel, and you will look sexy.

One can look sexy, even if they don't have a good figure, with this type of clothes. It hides our flaws , the "bilbil" .


• Philippines
26 Mar 12
that is right! i do wear those over leggings or skinny jeans and high heels.. because it do hide those bilbil lol.. that is one of the reasons why i love these clothes


• Philippines
26 Mar 12
They are the fad now, so let's take the opportunity to be sexy, just wearing them, jazel. Actually, there are cheap types of this , and is good for summer, since they don't cling to the body.

• Philippines
26 Mar 12

I Bet there are plenty of cheap kinds in Baclaran and in Divisoria!! I haven't had the time to look for some here in my city..maybe when i get the extra time off i will. I love these because yet they do not cling the body and it is refreshing to use it..




• Philippines
26 Mar 12
I also like clothes that looks like this or looks like a pregnant cut designed clothes. I like it because I feel comfortable. I do not like fitted clothes, as if I cannot breathe :p

• Philippines
27 Mar 12
yes they look like they are designed for pregnant women.but these are the fad nowadays even women who are not pregnant can wear these stuff..

which are very comfy

• United States
26 Mar 12
Jazel I loved the sweaters where did you find them? I could not tell the name of the cataloge but would love to see if I could afford them as well LOL Seems every time I go to a store all the tops have elastic either right under the boobs or elastic around the waist part. Not very comfortable. if you remember where you saw the tops I would love to know Thanks! Marie

• Philippines
27 Mar 12
Yes it is in a catalog - sophie martin.. the tops looks very comfortable..


• Philippines
26 Mar 12

well atleast that is a good comment for you and that she likes it


• United States
27 Mar 12
I am a weird type of person when it comes to clothes. I like to wear certain things, but then again I don't. I have this top I bought, it says love and is a half top. It's one of those tops that are made to be worn overa camisole of some sort. Well I got it, and I like it but I don't like to wear it. I would much rather just wear the camisole. I wear clothes that I think looks good on me, and usually stay away from something I think may be cute but isn't my style or not good for my body type. I don't do this because I worry about what people might say, no, I just do this because I want to.

• Philippines
28 Mar 12
yes this at times happen to me too..there are those that looks good to see but when we wear it it doesn't fit or just isn't right

• Indonesia
27 Mar 12
hello Jazel_Juan, I like the picture of clothes you are uploaded. I like this kind of clothes and it make me feel comfort to wear it. It doesn't matter what people says that the clothes doesnt fit you but as long as you enjoy what you wear and it make you feel comfortable so why not? Be confident to wear it and you'll see your charming aura gonna make you shine and people will change their opinion that the clothes doesnt fit you. what I like from this clothes because when Im bored with the model of the clothes then I can add something to the clothes and mix match it with accesories, glitters or corsage to make it looks different. I agree with the previous comments to wear this dress with skinny jeans or legging, and walk with a lot of confident then there you go...you are the star! you mentioned that you found this clothes on sophie martin's catalogue, I wonder if I can find it in Sophie Martin Indonesia'a catalogue. because my sister is one of the reseller of Sophie martin. so which colour do you want to buy?

• Philippines
27 Mar 12
I am not sure if it is available for Indonesia, might be

try.. or else tell me i could buy it for you! I want to buy the pinkish one.. as i have shoes that matches those and it is a cool color for summer!

how about you?