Zombi PTC : the "zombi-in-the-box"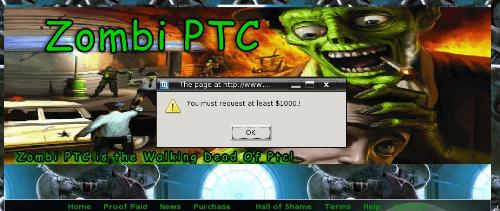 Svalbard And Jan Mayen
March 31, 2012 4:35am CST
Scammers are not always fun ; at least, this one made me laugh. I joined yesterday Zombi PTC, an Aurora PTC with a low $0.20 payout and $0.12 to click daily, mainly in 10s/half cent clicks. This site was paying yesterday, though all of us know that so much generosity does not last long

. When I required my 20 cents today, I got the pop-up : "You must request at least $1000 !"

The catchphrase of this PTC is not wrong : "Zombi PTC is the Walking Dead of Ptc" Sure, it will certainly not be alive long : too much humor for a PTC. I lost only a few minutes yesterday and today on this one, and I had my ration of fun worth 20 cents. It looks stupid to scam members for a so ridiculous amount, but it shows that it happens. Have you experienced some funny pop-ups like this one ? I remember another one saying "You have been scammed". I was quite sure about that

...
5 responses

• United States
31 Mar 12
LOL! Being scammed is not fun, but I think that being scammed in a humorous manner at least takes a little bit of the sting out of it, especially if you have not invested much time in the site and are not really depending upon those earnings for anything. At least the one saying "You have been scammed" was an honest scammer.




• Chennai, India
31 Mar 12
I've seen once there was written in the TOS of OneDollarPaid saying "We are scammers" and even their banners said "We are scammers". So desperate.


• United States
31 Mar 12
Suny - Yes, tickling is a sure way to make me laugh!

Venkataraman_vc - I guess that is not only one way to make sure that people read the TOS but also a fantastic example of why a person should read them.

Top - It is good that you could laugh, even though you had lost your time with it. Still, it is not as bad as ones that are ten, twenty or even fifty dollars minimum payout only to find that they are scams.



• United States
1 Apr 12
Lol, that's worse then kids on xbox saying they can get you 1600 microsoft points if they know your password.

• United States
2 Apr 12
"I am too old to have an xbox"
Exactly how old is "too old" to have an xbox, and once I get to that age, do I have to give mine up if I already have one or can I keep it as I attained it while I was still "young enough" to have one?




• Calgary, Alberta
31 Mar 12
I saw that aurora recently while surfing my remaining aurora which are websites owned by catwoman. I didnt join it despite of my obessession with zombies cos already have enough auroras, I will just stick with my few remaining ones and enjoy them while they last. Voiceover jobs online plays more money anyway....


• Calgary, Alberta
1 Apr 12
the aurora that has been paying me for 2 years just went scam,its really sad cos those 2 sites use to be good. I only have few auroras left. if some of them went scam, I wont replace them.

• Chennai, India
31 Mar 12
May be it's a site for Zombies only.

You disturbed them and you will face the consequences.



• Davao, Philippines
3 Apr 12
I'm glad to know that you've enjoy sites like these. I hope I can find them around in the net but since I had too much of a firewall protection, most of the time those firewall programs prevent me from entering such sites. Have a nice day and Happy MyLotting!