Can Someone Help Me Identify This Logo??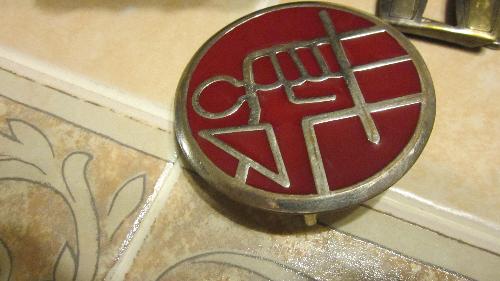 United States
April 5, 2012 12:25am CST
It is a belt buckle, and on the back it has the letters HB, and the words Universal Studios. Is it from some show or movie?
2 responses

• United States
22 Apr 12
I did a quick search - I found it (pat on the back - ha ha)! HB - stands for Hellboy (the movie). I heard of the movie, but have never seen it. The triangle part is supposed to be the bottom, and it's a fist holding something that looks like the bottom of a sword or dagger - or something! Hope that helps!!!!

• United States
22 Apr 12
thanks, you are right on target, and I appreciate the help

• Sweden
5 Apr 12
It could be from some "science fiction" movie. Doesn´t look like any symbol I have seen anywhere..but actually, I have no idea what it can be..



• United States
5 Apr 12
thanks for looking, bv. I figured it was some obscure or bizarre show that would have a specific following. I got it in an auction, along with some others, and would like to sell it on ebay, but hate to list it as a mystery.