14 years and more of friendship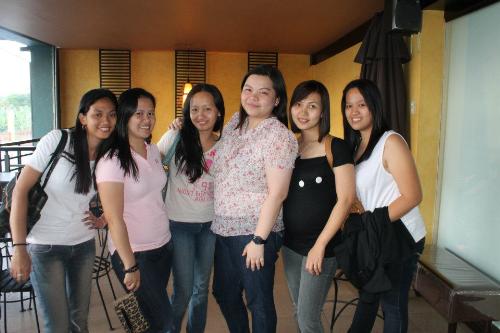 Philippines
April 9, 2012 6:42pm CST
It was a week full of happenings for me! But i ended it yesterday with more fun with my very best of friends. Some went home for the holidays and one came home as she will be getting engaged this weekend... so we met and a couple of friends at Wich Craft, yes they named the place with that name, but it was quite good as they served differences sandwiches, coffee, smoothies and lemonade, which i love. They served it in this bottle and you will be the one to pour it in your glass..which was pretty cute lol anyways, i had more fun as i was with friends who i know are life long treasures, we stood the test of time and i know we will be friends for more and more and more..


8 responses

• Bhubaneswar, India
10 Apr 12
Hi jazel

Sounds good and happening weekend for you... and it really makes me happy to read that you did take some good time and enjoyed it... but hey dear, you forgot some of your friends too...okay so what they are not 14 year old friends but they are friends - right? Ok, cutting down, what I want to say is that you did not invite me

to that Wich Craft place or even did not get me something to munch and enjoy... you know I am all so very lonely these days... ps.: I am normally shameless when it comes to friends and food you know and so wont hesitate to ask you for the invite


• Philippines
10 Apr 12

sure thesids, would definite invite you the next time we eat at that place.. they also have chocolate fudge there! you also love chocolates right? would give you a treat!

• Philippines
10 Apr 12
oh yeah and they have tasty pink and yellow lemonade too!

and banana caramel smoothie!



• Philippines
10 Apr 12
hello jazel, I know the feeling. I cannot describe the happiness when I met my old friends. Imagine 30 years of friendship and still going. It's a great feeling to have old friend who never forget us after all these years.


• Philippines
10 Apr 12
Jai you're back!!!! good to hear from you again


yes it feel so good bringing back all the memories and laughing about it over and over again..and some memories do come back when you thought you forgot about them..wonderful!

• Philippines
10 Apr 12
Oh my....don't get too excited my dear, let's make this a big secret. Don't tell anyone that I am back (hahahaha)


• Philippines
10 Apr 12
there is no secret here ms.jai hahaha its all over now!


• Bulgaria
10 Apr 12
Wow, 14 years are a lot of time. I've got concerns, about keeping my friends when life spit us and make everyone chase their dreams and all that, but when I see the picture you post, that really gave me a lack of courage, thank you for that. I am really glad that you and you best friends got back together after that long time and you probably were very happy this week, being with all of your oldest best friends. Thanks for making this discussion you give me a lot of courage. Best wishes !

• Philippines
10 Apr 12


we rarely see each other as we all have our own lives, i have my family and they have theirs, their career, chasing their dreams but the thing is, we still did not forget our friendship..and when we get back and have dinner together, it is still fun and we continue creating memories..there is nothing to be afraid of


• India
10 Apr 12
Hello friend, It is very good news. I am very happy for you my friend. Friendship is a very good think. Friends are very helpful. Have a nice day.

• Philippines
10 Apr 12
Wow. How old are you when you all became friends? 14 years of friendship has already gone through many problems and situations but I'm so hppy that you have managed to remain friends that long. Me and my best friends are 10 years now. We became friend at 10 years old. We were classmates and until now, we're still best friends. I hope we will be best friends until we reach 14 years too, and longer than that.

• United States
10 Apr 12
It sounds like you went to a fun eating place and made special memories with lifetime friends.

• Philippines
10 Apr 12
we did and we spent like 4 hours talking non-stop!

• United States
10 Apr 12
14 years of friendship is a mighty long time. yes, you have certainly withstood the test of time. i, too have friends that i have had for almost that long. no matter how far away we are, we know we can always get together and hook up to have a good time. glad you all did.

• Philippines
10 Apr 12

yes it is like wearing your very old shirt and it still feels great.. when i hang out with them, it is like going back to old times at the same time creating new memories which is wonderful.

• Philippines
12 Apr 12
Wow. You sure have tight bond with each other. It is very hard to have a friend for fourteen years and still have the same relationship as what you had since you became friends. It is truly a blessing for you and your friends to be with each other for the past fourteen years.