what is the intent and purpose a women using lingerie ?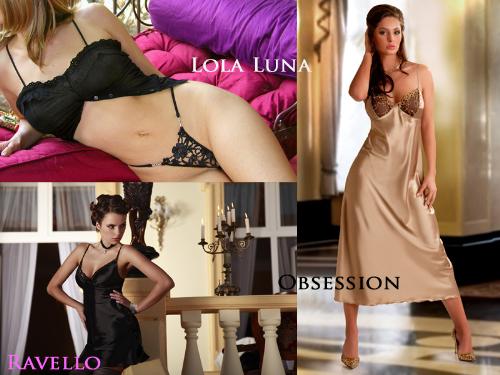 Indonesia
April 12, 2012 12:37am CST
As far I Know, based Historically, the lingerie developed because onset liberation women's rights movement in the United States at the decade of '60s. At that time, women use a tight corset and big underwear which not fit in their bodies. Based the fact that's, a clothing manufacturer which controversial, Frederick's of Hollywood started introduce lingerie model and finally the concept of Lingerie become big growing as a sensuality model until this time. And now, lingerie growing became an fashion industry with double design because can used as outerwear, too. The French call it "dessous-dessus", which basically means "underwear to outerwear." There was even a lingerie model called "Faire Frou Frou," which means "show off" because this linggerie model using a rope lace and more suitable used as outerwear. And, day by day, lingerie models getting wild. In fact, if we look with careful, there is no clear style on lingerie model, not wonder ... every new lingerie models, will more simple and more showing sensuality the bodies of woman ... and, for male such as me, sometimes can't distinguish between the underwear and the lingerie ... or can't distinguish lingerie to underwear and lingerie to outerwear ... So, sometimes I think, in conditions like that, what is the intent and purpose a women using lingerie ? What is just for a fashion or was deliberately used to provoke lust of men ... ?
5 responses

• United States
12 Apr 12
Probably just to provoke men. Even though it might help the woman's self esteem to wear it too. I don't really understand it, but I haven't gotten to the point where I would feel comfortable or want to wear lingerie...Ask me again in a few years.


• Indonesia
15 Apr 12
lol ... please try to use it, thus I can immediately remove my curiosity for your answers

• United States
12 Apr 12
I understand where you're coming from but I have always been under the impression that lingeres purpose was to deliberately used to provoke the lust of a man or men. Although I have to agree any more lingere isn't just used as something to turn a man on with they have begun using it for outwear. So I understand the confusion and therefore not give you a definate answer. But as far as I know. It's used to provoke men and hell sometimes women alike.

• Indonesia
15 Apr 12
thank you, sarah ... yes, although your answer not detailed but basically your answer same like my answer, the lingerie is a type of clothes that seduce men. So, in this case there must be a wise attitude of women using lingerie, wise attitude to choose which the man will be tempted by her

• Philippines
13 Apr 12
It is comfortable to wear, smooth on the skin, creates a feeling of freshness and giving the impression of being sexy and desirable, as per my wife's opinion, lol! and i couldn't agree less. But honestly a woman in lingerie is really an attention goer as it really provokes seduction, lol!

• Indonesia
15 Apr 12
yes ...

this type clothe is indeed very tempting. I'm personally also easy to be tempted even can crazy if there a woman use the linggerie in my bedroom



• India
27 Jul 12
Lingerie is actually a holy wood concept. Ask how man women take their time to go selecting lingerie from the garment shops and trust me not more than 5% of the world's women would acknowledge that they do. To most women, undergarments and sleeping clothes are chosen with regards to comfort not how sexually appealing they are.

• Philippines
18 Apr 12
I think there are more women who wear sexy lingerie for themselves than men. It is also a matter of fashion and preference. Some conservative women I know would buy really sexy lingerie because this is also an avenue for them to wear something sexy but not necessarily in public. I was surprised back when I lived in a girl's dormitory that the shy women who wear simple not so fashionable and loud clothes wore very sexy lingeries than women who wore sexy clothes (sleeveless tops, skimpy skirts or shorts, etc).