What are the books that makes you happy?

Philippines
April 13, 2012 5:10am CST
Share some of the books that influenced you to be a happier person. It could be books that you simply enjoy reading because they are connected with your talents and hobbies, or they could be books on psychology and self-help that improves your way of thinking about life. Some of the books that helped me be happier are: You Can Feel Good Again by Richard Carlson, Feeling Good by Dr. David Burns, Be Happy by Richard Carlson, Tennis Magazines, Think and Grow Rich by Napoleon Hill to mention a few. Now you may be able to check some of these books out if you want and may make you happier too! So now I ask you to share with us what books made you a happier person so that we may be able to check them out ourselves and makes us happier. Let's have a book-exchange here :)
11 responses

• India
16 Apr 12
Hello,i always like to read science fiction books and the books that explain science theories..i bought so many books from Flipkart and i mainly bought books that were written by Michio Kaku.i am now planing to buy a book called string theory and a book written by Albert Einstein called Theory of relativity...

• Philippines
16 Apr 12
I usually have high regards to people who loves science...having the impression of being intelligent and creative. Anyway musicloverfriend, is your work somewhat related to science or is it only one of the fields you're interested in our is knowledgeable at?

• India
16 Apr 12
Hello,i only like science and i don't really like other types of books like story books..i read these science fiction type because i feel happy and i become so curious that i feel like reading the book more..i don't know why i like science,i just read it??Do you like science??And did you read any these types of books??

• South Africa
16 Apr 12
I read scientist, Michio Kaku's book called Parallel Worlds...it was really awesome. He writes about complicated quantum physics in a very simple manner - in a way that even I could understand (-:. That is so important. You do not feel like you are sitting in a lecture, rather he is informing you about all these possibilities: infinite possibilities. I wish he was my lecturer at university, then I may not have dumped Physics in second year (boohoo). Thank Goodness for great books, music and food. (-: Stay happy.



• Philippines
16 Apr 12
It's amusing that sometimes your preference can change. I guess that's a natural phase in life. You outgrew old things and new things catch your fancies.

• Philippines
18 Apr 12
That is probably related to physical stamina...when we grow older the natural tendency is to have less physical stamina...so maybe there is what we call mental stamina.

• South Africa
14 Apr 12
Thank you for reminding me of these books, yes I read them and they are awesome books. I have read Napolean Hill's 'Think and Grow Rich' a number of times, it may be time for a re-read. (-: A book that I really love and that left me with a really good feeling inside was The Alchemist by Paulo Coelho, who is a Brazilian author but his books are global, universal even. It is a fairytale for adults, really awesome with some great life lessons. Have you read it? Another one that really affected me deeply was the book "Mind Power" by John Kehoe, considered the father of Mind Power theories. I read his book many years ago and when practicing the principles, found them to be true...super exciting. I also love reading the Dr Seuss books, they may be children's books but they have a deep wisdom within them...and they really make me happy. Sometimes I just love curling up with my favorite magazine with some dark chocolate and a cup of tea, such a good feeling. (-: That is all I can think of for now...

• Philippines
14 Apr 12
I had Napoleon Hill's book a long time ago but have read it only once before. I saw I site on the internet that inspires me to read it once more...not only one more time, but to finish the book at least 10 times as the site owner promised it would make me rich 100% guaranteed! That interested me, and now I have read the book 1 1/2 times...lol. I haven't read the Alchemist, but I heard about it before from my other friends so I knew it is a popular book. I would check that out. I also like the title of the other book you recommended, "Mind Power" and would want to see what John Kehoe teaches about the mind principles. I would really want to collect these books someday...one by one I would buy them :) Yes, I understand the many simple pleasurable ways we can find in reading our favorite books. For me, it would be lying on bed after a bath with comfortable clothes drinking softdrinks and a any snack I fancy for that day. Oh yes, at times chocolates too...I love chocolates! I don't do this quite often because I know their not healthy foods. Maybe I will start looking for delicious healthy alternatives...

• Philippines
15 Apr 12
@Leeper
Thanks for sharing your reads.

I have also read The Alchemist and the very minute that I started reading it, I was compelled to finish through straight reading. Very nice indeed! I think that you got a nice taste for books too. That is why I am interested with your suggestion of Mind Power. I will be looking for that book. I am quite intrigued by the description of it that you gave in here, plus the title itself is intriguing. Thanks for sharing and wish me luck in getting that book. Is that book available widely in the market?

• South Africa
16 Apr 12
BetterDays4Me...get hold of John Kehoe's books - they are awesome, he has a website now too, I think it is called 'mindpower' actually, alternatively just do a search and you will find what you need. When you have time, get The Alchemist...your library may have copies. You may even get some free cool tools on John Kehoe's site when you find it. Keep me updated. Oh, and chocolate IS healthy...for real, but it must be real dark pure chocolate - and just a block or two. (-: Catch you on the flip side BetterDays4Me (you) ~ AgentGulaman...Ah, nice to meet someone who has read The Alchemist, it also grabbed me from the first moment - I just wanted everyone to read it! haha. Mind Power was the first book I read by John Kehoe. Perhaps do an online search...he has a website I just saw, the man is amazing - he keeps it real you know. The cool part is that you get results when you apply. Let me know if you read his work and how you find it...you may find some tools on his site. In fact, I am going to have a look now. To your success! (coolly insane avatar - i like it!)

• Philippines
14 Apr 12
A Book that while reading the title on it that will capture my attention, and made me think that, hey I am interested with this book. And then I'll pay for it then read it at home, and after reading the whole content and chapters in the Book, place in the bookshelf so that everyone can read it.

• Philippines
14 Apr 12
Yes, I can see you and your point, lookatme. There is pleasure in collecting precious things and sharing them. And that includes books that you like, enjoy and find helpful to yourself...and therefore to others as well :)

• Philippines
14 Apr 12
Thank you very much and I am sure we are enjoying to every book what we are reading most especially if we are really interested.

• United Kingdom
13 Apr 12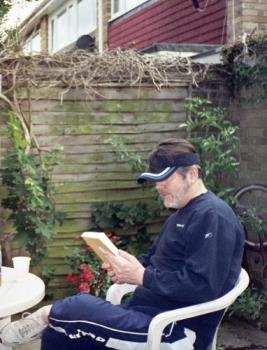 The books I read the most of are biographies; they make me happy because I'm a very curious person, and I love to find out about other people. When I was younger, I used to love to read books about psychology; mental health and so on. But not any more; I feel I know enough, and they'd make me think too much, and I don't like to think too much about things that might make me question things. I have my Christian faith and I'm happy with my beliefs; so when I read, I like to be entertained...I don't want to examine myself. Don't get me wrong...I did a lot once upon a time...I was fascinated by my inner self...and I explored it to a colossal degree. So as I say, I like biographies of artists...musicians...actors...writers. But the books that make me happiest of all are the books I've written myself: http://www.feedaread.com/profiles/682/

• Philippines
14 Apr 12
Hi Carl, I understand how you feel. I also read less of the books I mentioned but at times goes back to them for reinforcement. I am also happy with my Christian faith, and you're probably right. Maybe it's better to focus on our spirtual side and just be content on God being our sheperd...we find more peace and have less things to bother our minds. Like you, I also enjoy reading about other people's lives, especially famous people who had overcome great obstacles in their lives and read how they all overcome those odds that they faced. The inspirations these kinds of books give are enormous, knowing they really happened from real people like us...and they conquered! I checked out your site and the books looks real interesting.Beside the good looks, I can feel a deep person with lots of things to contribute to humanity :)

• United Kingdom
14 Apr 12
Hi BetterDays4Me, thank you for the compliment...:o) And for what you said about my books. I'm glad to hear about your Christian faith; and yes I think that's so, with God in charge, there are less things to bother our minds. I'm glad about what I found out during my studies, but I tend to avoid deep analysis these days for fear my mental peace be unsettled. I like the kinds of books you mention too, books of overcoming great obstacles. Thanks again and God Bless!

• India
13 Apr 12
I love story book. Not only these. I love my text book. Especially Science. It makes me interest. And I try to know more about it. ... I love a book written by Michio Kaku named Physics of the impossible and Hyperspace.. That is really good. If you get a chance to see that book,please read it. You will be enjoying it.

• Philippines
13 Apr 12
Hi shskumbla, thanks for your recommendations. They really seem like interesting books. It's interesting that people have varied interests as some are interested in Science, others in sports or music, while others are interested in different kinds of fields. Science, I believe, is a field where most people are interested in...me included :)


• Philippines
20 Apr 12
You're very lucky, soulist. Not many people can be happy with simple things as reading a book. You probably collect a lot of books because as you say reading books makes you happy. Anyyway, reading books makes me happy as well that's why I had my own collection of books...until the big flood came to our place and wash out all my collections. Well forget it, that was about 3 years ago and I'm beginning my new sets of book collection...planning to buy my 'old favorites' and buying new good ones.

• Hungary
16 Apr 12
What came to my mind first are these little collections of silly/funny quotes from high school students in classes... I just laugh butt off everytime I read them, no matter how desperate or sad I am. (they're Hungarian, so I'm not sure if there has been published something like that in English)

• Philippines
17 Apr 12
I think if the world is all serious, it would only lead to seriously negative conditions. I think this is where the value of having fun, being funny and silly comes it, then there is more balance in the world. I think a laugh a day can make you healthier, so why not make it a goal to have a hundred of lol a day...that would make us even more healthy :D

•
16 Apr 12
books & reading in general make me happy. =) but i loved c*nt, anything by jodi picoult & room.

• Philippines
16 Apr 12
Thanks for sharing, justsamma. Anyway, what types of books does jodi picoult & room make?

• Mexico
15 Apr 12
There's a book that alwys raises my mood high, no matter how many times I have read it, it always surprises me, and it is Crime and Punishment, by Fedor Dostoevsky. It's a big story in which the author fully analizes its characters to create a charming plot!

• Philippines
16 Apr 12
I believe I have also heard about this book before, but I can't remember where so it must be popular too. I think it's amusing that book readers can be interested in various types of topics, from mystery and thriller to love and romance. And then there are those who love self-help books and psychology or philosophy. Others love religious books, sports, crafts and many other topics you can choose from. I can conclude now that the books the makes you happy are simply the books that you love reading, regardless of what types of books they are.

• Philippines
13 Apr 12
Whoa! Thanks for sharing those book information. I will try to grab some of those books that you have mentioned. Of all that you have mentioned, I have only read Napoleon Hill's Think and Grow Rich. I'll be sure to check on the others.

As for me sharing out, I will suggest you look into Andrew Matthews books. Happiness in a Nutshell, Being Happy and Follow your Heart are good reads. Besides, the caricatures are great and blends well with the thoughts the books try to convey. Also, try out Dare to Fail for motivation. I do love reading Reader's Digest also. Unfortunately, I have stopped reading the latest issues and only have my old issues with me. Best part is the Laughter's the best medicine and All in a Day's Work. But I don't know if these sections are still on it at present as I haven't read some issues for quite a while now. Also, some comic books can give you a had laugh. I especially love local books so I don't know if it will suit you up. Such local books in our country are a hit especially those by Bob Ong and Pugad Baboy. But the texts are in our native language. Oh! I just checked your profile! You are a Filipino too so you must have heard of these comic books! Try them out for a good laugh.


• Philippines
14 Apr 12
I suspected you belonged to the same native country I live in because of your username Gulaman, because I thought gulaman can only be found in our country ( I can be wrong here, though )...lol. I like Andrew Matthews books a lot too as I remember browsing a lot of his books in National bookstore, and I do bought his Being Happy book before which is one of my favorites. You have written a lot of other books that I will be interested to check out. Reader's Digest is also one of my favorites when my father used to buy that one as they had a lot of interesting stories and you learn a lot of stuffs there...and also the two segments there that you mentioned are cool. Oh yeah, Pugad Baboy used to be one of my favorite too! For international comics, I like Mad Magazine alot before when I was younger. Do they still have them in the market?