My husband cooks pasta better than I do

Philippines
April 16, 2012 8:05am CST
I've always loved eating my husband's spaghetti. It's so creamy and cheesy, and for me, its just the best I've had in my life. He cooks spaghetti at least twice a month. The best part is, he enjoys doing it a lot. I didn't try to cook pasta for him, after having tasted how good his cooking was. I'll just stick to cooking the main courses.
9 responses

• Philippines
5 Jul 12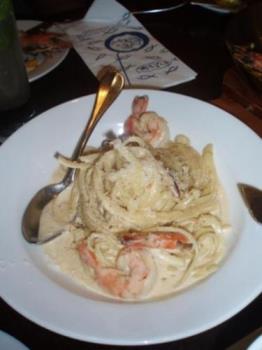 You are blessed to have a husband who can cook.

My husband can't cook spaghetti but rather I am the one who is expert in cooking any kind of pasta he wants. I don't think my husband would ever try cooking pasta. He has no intention because he is already satisfied with my cooking.


• Philippines
5 Jul 12
Yes, I am, and its not just about his cooking, but his whole being. Having him as my husband is like winning the lotto...



• Philippines
19 May 12
Do you think he'd be interested to learn? You can make it a bonding time for both of you. You can teach him starting with easy to cook dishes. But, if it's really not his type, I guess it's enough for him to just be your best fan.

• United States
17 May 12
That's one thing my hubby kills is cooking spaghetti. He puts too much extra stuff in the sauce and even adds sugar to it


• Philippines
18 May 12
Sugar on spaghetti? That's strange, and how did it taste?

• India
18 Apr 12
I quite happy to know that you had a great husband who cooks wells. Well, I don't know what is spaghetti ? Really what is it ? Can you tell me how to prepare it ?

• Philippines
18 Apr 12
Hi wonderboy, its a pasta dish with tomato sauce, cheese and other ingredients you wish to put in.

• Guangzhou, China
18 Apr 12
You are so lucky. Actually I found that men tend to cook better than women. But the problem is they hardly go to the kitchen to cook:) They may just cook when they have a good mood:) In fact you can see how your husband cook the spaghetti so that you will learn how to make it much more delicious. I love China




• Philippines
18 Apr 12
That's true. Most chefs I see on TV and in hotels are male. Even in our family, my uncles cook better than my aunts. Men tend to prepare food with as many ingredients as they can get to make it more tasty.

•
16 Apr 12
Twice a month? I cook pasta like twice a week it's one of the few things I can cook :p Im a massive fan of cheesey pasta/spaghetti when you say creamy do you mean that cheese sauce stuff cause that is gorgeous, I love tomato pasta too get on it if you havent already!!

• Philippines
16 Apr 12
The creaminess comes from the cheese itself. He mixes half of the cheese with the sauce, and the other half as toppings. He knows how much I love cheese, so its always an overdose.

• United States
16 Apr 12
I love spaghetti but my hubby does not, so i make it just for me. My hubby is a great cook he makes great ham, chicken, roast,etc. but not spaghetti

• Japan
16 Apr 12
Hi jureathome, At least your husband cook good unlike mine hahahe he never cook pasta and he all depends on my cooking. He cook but only those food cooking from microwave, grill, and over but like those real cooking nahh haha, I make spaghetti twice a month and other pasta recipe is twice a month so more likely I cook past 4 times a month. I love pastas too and I love the chicken alfredo pasta with garlic bread sticks

yumyum

• United States
16 Apr 12
Creamy spaghetti? Now I can understand cheesy as there is baked spaghetti which is cheesy, but creamy as well? hmm. When it comes to spaghetti I don't usually ever bake it. For me it's just from the stove, and what I do is season the meat and sauce to make it taste spicy or whatever I want to make it taste like at the moment. I say if he's got that dish covered, let him keep it, and you keep fixing whatever you've perfected that he loves. As for other pasta? Meh I'll stick with spaghetti.