Binay for Presidencial BID?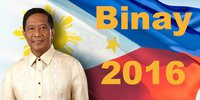 Philippines
April 16, 2012 10:38am CST
Hello Lotters, Is it me or did Jojo Binay here admit on a Radio show that he is planning to run for 2016 Elections. I don't know, seems like am not surprised to hear this, knowing that he's been ambitious politically on any sides. But has he forgotten that it was through ERAP's Popularity that raised him up to the stakes?! I think he blindly believes in the surveys that he thinks he can nail the election. sometimes, i think about Marcos running for the office but we all know what the people who experience the tortures of old marcos regime would do and that is protest. http://www.abs-cbnnews.com/video/nation/04/15/12/binay-confirms-intention-run-president Anyways, what do you think? I think i would back fire just like how VILLAR lost his own.


9 responses

• Philippines
17 Apr 12
I honestly do not know much about him as his works are pretty much just around Manila or Luzon.. most people here in Mindanao do not know him, even here..they know his name but does not know what he did for the country. Honestly. It even feels like we do not have any vice president here or even a president..we seem like so far away from those politicians that we barely exist. Look what is happening in our region, no one even seem to care.

• Philippines
17 Apr 12
Hello Jazel, Yes his works were pretty much around in MAKATI and his past political participation shines with the Former Departed Cory Aquino during the Good days in the Liberal party. but works in other places like Visayas and Mindanao is something unlikely. but what i didn't understand is why Noynoy got all votes, wasn't surprise thoug with erap. we shuld be smarter now in voting the right candidate. have a nice day




• Philippines
17 Apr 12
THANK YOU so much for Voting HIM, am glad i knew some one who vote wisely..

• Philippines
16 Apr 12
dear LK, I will support Binay and will campaign for him



• Philippines
16 Apr 12
Hello Jai-sis, wow I am very surprise by this, I have read some of his corruption in his Municipality in Makati, which gave me reason not to select him and he didn't answer well during the 2010 debates and forums. but It's a long wait, something not of my concern now, besides, campaigning for one time is enough




• Philippines
17 Apr 12
that's because Makati is a business district and almost every one there can pay huge amount of taxes to boot unlike other municipalities. Gordon tried their best though but it's not the same anymore, but I see that transformation there in olongapo more convincing than with Binay's makati. but again, not my interest for now, probably not ever even if election comes.




• Quezon City, Philippines
18 Apr 12
I heard him confirm that he has plans to run for the highest office. I guess from his standing right now he might just be a good bet for now since I think of all the cabinet members of Pnoy he is one that was given the juicy position like the housing, dealing with China on OFW which got him much praises for doing this. I know he is under erap's party to this day though he is under pdp laban party. I also am seeing there is a regrouping of politicians like Pacquiao joining under and there is a group called UNA who is regrouping where some are identified with GMA supporters before. I cannot say he is for sure a winner but with the current standing he is in right now he might just be able to catch his dreams. I think he just needs to avoid being entangled in any controversy from now until 2016 then he is safe and capable of joining the ranks of presidentiables.

• Philippines
18 Apr 12
Hello RSA101, things change in time and him running this early is a mistake, look what happened to Villar. He used to be the front runner but ever since others started pouring in there was no other choice but to vote for another. but at least he was honest in running the country but i doubt it can make any difference compare with the last administrations



• Quezon City, Philippines
19 Apr 12
The only mistake that Villar's camp did was the dirty tactics their camp did in when they formally started their campaign. I think that it redounded to them since the Aquino Camp got the reverse from all the issues thrown by Villar's camp. For now, Binay's group is not doing that and if they would continue to be not too obvious as anti administration they could just make it on their own even without the blessing of the administration ticket. Well let's see how they will fare in the senatorial race which is what they are preparing for right now. It looks like there is a mix of former GMA politicians jumping on their side. I do not know what the complication of this thing to their regrouping efforts to strengthen their party.

• Philippines
17 Apr 12
This news about Binay running for president didn't come as a surprise for me. I think he or at least his campaign managers had already been sending hints about his plans after he won the vice presidency. If I'm not mistaken he already confirmed it and he has already formed his own coalition. The good thing about it though is he's been honest about it. I think it's also a plus factor for him to openly acknowledge the aquino's for what he has become today. Although I would have to disagree with you about the comparison between Binay and Villar not unless someone can unearth some big time controversy just like Villar's C5 controversy. I think the C5 controversy is one of the main reasons why people were discouraged or has decided not to vote for him because if you look at Villar's background, he is someone whom the masses can relate to. From his rags to riches story and having his own resources to fund the elections. I would have to admit that binay is really good when it comes to campaigns because he's now getting the side of Erap who is someone who can't just be set aside when it comes to popular support.

• Philippines
17 Apr 12
Hello Ybong, Yeah looks like it I mean it was just some sort of a stepping stone from him when he went being running mate with ERAP. he kinda use erap for his rising as the 2nd highest official candidacy. right now, his coalition along with former arroyo allies are now getting busy for this next years 2013 senate election




• Philippines
17 Apr 12
I am also not surprised for Binay to run in 2013 elections. It is expected and really logical that the next post for his eye is the maniacal. I remember that he was slated as a presidential but opted for the second position instead. What is funny to me is that politicians are already showing their true colors. They at already setting the stage and the mindset. you can already see the parties drawing up their senatoriables just ask for those who will re-electionalist in the seante. Mind you, I don't really mind a slogn as tehse people can deliver on the 'oublic service' side, and not just propaganda and pampapapogi. I hae nothing agaisnt Binay but I love to knwo who else are running and I am particualrly interested in politicians who the work now and campaign later.

• Philippines
18 Apr 12
Hello Jeanne, How can we be surprise when binay himself is a traditional politician that will continue to grab power when the opportunity presents itself. To be honest, am thinking of not voting for any body this 2013 and 2016, it seemed that my vote would still go to waste if the candidate doesn't win or if simply the candidate wins and doesn't do what he or she promises




• United Arab Emirates
17 Apr 12
I will vote for Binay. I always enjoyed wandering in Makati City. It is clean and organize. I hope the whole Philippines will be converted to that kind of place.:)

• Philippines
17 Apr 12
Hello Lordjames, Well, I still can't deny the negative things about him and accusations about him in his corruption when he was mayor. how ever, again it's too early to decided we have to wait four years to decide if he's good for me or not. the reason why MAKATI is that because of the Ayala's i doubt it can be the same with other districts if the Mayor isn't as good as binay.




• Philippines
16 Apr 12
I like Binay and if he runs for president, I think at this moment I am voting for him. Binay has always been honest with his plans for the presidency. I like what he has done for Makati and I hope he does it for the whole country. About Marcos running for presidency, why should the son pay for the sins of the father? He is free to run for any position like when he did as senator. Let the people judge. if you are neither for Binay or Marcos, who is your choice? There are no other presidentiables declaring their willingness to run.

• Philippines
17 Apr 12
Hello yahnee, Yeah some people want to vote him and i know he has track record too. but i like to see how he address his issues on 2016. maybe from here on i would be try to check on him and performances. maybe he should run as a senator to see if he can make good policies because right now, i don't see any performances that are stunning it's all ordinary to me



• Philippines
16 Apr 12
as the vice president of the country, he has every right to pursue the presidential dream. it is logical for a vice president to aim for the presidency. well, he can muster some support in some politicians. in fact, he has coalesced with erap to form a political party to compete in the mid-term election in preparation for the 2016 presidential election. he is the favorite, but he will face tough challenge from roxas and escudero.

• Philippines
19 Apr 12
I knew from the start, Letran that Binay would really aim for the Presidency. It's obvious from the way he makes himself good on projects being given to him. And the way he is being portrayed by the media is one sure indication that he will run for Presidency.