Enjoying a trip and feeling relaxed

United Kingdom
April 16, 2012 2:34pm CST
During my trip I visited the most amazing looking waterfall situated between Argentina and Chile. I thought it was one of the most beautiful sights I have ever seen in my lifetime. Wow! I loved seeing the side of the falls in Argentina with its rustic looking trails. I could easily push my disabled son along the trails. We had to miss out on the island but that didn't matter. The next day we took a bus over to the Brazilian side of the falls. We combined this with visiting a bird park. There was a glass elevator to take my son down to the viewing platform. It was a stunning sight the waterfall there. Again it took my breath away. I really liked seeing the macaws and toucans in the bird park. Another thing I liked doing was going to a three country viewpoint. I was in Argentina and could also see Brazil and Paraguay. I spent a happy time in Brazil after that. We went to the exciting but dangerous city of Rio. I made sure I didn't carry a handbag and only took out daily spending money just in case which I had in my hidden money belt. I kept my camera in a bag around my neck hidden under my clothing. Luckily we stayed totally safe and the weather was delightfully sunny. We stayed three nights there and felt in the vacation mood. We went to the Christ statue on top of the mountain on Easter Sunday. I tried to get bus tickets but there were all sold out! I felt stuck in Rio unable to get back to Buenos Aires for our flight home. So I decided to fly to Port Alegra then get a bus to Buenos Aires. Perfect. Have you ever felt relaxed and happy on a vacation? Did you ever have to rush to a far away airport when you had little time left?
8 responses

• India
17 Apr 12
Hi my friend maxi, I was just waiting for your post about your trip to South America. I'm happy that you enjoyed your trip fully and safely returned home. When some one refers Amazon the vast river and the amazing rain forest come to my sight. Have visited those places ? What is your next target ?

• Croatia (Hrvatska)
17 Apr 12
I go on vacation to the sea side of Croatia. It`s wonderful there and I enjoy every summer being there :D

• India
17 Apr 12
Hello maximax, It is really nice to know that you had a great vacation with your son.

I really hate to rush to any place when I am enjoying my vacation. But it happened last time on our visit to native place. We went to a place to watch the Sun rise and Sun set, we reached there in afternoon to watch the Sun set but in the evening rain clouds were there and could not watch it. We stayed there and next day we watched the Sun rise, it was pretty enjoyable and all people were gathered together and waited to see the rising Sun. After watching this we rushed to another place to visit a temple far away from this place. After visiting the temple again rush to the railway station to catch the train in otherwise we don't get a train on the same day. I felt the mood spoiled due to the tension of catching the train in time.


• United States
17 Apr 12
oh, no, my parents would've never allowed that and I'm afraid I'm the same way, I would be planning on flying out of whatever city I spent the last few days at least in with a few days in that city before the plane... I would hate to be afraid of missing my flight!

• Chile
17 Apr 12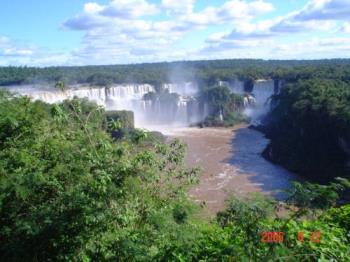 Hi dear Maxine, I´m glad you colud visit the Iguazú falls. They are incredible! It must have been tiring for you, taking with you Leo and Amber. But I know it was worth it. I was truly amazed when I visited them 7 years ago.


• Denmark
16 Apr 12
The waterfall sounds amazing. I also like the idea of a three country viewpoint, it must be an interesting experience to visit that place. Brazil is on my travel wish list, and I hope to visit Brazil as well as some of the other South American countries in the future. I love travelling and I am really happy when I travel. I couldn't mention a single trip that I didn't enjoy. Every trip has been an interesting experience in one way or another, because I always find it really interesting to explore a new place. The first couple of days I visit the most importants and sights and the last couple of days I am more relaxed and walk around without specific plans. I had one experience where I had to rush to the airport. I was visiting my brother in Spain and he lived in small town in the south of Spain. On the day where I was leaving he was supposed to drive to me the airport in another town. We were pretty relaxed and we thought that we had plenty of time. When we got to the car we discovered that it couldn't start. There were no taxis around and I ran from place to place looking for taxi, because I didn't want to miss my flight. After some time I found a taxi and he drove me to the airport. When I got to the airport I checked in, got through got security and ran all the way to the gate. I was the last person to board the plane, but I made it



• United States
16 Apr 12
Glad you were safe in Rio, they make it look so beautiful but I know that it can be dangerous in the city. We've visited places in the US mostly so everything seems to run on an American schedule so we've never really missed anything we wanted to see. We did live just outside of Washington DC but we only saw The Declaration of Independence, the Washington Memorial and Jefferson Memorial didn't make it on to our list. We could have seen them but we just didn't.