Do Genetics Help With Aging As Far As Looks?

United States
April 17, 2012 8:56am CST
I've always wondered if you have a parent that ages well if you could inherit that trait. my mother is 70 but looks in her 50s and im 30 but still get mistaken for early 20s and sometimes under drinking age (not bragging just saying) but my father did not age well. he at least looks his age if not older. heck it took for me to start taking a lot of prescription meds before people even thought i was over 18! i have noticed that the prescription meds im on have somewhat made age catch up a little (or it could be health problems who knows) but still i dont look my age. my mom has had cancer 3 times and has heart problems and now is diabetic yet still looks 20 years younger. my husband also does not look his age and his mother always looked younger than her age too. could there be a gene or something that makes you look younger than you are? even though all the people mentioned look younger they still all have health problems for their age or bad health in general so i wouldnt think it would be like a "fountain of youth" type thing. just seems to be with looks only.
8 responses

• Philippines
28 Apr 12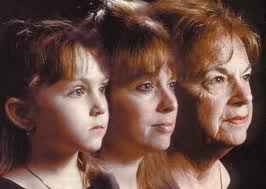 Yes, in my opinion genetics is really a main factor in aging. I look too young for my age too. I got it from my mother. My mother looks she's in her 30's when she's already almost 50.

• United States
29 Sep 12
man i bet she loves that she looks that young!

• China
19 Nov 13
wow,it not just happens to me,so many people are confusing about it,lol,i don't think it brings anything bad to my life but make me be proud of it 'cause i don't need plastic surgery to keep my youthful appearance,which so many people need it,


• Hungary
17 Apr 12
I think it has a lot to do with lifestyle, healthy eating, smoking and stress too. My mother and father look about their age, but I'm close to 30 and some people still think that I'm a high school student. Even though I have gone through a lot of stress at times. My grandma, who is the mother of my dad, and the sister of my dad on the other hand looked and still look much younger. So I'm not sure if it is inherited, where it comes from. Also, often those who are underweight look a bit older than when they used to weight more.

• United States
29 Sep 12
i wonder why weight tends to make a difference in how old you can look?

• India
27 Apr 12
I'm not sure if it is a gene. Now, my father looks his age but till 10 years ago, he looked much younger than his age. No one will say my mother is almost 60. She looks much younger. I do look younger than my age....and so does my sister. But when we are together, people do mistake her to be the older one despite me being older by 7 years! I'm not sure if it is genes....but most others in the family look their age or older. My dad's younger brothers look older than my dad and have been that way for years.

• United States
29 Sep 12
odd you have a sibling thats younger and looks older and so does your father

• China
18 Apr 12
I think the look does not heavily rely on one's health, though they have relations. Looking younger is only because of the good skin of face. Some diseases do not affect the appearance. Of course, one's health does affect his spirit, and vice versa.

• San Marcos, Texas
17 Apr 12
I believe that Genetics do have a good part of one's looks plus how you eat or take care of yourself..I was always slim and didn't start gaining weight till i hit my late 50's..i don't sunbathe..too fair skinned..but don't have the money for all those richly products that will keep my wrinkles away..haha..

• United States
29 Sep 12
i dont sunbathe either.. i would fry faster than a vampire

•
17 Apr 12
I think genes have a lot to do with aging, and also on what race you are, because I noticed that Asian look younger than other race,and also those who are exposed to sun a lot aged faster.

• United States
17 Apr 12
african americans i have noticed some of them age really well but i dont know as a whole but yeah asians especially look a lot younger

• United States
17 Apr 12
Having a 'youth' gene is only part of the answer to a youthful look, one must also know how to activate the gene to benefit from their inherited genetic trait. Our Genome can provide many answer to majority of our questions facing longevity, fountain of youth, infertility, and some medical mysteries that had been tauntig us since the beginning of life.


• United States
17 Apr 12
I think genetics has a lot to do with how old you look. Also, I think that stress is a major contributor as well. And also what is in your enviornment too. I mean, if you are in the sun alot then I think it will make you look older than your years, especially if you don't take care of your skin. My mother kind of looks old for her age, but I am in my mid forties and people often are shocked when they find out how old I am and that my oldest child is almost 21 years old. They usually think I am around 34 or so.

That makes me a very happy lady. But I think genetics does play a big part in it. I don't know necessarily if it might be how our parents look etc., because you can definitely take on traits of your grandparents or aunts, uncles, etc. I think sometimes it might skip a generation too. I say whatever is working for you, stick with it. If it ain't broke, don't fix it.

Have a great day and happy myLotting!!!


• United States
17 Apr 12
true sun and things as smoking can definitely not be great for ya with aging. i would agree on stress but im such a stresser i should look like a 200 year old corpse lol