Main Stadium Riau, Indonesia's most magnificent stadium

Indonesia
April 20, 2012 8:44am CST
Main Stadium Riau or collectively, the Main Stadium Football Riau is the grandest moment in Indonesia is prepared to welcome the National Sports Week (PON XVIII) XVIII 2012 and 20 123 year Islamic Solidarity Games (ISG). Riau Main Stadium was first used or introduced to the public on March 1, 2012, on March 1, 2012 The stadium is Tim PSPS Pekanbaru to launching jersey (introductory costume) ISL Year 2012 competition as well as training and the introduction of the stadium.
2 responses

• Malaysia
20 Apr 12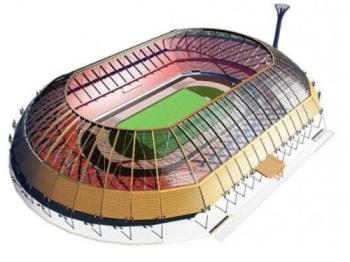 The stadium is grand! It seats 43,923 spectators. I read that they may invite Juventus to come for the opening in May, 2012. Not sure if it is true. Do you know if the Indonesian national football team will use this new stadium as their home ground or remain at Senayang stadium? I was awed by Senayang stadium's capacity of 100,800 people when I saw it for the first time on TV for the SEA games. It reminded me of The Maracana in Brazil. With such magnificent stadiums, I hope the Indonesian national team will do better in world football.

• Malaysia
21 Apr 12
@adhyz82
South East Asia produces many good players but it is the lack of a good system to grow their talent and make a career for them that forces many to just give up playing. A workable professional league is a must to make that possible. But like you say, poor management is always the cause as well as rampant corruptions to destroy any good work that has been done. Bambang Pamungkas and Kurniawan Dwi Yulianto are the Indonesian players that I know. I am sure there will be more like them in future with football being such a popular sport in your country.


• Indonesia
20 Apr 12
one of the best.. i had seen from my friend in his wall facebook its more good than stadium in surabaya... so maybe he become the second good stadium after senayan.. but the stadium get a problem.. do you know the case of riau governor corruption?? it was caused this stadium welcome back eko..nice too see you too