Seafood, finally...

Philippines
April 20, 2012 8:53pm CST
A friend invited us for lunch at a seafood restaurant, and I'm just soooo excited to get there now. After a long time, i'd be able to savor the richness of fresh seafood. It will be my first time to visit this place, which is more than an hour away from home. Guests would fish their own food the pond and have it grilled or cooked by the restaurant staff. That's better than fine dining, don't you think? Do you also have "fish and dine" restaurants in your place? It must be great!
4 responses

• Philippines
10 Jul 12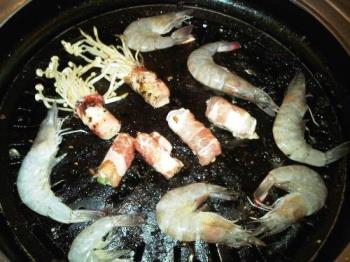 Except for fish, I am not very fond of seafood like shrimp, squid, shellfish, crabs, prawns and the like but I do eat once in a while. Nevertheless there are a lot of seafood restaurant in our country. Sometimes my husband wants some seafood so my family eats in the seafood restaurant of his choice. I do try to enjoy the eating although I really could not.


• Philippines
10 Jul 12
Really? So what type of food do you enjoy the most? Most people I know would really love to get seafood on the table every so often. Because seafood are very expensive, its like a celebration to be eating some occasionally.

• Philippines
21 Apr 12
That's really a great restaurant. I haven't eaten in anything like that before but I would love to try. I always see those kinds of restaurants featured in TV and I would like to try it one day.

• Philippines
22 Apr 12
You should and Im sure you wont regret it, butterscotsh. Seafood is a little hard to find in a good price, these days due to climate change and all, but I was really amazed that place had some good menu.

• Chile
21 Apr 12
That restaurant sounds very wonderful, jureathome. I have never been in one like that, but I have gone to restaurants by the seashore where seafood is coming from the fisherman´s boats.

• Philippines
22 Apr 12
Hi my friend. Yes, the place is just perfect for a sumptuous seafood treat. Everything we ate was just perfect. The cottages were built above the big pond. People were using improvised fishing hooks made of tree twigs. They had fun catching their lunch.