5 days later, and 5 days till the end of the month.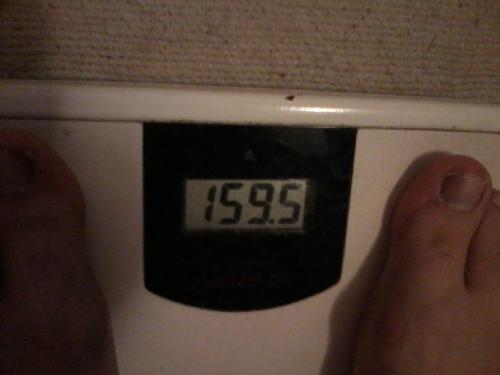 Canada
April 25, 2012 11:31am CST
5 days ago, I started a discussion about my weight loss goal for the end of this month. I've been monitoring myself daily since then, and have been marking on my calendar what my progress is. Today, 5 days later, I stepped on the scale and just had to take a picture of it. My goal had been to be 160lbs by the end of the month, and today, with 5 days to go, I've surpassed that goal. Moving onward, I'm now looking to lose another 10lbs by June 1st, I should be able to lose more though if I keep going the way I'm going. I know I can't overdo it, and I will try not to. But to lose the weight I so desperately need to lose is going to be good. I have another 50lbs or there abouts to lose and I'm hoping to do it before the fall. I know I have to set realistic goals and I'm sure I can.
8 responses

• United States
25 Apr 12
Congrats on your weight loss!! It's never easy to loss weight. I agree with you, that you should set a realistic goal. If you set too high of a goal you will be disappointed and it will be hard to stay on the diet. You have done great so far and I wish you luck in hitting your goal.

• United States
25 Apr 12
Recently,I stopped using a lot of sugar and I stopped eating meat and I lost 5 pounds. I walk on my treadmill as well. I am trying to lose ten more pounds. I am at 170 right now. What is it your doing to get this done. if you don't mind me asking.. thanks.

• Canada
25 Apr 12
I've drastically changed my diet. I've all but cut out sweets and junk food, rarely drink pop or juice, I stick to water for the most part. I eat cucumber a lot. Not a lot of nutritional value, but it's got a high water content and that helps. I still eat meat, I haven't cut that out of my diet, but I try to stay away from the overly fried and greasy stuff. That upsets my stomach if I eat it. That's pretty much it.

• United States
25 Apr 12
I think I will get me some of that cucumber and eat it with salad dressing. I also eat a lot of salad. thanks for letting me know.

• Canada
25 Apr 12
Stay away from the creamy dressings, they're the ones that prevent weight loss. I'm a sucker for these and need to control myself that way.


• Philippines
4 May 12
This is a good motivation for you to post discussion like this to keep you in track, it actually helps me to inspire and work my body off to lose some weight too. I love it!

• United States
27 Apr 12
congrats on meeting your goal for the month , keep up the good work and i think you will be where you want to be when you want to be there.

• Philippines
26 Apr 12
Congratulations on your weight lost. This is very inspiring. I agree with you regarding setting realistic goals. I used to go on crashed diets wanting to lose really great deal of pounds for a short period of time, but I never succeeded. But during those times that I set realistic goals, that is the time when the diet I am doing actually worked. Good luck on losing further weight. I know you can do it and lose those remaining pounds. You have done a great job in starting this diet, hence the remaining 50 pounds to lose is very possible.

• Canada
25 Apr 12
hang in there. i think you will be ok to lose the weight by the beginning of june. i have lost about 10 lbs over the winter (not really by choice but am enjoying the results). i am down to a size 10 in clothes which is cool. i have been taking pills for my breathing which started the loss, then decided to drink way more water than i was before and i have switched up my eating habits. i now read the labels!

• United States
25 Apr 12
Great to be reaching your goals. I do not have a scale right now, but clothes are fitting better. I tend to lose best at this time of year. It is warm enough to outdoor things, but not too hot,if you know what I mean. The fresh foods available also are of great benefit to weight loss and good health. Keep on going you are doing great.

• Pamplona, Spain
25 Apr 12
Hiya Kris, So very well done Kris. Keep that going and I hope you can that is what is most important setting out a plan and keeping to it all you can. Yes the goals have to be realistic and it seems like you will achieve that goal kris keep it going. I control what I eat most of the time but we all lose ourselves a little sometimes on the way but then I get back on course again. I am not dieting just keeping what I eat in check. But you have done brilliantly there.xxx