Capturing the image of life

Philippines
April 26, 2012 10:23pm CST
Every time i go outside, i would look at how beautiful the sky is, be it cloudy, clear and sunny! I would create pictures on my mind, i try to capture that image. I take pictures of it when i can and post it on my photo blog. I feel thankful that despite all the things that has been happening around us, there's still the beauty of nature. Maybe i'm just lucky that i live in a city where i'm still able to appreciate nature. Do you still take time to appreciate life?
6 responses

• Philippines
27 Apr 12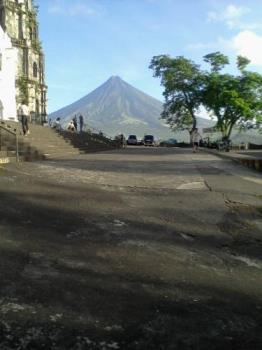 Just like you Toni, i am so appreciative of the nature around me.

In fact, i had the picture of Mayon Volcano taken when we are on the top of the hill, where the church we are attending mass is, because i find it breathtaking.

I have attached the picture for you to see.

• Philippines
27 Apr 12
That is so nice D! It is indeed breath taking. I really like taking pictures of everything that's beautiful around me. Err including me?


• Philippines
28 Apr 12
Of course it includes beautiful people like you, Toni.



• India
27 Apr 12
There is some people like you who find the beauty in everything which is happening around you. Many

people have different think and some are every deep to it. Very deep thinking to it makes you to have the beauty in it and this quality is found out in little ones and I am

happy to tell you that you are a part of it.Anyway make use of it and enjoy everything which is happening around you.

• Philippines
27 Apr 12
Thank you. Just trying to appreciate simple things in life now that we're living in a very complicated world.

• Philippines
9 Jul 12
I love nature and I love life. I used to disregard things before most especially when I have work to do. But now, I am beginning to see that life is not all work after all.. and even if your busy with work you should spend some time with nature and appreciate it. You should be in harmony with nature to be able to make it through with life. That is why, when I bought a camera, I take pictures of beautiful places and put them on my blog. It is really nice to capture the scene... from time to time I look at them as it reminds me that I was there and it makes me relax and smile as I remember how beautiful they are.

• Philippines
7 Aug 12
I'm glad to hear that. It's really good to keep something like that not only in our memory but in photos that we can see and appreciate once in awhile. Thanks for sharing.

• Philippines
27 Apr 12
That's a good way to start the day. It is like reminding yourself how righteous is someone out there to give you such glamorous and mysterious capture of life everyday.

• Philippines
27 Apr 12
True. So much positivity. So much beauty.

• Philippines
27 Apr 12
yes your correct, for me, i really appreciate nature,specially the sky, waterfall, the grass and flowers.

• Philippines
27 Apr 12
I'm more of a sky and a water girl!


• India
11 Jul 12
there is so much stored for us by nature, even a rain drop or chirping of birds, thrills our heart, we feel so much connected to nature. i think everyone is moved by nature.

• Philippines
7 Aug 12
Hope you are right that everyone is moved by nature. Because there are some who just don't take notice of it and ignore nature.