Martinez is the Manager of the Month for April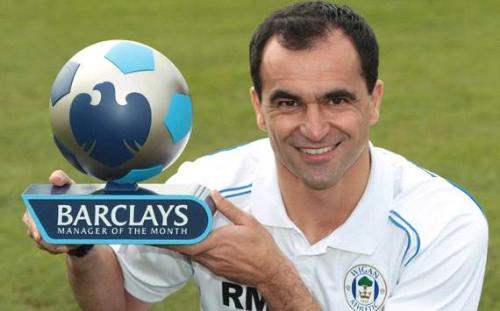 Malaysia
May 4, 2012 11:29am CST
Roberto Martinez has won the award for the Barclays Manager of the Month for April for his good work in bring Wigan out of the relegation zone in April by beating the likes of Manchester United, Arsenal and Newcastle. He is part of the reason why Manchester City is poised to win the EPL this season. It is his first award. What do you think of him and the way Wigan plays?
6 responses


• Malaysia
7 May 12
He has saved Wigan for 2 seasons but then he's also the person that is responsible for where Wigan is in now. Next season will be the deciding time to see where he could really bring Wigan to. If Wigan is still involved in another relegation fight, it does not speak much for Martinez, don't you think so? But then if the club could not bring in good talents to strengthen up the squad, there is just so much a manager can do. He can't really be blamed.

• Greece
12 May 12
yeap if he can bring them in the mid-table or higher then we can say that his work there pays off. As soon as there are not many radical changes in the roster then we can be sure that we can be sure of what he is capable of by the end of the next season.

• Singapore
10 May 12
Martinez is worthy winner for the April award. The way Wigan performed during this period, defeating the likes of Man Utd and Arsenal, it is nothing short of amazing. From relegation favourite, they have now secure their survival. If he can supplement his team with better players, they will be good bet for a top half slot.

• Malaysia
11 May 12
What you said is true. With no disrespect to Wigan, Roberto Martinez, with the kind of limited resources at his disposal, could produce such amazing results in April - It is so unbelievable. One thing to admire about him is his insistence in playing a passing game. For a team that was deep in relegation fights for 2 seasons, it was not easy to get the right kind of players to play like Arsenal or Barcelona. It would have been easier to resort to a physical approach. I hope he could go on to manage a bigger club. I hope to see him doing well.

• United States
6 May 12
I am always thrilled for those who are rewarded with recognition for the hard work they do, and so it is with Mr. Martinez. I haven't been following the sport lately but rather enjoyed Wigan games in the past. This looks to be a turning point for them.

• Malaysia
7 May 12
It is always an honor to be appreciated for your work. More so if it is from the professionals in your field. Wigan is not yet 100% safe from the relegation threat. They have to at least get a point in its last 2 matches to make sure that if the other team that is in the relegation fight, Bolton, wins it's final match.

• Singapore
4 May 12
Wigan could have done better in the first half of the season when every clubs starts on a clean sheet. Maybe Martinez needed more time to adjust and let his team find its footing. Nonetheless, Wigan has been fighting hard as the season comes to an end and is set to stay in the league.

• Malaysia
4 May 12
With their last 2 matches being a home game against Blackburn Rovers and an away game playing Wolves, I am sure Wigan is going to be safe. After 2 seasons fighting relegation battles, the next season, if Martinez still stays, he will be expected to bring Wigan forward to stay at least in mid table a la a Fulham or a Sunderland. Then they may try an Everton to dig on the higher grounds.

• India
4 May 12
I think he very surely deserves it. Wigan has been playing brilliantly in the last month or so. I think this effort now will see them cross the line and avoid relegation woes. The key question though is when they can play so well, why don't they do it for the whole season. They could be contending for a top 10 finish if they could. Cheers! Ram

• Malaysia
4 May 12
I think every team all wants to do well from the very first match. It was either due to the players' form and/or the strategy used not being effective that resulted in their first half of the season at 2 wins-6 draws-11 loses. Now they stand at 9-10-17, not bad - just lost 6 matches but won 7 and draw 4. It is the kind of teams that they beat that shake people. Fantastic!