Do you wanna eat silkworm pupae?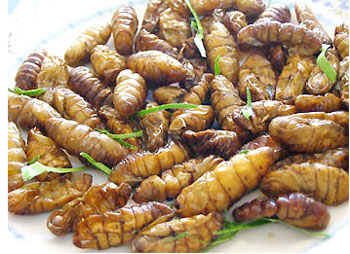 Vietnam
May 5, 2012 12:10am CST
In here, vietnam, people like to eat silkworm pupae. It is not expensive. They often buy silkworm pupae in the market and then roast it with spiciness such as salt, lemon-leaves slices, chilly, etc. I saw this dish in Korea also, but Korean prefer to eat boiled silkworm pupae. I remember i used to eat this dish when i was a little kid but I didn't eat it more since i was 12. So that i could not remember it is delicious or not. Right now i have no plan to eat it back, i don't scare to see it but just i don't like to eat it more...(i don't know why it happens because i am greedy...

) Have you ever ate silkworm pupae? If you have a chance, do you want to eat it?
4 responses

• United States
5 May 12
I do not think that I could eat it, because it is not something that we would eat where I live. If I had been raised around people eating it, though, then I do not think I would even question it - I would just eat it unless I did not like it. I do like to try different things, so perhaps if I were in a place that served it I would try it, but I do not think I would order it as a main dish at a restaurant or something ... I might just be brave enough to try a bite of it off a friend's plate, though.

• Vietnam
6 May 12
Oh, silkworm pupae is one of favorite dish in here. They sell it in the market everyday and it is not expensive. Sometime my mom buy it and cook. i think most my family member like to eat it except me since i was 12. However, i may try to eat it back because people said that it is really good for health if you don't allergic with it, and it is cheap in here...

• United States
7 May 12
Sometimes our tastes change, especially from childhood to adulthood. If you liked it as a child and did not like it as a teenager, then you might like it again now, especially since sometimes we develop a dislike for things that we eat too often. You said that it is cheap where you live and most of your family likes it, so maybe you just had it too much, which is why you started to not like it. Now that you haven't had it in a while you might like it again. That happened to me with pork chops. We used to eat them a lot, because they were not very expensive. We had them so much that I started to not like them. Once I hadn't eaten them for a while, though, I tried them again and liked them.


• United States
5 May 12
Hmmm, by the looks alone, I could not eat this food. I am raised on other types of food so this would be something we would see on a shoe like "Fear Factory" with others from my country being "challenged" to eat this for a contest, so I might not want to try it unless I was absolutely starving. Same thing for things like goat brains, chicken feet, etc. It's just not in our culture hear to eat such things. What does it taste like?

• Vietnam
6 May 12
I understand your feeling. It is not easy for you to eat it when you never see it before. its smell is very good because of spiciness cooked with it, it looks like nuts, my mom said that. I didn't eat it in a long time then now i forgot how it tastes already. I may try to eat it back and then i tell you how i feel.

• Denmark
8 May 12
I showed my husband the picture and I asked him what he thought. We are going to visit Vietnam soon so if asked him if he wanted to taste the silkworm pupae when we go there, but he totally rejected the idea. I would also find it hard to eat them, because I grew up in a country where we aren't used to that kind of food. I am more adventurous that my husband, and I don't reject the idea completely, but I am not sure that I could eat them. I guess I will have to wait and see how I feel about it when I see them in person


• Vietnam
9 May 12
Wow, it is nice when your husband and you will go to visit vietnam soon. I hope you will have a nice time. If you guy visit hanoi, i would like to invite you guys to drink cups of coffee if you guys have a time... I understand you feeling when you see it. You may not see it in the menu of the luxury restaurants, i think. However there are many type of food and you can choose instead of eating silkworm pupae. In the beginning time, many foreigner could not eat some type of dishes like that in vietnam but with the time i saw they can eat all...


• Denmark
9 May 12
Thanks, we would love to have a cup of coffee, that sounds great

We plan on spending a couple of days in Hanoi. We want to go on a daytrip to the Halong Bay while we stay in Hanoi, but we also want to visit some of the famous places in Hanoi. We plan on visiting Vietnam in the first weeks of December this year, but we haven't made exact plans yet, and didn't buy the plane tickets yet. We want to visit Thailand, Cambodia and Laos on the same the trip. The plane ticket from Europe to Asia is relatively expensive so we want to make the most of the time while we are there. I look forward to trying some of the food from Vietnam. I think that you have a lot food that we can't buy in my own country, so it is great chance to try something new.

• Vietnam
10 May 12
Oh, that is nice. For sure the tickets from Europe to Asia are expensive so that you you guy should visit many countries in here at the same time to save money... I used to go visit Budapest-Hungary. At that time i tried to eat local food everyday but i had to choose a small meal or a part for kids because i couldn't finish all if it is for the adults...It was so nice in there...

Around December, Hanoi is a little bit cold because of winter season in here. For sure, you guy should try local food, it makes you have more memories of traveling...

. I hope you guys will have a nice trip in Asia soon.

• Garden Grove, California
6 May 12
hi ryanon no I am sure not into eating worms or b ugs either. So I would not need a chance as i will not eat bugs or worms,yuck this turns my stomach. I would become a vegetarian before I would stoop to eat silkworm pupae. yuck this is sickening just reading about it.Here in the US we do not eat worms or bugs.



• Vietnam
6 May 12
It is not a worm or bugs yet. It is pupae!!! it take a time more then pupae will be changed a silkworm. I don't like to see worm served on the table also, but i don't scare when see pupae. Umh, i know there aren't silkworm pupae in some countries, so that what i know is i just see this dish in Vietnam and Korea. I think some Asia counties may eat it also. When you have a chance visit Vietnam or Korea, you may can try to eat it....