When selling your house pls. remember 2 CLEAN IT 1st b4 taking pics of each room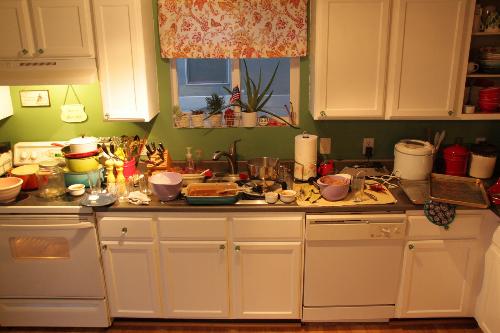 United States
May 7, 2012 4:57pm CST
Recently my Mother in Law asked me to look at a few houses for sale for her because both she & her husband are looking to move. What first began as just my helping her out soon became somewhat of a hobby for me. I started looking at a whole bunch of homes for sale in all different parts of the United States. It wasn't long before two things occurred to me, One: Most people stopped decorating their homes after the 1980's & Two: some forgot to take the time to clean their houses before taking photos for the Realtor's website. I couldn't believe some of the photos I saw. Some were of a messy bedroom w/ unmade beds, dirty clothes on the bottom of the bed & on the floor itself. Then there was the kitchen w/ a pile of dirty dishes in the sink, kids toys all over the floor & a stack of old newspapers on the kitchen counter. I thought to myself, if I were selling my home I'd want it to look it's best so it would sell faster. That & whomever was interested in buying my house I wouldn't want them to look at my photos & thing I was a lazy slop who couldn't even bother to clean her house before taking these photos. I know that's what they would be thinking because that's exactly what I was thinking. What are your thoughts on this? Would it bother you if you were looking to buy a house & all you saw was one messy room after another? Would you still be interested in buying that house? Personally I'd have to wonder what exactly was under all that mess, but maybe that's just me.
2 responses

• Canada
15 May 12
LOL obviously :) if we want to sell something, presentation counts :) I wouldn't look inside a house if the pic shows a mess, let alone buy but if they have kids it might be difficult to keep things clean and organized all the time for people to see

• United States
15 May 12
Oh I understand toys on the floor & that kind of thing, but piles of dirty clothes on the floor? Dirty dishes in the sink? No, not if your trying to sell your house. I say clean up the mess first & then take pictures of the house your trying to sell.


• United States
12 May 12
I agree. It makes you wonder just how people live like that. I mean my house isn't spotless, but at least it's clean & free of clutter.