I love my cat so much... I want another one!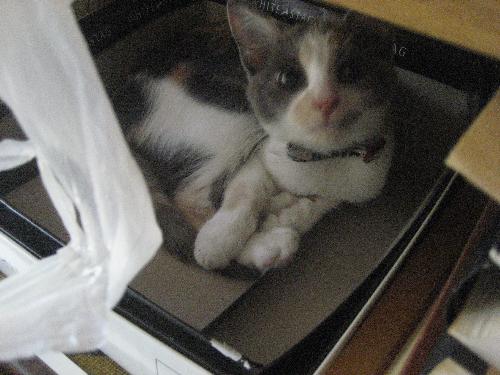 United States
May 7, 2012 10:23pm CST
Okay, so for my entire childhood I couldn't have a cat because I was deathly allergic to them. I could hardly breathe in the same room with one. Which was a total bummer, because I ADORED cats. I just had to adore them for a distance.

After years of allergy shots (for loads of allergens other than just cats), my symptoms were so subdued I got a kitten last year. I adore my Nenya to pieces, in fact she probably thinks I smother her with all the love I give her. Recently I've found myself really wanting another cat to take care of! Of course there are lots of things to think about, such as the cost of keeping another feline in the house, and what Nenya would think of another cat in HER house being pet by HER people. Then there's also the fact that I am still allergic to cats. I'm totally fine with just Nenya in the house, but if I were to assault my nose with two cats shedding fur, would I be able to hold out? And at what point will my friends start telling me I'm becoming a crazy cat lady? Any of you out there live with a cat you're allergic to? For the multi-cat homes, do you ever wish you just had one or do you think the more the merrier?
5 responses

• Bulgaria
8 May 12
I have two cats and despite the fact that they are more to take care of and they cost a little bit more I've never been sorry for keeping the 2nd one when I had the chance to give her up.My cats are mother and daughter so they get along well enough,but sometimes the little one gets beaten up(just a little,no actual damage for more than 30 seconds) because the bigger one wants her to know who is dominant apparently..one of my family members is a little allergic and it causes him some minor problems when they both shed the most but I don't think it's something to worry about seriously. I think you should just give it a chance and if it doesn't work out just make sure there is a second family that is willing to take your second cat if your allergies cause you problems.Having two cats is fun and you feel twice as loved but it's also a challenge to take care of both of them so good luck!

• United States
9 May 12
Well I'm still thinking about it. I think the extra cost is what's holding me back right now. It might not be that much to care and keep for two, but the new one would need a new adoption fee and shots and new vet trips. I'd love to have two and I'd love for the two to get along together. Your suggestion is a good one, thanks for it!

• Bulgaria
9 May 12
Well,yes,the initial cost is pretty high but after that it's not much different from having one cat and it's well worth it.By the way I think it's awesome that you want to adopt a cat instead of buying one!

• United States
9 May 12
Oh I couldn't imagine doing anything else. I see the pets up for adoption and I just have a heart that goes out to them. Poor homeless animals.

In fact, that's how I ended up with my first cat... I fell in love with a kitten I saw up for adoption.


• Canada
8 May 12
I'm not allergic to cats but I have 3. They are soo cute and adorable. I love cats! It's a lot of hair to clean up but I wouldn't give them away for anything in this world. I find that if you get two or more when they're kittens they're great together. Two of mine are sisters from the same littler. The third one is an older cat. If you have an older cat it is sometimes hard to introduce another grown cat into the family as cats are territorial and they might not get along. I have found though that if you have an older cat they will accept a kitten as they do not see it as a threat.

• United States
8 May 12
Thanks for your response! I've also been told that an older cat already in the home would probably take to a kitten better than another grown cat. I have some conflicted feelings about that though, I really like the idea of adopting a grown cat because older grown cats seem to get passed over in favor of new kittens, and it would be nice to see a cat who already had a pretty set personality. I'd also love to get a kitten because kittens are cute and Nenya may be more accepting of her. It sounds like you have just enough cats and cat hair to love! I'll be thinking about a possible new cat for awhile.

• Canada
8 May 12
It is possible that your cat will accept another grown cat. They may fight at first but after a few weeks of fighting may come to some agreement between themselves. I've seen it happen before but would take some paitence on your part to put up with the initial settling in stage. Then again, they may never get along. It's a chance you take. I agree that older cats are looked over in favour of a cute little kitten, but then again, that cute little kitten also needs a forever home before it becomes an older cat who gets over-looked!

• United States
9 May 12
Good point. I'm thinking when I've decided whether or not to get another cat, I'll just look at the kitties available and see who strikes me as the cat for me! I'm definitely going to be thinking about this for awhile longer, there are lots of other things to consider.


• United States
9 May 12
Dear Awe I'm sorry you have allegies to cats.I have never owned a cat but I heard they are very cuteand easy to maintain.Cats do like their own space but if you really want another cat then go for it.there is a saying" instead of asking why ask why not" but I am not sure that that person was referring to cats at the time.if your do get another cat then your cat will hopefully adjust.You also might want to contact your doctor to see if you can have two cats.

• United States
9 May 12
I'm not sure they were referring to cats, lol, but I bet it applies at least a little bit. Thanks for the suggestion, I'm going to spend a little more time thinking about it.

• United States
8 May 12
As a self confessed, crazy cat lady, and allergic as well, I have to say that while I would like to have fewer cats (and I have WAY more than two) I don't think 2 cats make a crazy cat lady... unless you decorate you house with cat everything, kind of like the crazy lady in Harry Potter.

• United States
8 May 12
Nope, no cat collectables here. Lots of unicorns, though! I knew you were quite the queen of cat ladies, but I didn't know that you were allergic too! How allergic? How do you deal with symptoms?

• United States
9 May 12
That's good. I'm also very sensitive to seasonal pollens, but I do believe that I still react to my cat on some days.