Ruud van Nistelrooy retires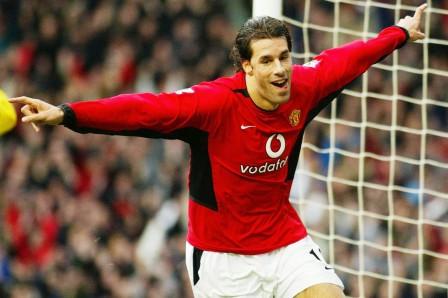 Malaysia
May 14, 2012 8:54am CST
Ruud van Nistelrooy has just announced his retirement from football. He played 219 games from 2001 to 2006 for Manchester United and scored 150 goals. His career record is 347 goals in 589 games started from Den Bosch, Heerenveen and PSV Eindhoven in the Netherlands, Manchester United, Real Madrid, Hamburg SV and his last club, Malaga. He also scored 35 goals in 70 appearances for the Netherlands national team. He is also the all-time second highest Champions League scorer with 56 goals. This is what he said in his press conference about his retirement: "Yesterday was my final game as a professional footballer. I wanted to play in the Champions League, but it is the moment to leave. I have arrived at my physical limit and I can't play at the maximum level. I couldn't have had a better send-off than this." "I feel happy that I am the one taking this decision. I would like to thank Malaga, the technical and medical staff for an unforgettable year. I am proud to have won collective and individual titles, but my greatest satisfaction was to be able to work day after day, year after year." He is one of my all time favorite Manchester United players. I will always remember him. Thank you for everything, Ruud!
7 responses

• Singapore
15 May 12
Yes, i read the news this morning as well. He's finally retiring after a long career spanning across different leagues in different countries. He's always been playing at the highest level since his days in Holland, before his last in Spain. He's a proven out and out striker and his goal tally are surely impressive. IT's a shame he's from holland, where they are known for producing talents after talents. If not, i'm sure Ruud would be able to play again for his country at least for this summer's Euro 2012.

• Malaysia
15 May 12
I agree with you - Holland has been producing football talents as if they have a factory dedicated for that purpose. But at 35, I feel he is too old for Euro 2012. His playing style may not be suitable for the current Holland way of playing where the strikers are expected to come back to get the ball and to provide assists.

• India
15 May 12
Ruud Van Nistelrooy was the ultimate goal poacher. He was awesome during his time at Manchester United. I thought his Man U career was nipped a bit early due to his falling out with Sir Alex. But he continued his career with Real and other clubs. This season he has helped Malaga qualify for the Europa League, but as he mentioned his heart was set on Champions League and thus he has now retired from the game. Wish him a nice and settled retirement. Cheers! Ram

• Singapore
16 May 12
Yeah, what a waste because he's capable of playing more even though he's in his 30s now. He has played across so many continents and it should not be a problem for him to play a year or more. Besides, he has other options to consider, such as David beckham, Thiery henry, he can opt for MLS in US, or even playing in asian leagues, such as in qatar where salary is amazingly high. haha

He should playin in Serie A before he retires as it makes him one of the few players to ply in all 4 major european leagues.. haha

• Malaysia
16 May 12
If he is after big money than MLS, Qatar or The Chinese league are possible destinations. I guess he just doesn't bother. His career was spent entirely in Europe and not in all the continents as you said. Yes, it would be nice if he had played in Italy before. But that is just life... haha :)

• Singapore
15 May 12
van Nistelrooy is possibly one of the greatest players of all time and people will probably remember him most as the star in the Manchester United team as he did not do as well in other clubs such as Real Madrid. In his later years, his old age definitely showed true as he did not seem like the player he once was. Nonetheless, he's a great footballer.

• Malaysia
15 May 12
Although he did not score a lot of spectacular goals, he did score many goals easily. His first 2 seasons in Manchester United were helped by David Beckham's accurate crosses and passings. He scored 36 and 44 goals. After Beckham's departure to Real Madrid, van Nistelrooy could still score 30 goals. He missed most of his 4th season due to injury but still managed 16. He scored 24 in his 5th and last season. Amazing scoring rate! He scored 33 goals in his first season after he was transferred to Real Madrid.


• Malaysia
14 May 12
Yes, his finest hours were at Manchester United. His scoring rate of 1 goal every 2 games thru out his career was awesome - we must also remember that he did not take free kicks and seldom took penalties, so his goals were all field goals. Most of his goals were scored in the 6 yard box though.

• Jamaica
14 May 12
He would have been a greater player had it not been for injury.



• Malaysia
16 May 12
Yes. He is a winner. He had his own high standard to keep and so he could produce top performance whenever he was on the filed. That was the reason why he called it a day as he felt that his body had reached a state where he could not perform to the best of his ability. We all will miss him.

• Lima, Peru
17 May 12
Hi friend. Actually I haven't ever seen Ruud playing football, because I don't follow the European football games so often as you. But it seems that this player has a good performance. How old was he when he thought to retire? Football players can be activ only for a gap of time. We all know this. And many of them are going to be trainer. Anyway they stay in the branch of the football.