Dining and Living Room in one

Philippines
May 17, 2012 11:41pm CST
A very innovative and practical way to maximize space is to combine dining and living room. How would you like that? In a local talk show earlier this morning, they featured the host's condo unit and it's interior. It's her 2nd home, since she also has a huge house which is very beautiful and well designed. That condo unit was only to have a place nearer the city. She has made a lot of alterations on the original architecture, for a personal touch and also for the kind of convenience she wants. The best part, which I never thought, she would think of, because she's not known to be a very practical person -- she had a dining table right in the living room, or comfortable couches in the dining room. She combined her dining and living room, to maximize space. She realized she doesn't really use the living room as much, so she thought of putting both in one place. It was nice, although, it looked strange to have a wooden table along with white big sofas around. It made me consider that idea for our renovation plan. My husband and I don't really stay in the living room too long. We only go downstairs to eat and take a shower, and then we spend most of our time in our bedroom where we watch tv, exercise, and sleep. What do you think?
11 responses

• India
19 May 12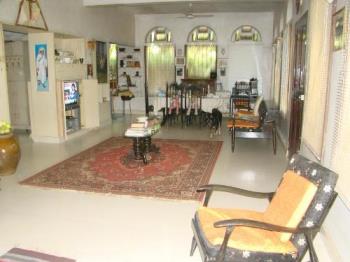 The concept of dining and living room in one, one sees in flats here. We too had that concept when we were living in a flat in the Metro. But I have always liked it and so when we built our own house (designed by me!) I not only brought the dining area into the hall but also the kitchen the space being L shaped. The short portion of the 'L' is where my kitchen is placed which is next to the dining area but hidden from the hall. I have even shifted my computer from the first floor for convenience which is next to the dining area. The space is large enough and does not look congested.

• Philippines
19 May 12
I checked your photo, it's a nice clean and spacious place. I like the placement of the carpet which makes it look very inviting.

• India
19 May 12
You cannot see the hall portion of this space nor is the kitchen visible which is the shorter part of the 'L'. The length of the hall is 35' and the breadth 15 minus the kitchen which is 10x14.

• Philippines
19 May 12
Yeah, I was actually trying to figure out where the kitchen is and how you organized your stuff in there with just a little space provided for it. I'd like to see a picture of it, if you have one. It has become my obsession to browse at different kitchen interior layout and designs, nowadays, because of our plans to renovate. I'm a kitchen buddy, now, since I stopped working. I'd like to make it the perfect kitchen for me.


• United States
18 May 12
That does not make sense to me at all. I would think that it would be more sensible to put a table in the kitchen and have meals there, especially since that is where the food is being prepared anyway. Of course, we use the living room all the time, so having a dining room table in it would not be functional or practical. If the living room is a room that is not used very often and a table will not fit in the kitchen, though, then I guess it might make sense for some people to combine the living and dining rooms.

• India
19 May 12
Hall c.um dining is an age old concept that is used here in India in flats mostly in Metros where space is sacred. In my response here I have already mentioned that I have liked this concept and in fact designed our new home where not only the dining even the kitchen becomes a part of this space. I have a large area in our new home and nothing looks crammed up. I have just recently shifted even my computer next to the dining area.

• Philippines
19 May 12
@purplealabaster
: in your case, you do need a separate living and dining room. It really depends on your lifestyle. Having all parts of the house would be best, but of course, if you lack the space, then innovative designs like combining the dining and living room would be good to consider. What part of the house do you think you can do without?
@allknowing
: I've seen houses where there's no wall dividers separating the living and dining room, but it still looks well organized. I guess, as long as everything is kept clean all the time, that's what makes the house look liveable.


• United States
19 May 12
Allknowing - Here there is a huge trend for "open plan living" or "open concept" houses, which means that there are not a lot of walls dividing the living space, especially the kitchen, living room and dining room areas - it is mostly just one big open room. Then, you can divide it up yourself with your furniture placement into whatever space makes the most sense for your family. Jureathome - We do have a separate living room and dining room ... or at least that is the way the house was designed. However, our kitchen is large enough to fit a large kitchen table and all the chairs while still having room to move around, so that is where we eat. The "dining room" is now a playroom, and we still use the living room a lot. We have a library as well, and if I had to give up a room I guess that is the room that I would have to pick, although I really would not want to give it up.




• Philippines
18 May 12
I think when you have a small space for a condo or a house, you have to resort to that, jure. And you are right, the living room nowadays seems to be not used that much anymore. Usually , the family gathers at the dining room during meals only. It's usually in their bedrooms that they watch TV and surf the net. They find it comfortable that way. Just as we do also in our family.

So incorporating the living and dining room into one is really a great and practical idea. It maximizes the small space.


• Philippines
18 May 12
Seems like having a living room is just to comply with convetional architectural norms. When we do the renovations, perhaps, we'll cut some space from the living room and have a bigger one for the dining room and kitchen.

• Philippines
24 May 12
The sizes of real estate these days were getting smaller and smaller as the prices get higher. And thus the last resort is to maximize the space. I do the same way, my dining table is right over the edge of living room.

• Philippines
24 May 12
Yeah, that is a fact. Floor areas are getting smaller but the price doesn't go down. They are giving discounts to those who would buy units before its even constructed, so I guess that's the best chance of getting a better price. It's really important to know how to maximize space in a creative way.

• Chile
29 May 12
Although I don´t have the living and dining room absolutly mixed up, I have them side by side in a long room. Half of it is the dining room and the other half is the living room. I usually use only the dining room part, except when there´s a lot of people for a party. I even prefer to serve a cocktail at the dining table as I don´t like to bend too much due to my back problems.

• Philippines
31 May 12
Same here, marguicha. My husband and I usually just come downstairs to eat at the dining area, and we go back up to the bedroom where we watch tv, exercise, get online and others. Its just my kid and her nanny who usually stays in the living room.

• Denmark
24 May 12
Our living room is also our dining room. We only have 3 rooms downstairs: The kitchen, the hall and the living room/dining room. If had had an extra room we might have made a separate dining room but we only have one room so we have to combine them. It works pretty well. The dinner table is one end of the room and the couch and the small table is in the other end of the room. Many people in my country combine the living room and the dining room especially people live in apartments or small houses. In many cases there are only two rooms and if you use one room as the bedroom there is only one room left. Some people in my country do have a separate dining room (if they live in a big house with many rooms) but a lot of people combine those rooms.

• Philippines
24 May 12
That's pretty common here, too. There are houses with no wall divider between the dining and living room, but they have separate area for the dining table and the sofa. Our house is set up that way, currently. It's a different thing, when the dining table is surrounded by the living room sofa. It looks cool, though.

• United States
19 May 12
No way, I like roominess and space and open and light and lots of storage. I once had a realtor try and tell my my dining room was part of my kitchen. I hate small kitchens but it is what I have right now and she tried to insist my dining room was part of it. I told her no way is that true. My kitchen needs a pantry and lots of counter and cupboard space and my dining room is separate and needs it's own space and room. I would hate combining my dining and living room. I don't want people eating in my family relaxation room, it is too messy and also crowded with a table and chairs. I want to keep my rooms separate from each other, that is like saying the bedroom and bathroom are the same room. How embarrassing that could be.

• Philippines
24 May 12
If you have the space, then, there's no reason why you would have to bring two rooms in one. I would prefer to have separate rooms for each part of the house, if there's space for it. This case is commong to condo unit owners, where space could get kind of limited.


• Philippines
19 May 12
So, you'd be putting up a dining table in your living room? Or, just the coffee table? If you have guests, where will you take them for meal time?

• Philippines
18 May 12
I also observed that the most used part of the house is the kitchen. When we have visitors especially our family and friends- we gather and spend more time in the kitchen. I have my house designed almost like two in one- but not exactly. My living room and dining room set in one place without division. So, it is easier for me to entertain my friends and family while preparing food. Not to miss anything special and bonding moments too.

• Philippines
19 May 12
Our house is done that way, currently. No wall divider between the dining and living room, but each has its own space. The kitchen, however, has to be secluded since it could smell when we cook certain meals.

• Bulgaria
18 May 12
In Bulgaria,my country it's not even typical for houses and apartments to have dining and living room because they're almost always combined. When I first started studying English and learned that these are two seperate things I had trouble undrstanding the difference because we usually just have dinner in the living room.While I do know a few people who posses both these rooms in their home they usually live in big,3-floor houses and then I still notice they eat in the living room out of habit...Although the combination of the requres a little bit of different furnishing because,as you said big wooden tables look strange with sofas.That's why in bulgaria we usually choose tables that are smaller,still wooden,but look prettty good with sofas.

• Philippines
18 May 12
Oh, I always thought that having a separate living room and dining room was a European influence. Ironic, because here in our country, Philippines, even the small houses would still have those 2 sections of the house. Even, if the other room is just a step away from the other.


• United States
19 May 12
I like small houses, so using space in such a manner makes sense to me. I've had a certain affection for small living spaces, unusual homes (such as converting old barns into houses) and multi-use areas for a long time--ever since I was a child, in fact.

• Malaysia
18 May 12
i think it's very practical too. especially in Malaysia, where indoor celebrations that require a lot of space usually held. having a large room is beneficial, so just fit the dining table and sofas together.