It's still an IDOL SHOCKER to me!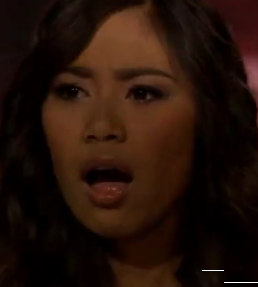 Philippines
May 17, 2012 11:48pm CST
Hello

Lotters, I can't help it but it's hard to believe she made it to the top 2. looks like no one in her fan base is letting her go to boot. Last night I was so so sure that She will be eliminated because she was some how surpassed by both Joshua and Phillip. i couldn't tell but i had it in my head last night, this is it,she was going to go third place just like Jazmine Triaz did. but the moment she was called FIRST to be safe.. I WAS HAPPILY WRONG


not a referral link. http://www.dailymotion.com/video/xqwlry_final-result-elimination_music
6 responses

• Philippines
18 May 12
Gosh, I accidental closed my first response and that was already too long :( Anyway, as I watched the elimination night again, I was thinking maybe Jessica didn't do her best on the performance night because she doesn't want to be on the top 3, just looking at her very surprised look when her name was called, she must have been really ready to leave tonight. Well, that was just a thought though, but no proof at all. We all know she can sing all those songs last night very well, but she didn't, or maybe it was just because she really wasn't feeling well. But, whatever it is, singing it well or not, she still can't stop her thousands of supporters in voting for her. I was also prepared to say goodbye to her tonight, but when her name was called to be the first one saved, i danced to joy. Felt sorry for Joshua though, he did great last night as well. It's all up to the hand of the Americans now to vote for the best and the good idol.

• Philippines
18 May 12
Hell Gaiza, Where did you get that information that Jessica didn't want to be in the Top 3? maybe it was her frustration because her sore throat she felt she didn't do well in her latest performance. I think Jessica graciously don't expect anything but will accept it with class if indeed he gets eliminated. she just do her best all the time




• Philippines
18 May 12
Oh, that was just my crazy thought. Maybe it was really just her sore throat. I was thinking, no proof still, that maybe she felt guilty for being there when in fact she was already voted out and thought it would be better if Joshua and Phillip should compete for the finals. But, anyway, it's just a crazy thought of mine, so don't believe it. It's only my opinion.

• Philippines
18 May 12
why the hell she would be feeling guilty to be saved? she deserves to be there in the first place. not to mention this hate against her is totally uncalled.


• Calgary, Alberta
18 May 12
there are 3 million Filipino Americans, Then you know how many mexicans in the US were, there are voting campaigns to support her, so that gave her a shot againts the teengirl army, vote for the worst and southern states. I think she is the first female contestant in the final 2 who is not from the southern states (or cowboy region)I think Filipinos are more supportive of her cos she is 10 times better than Jasmine Trias, Plus Jasmine Trias kept on saying she is Hawaiian, making the Filipino American community not support her...Jessica is more vocal of her Filipino roots.

• Philippines
18 May 12
Hello CaptainAlbert, Yes but this wasn't luck or good compare to other past contestants. I didn't now that? no wonder she lost? or is it because of the judges choice of songs on her? I agreee that even though she didn't speak much of tagalog, she clearly love her being Filipino to boot. am prooud of her have a nice day




• Calgary, Alberta
18 May 12
she talked about Filipino food on the show. she is the first Californian to get this far as well because Californians are not known to be supportive.also isnt it amazing that she doesnt have a sob story and get this far. some filipinos need to tone down the "proud to be filipino" we are not the market.... Its the American people of all races.

• Philippines
18 May 12
they can't help it. And you know what I've never had such a good perspective in life knowing some one that young and small can reach the top. it gives a lot of morality boost despite of the china-Philippine dispute over the island, we still have the reason to be happy and be optimistic, and this is one of the reasons.

• Philippines
18 May 12
It is too, I only read it tru twitter, I honestly think it's between Jessica or Phillip who will leave, though I don't like Joshua at all, I thought being judges favorite will get him more votes. In some way I predict Phillip and Jessica on the finals. I've had enough of Joshua's lousy voice, he's good without doing that style.

• Calgary, Alberta
18 May 12
Kelly Clarkson-texas Reuben Studdard-Alabama Carrie Underwood-Oklahoma Taylor Hicks-Alabama Jordin Sparks-Arizona David Cook- Missouri kris Allen-Arkansas lee Dewyze-Illinous Scotty McCreery-North carolina 8 out of 9 winners are from southern states (The south is where they love country music and has cowboys) and as you see girls cant win this contest in the last 5 years. Jessica already defied odds, her race,she is a girl and she is from California, California is not a Southern State, her winning would hit multiple birds in 1 stone.

• Philippines
18 May 12
Hello Laniekins, Joshua has talent but i don't approve some of his recent songs and those darn standing ovations. except yesterday, frankly i was hoping for a Jessica or Joshua FInalle but it seems Phillip's supporters are also strong and they gave it all to him to win it all.

but i agree with albert here, that she defied them all and now it's in the finalle

• Philippines
22 May 12
So there are pattern more or less for winning American Idol. Joshua now how to play a song but what I hate about him is his too noisy, the song is too much done. Plus he's been in the bottom 3 before so he really has less fans.

• Philippines
19 May 12
I am so happy when they announce that Jessica make it to top 2, but I feel sad for Joshua as well...:( the cons of competition is that everyone is talented but only one will gonna make it. Its not that one is better than another, because I think the guts to be there and to compete you already is a winner....

• Philippines
19 May 12
Hello

Sweetplayer, I think Joshua simply didn't have enough votes but he's already the best there is. they have no idea that he is actually going to get a record some day i believe.

• Philippines
20 May 12
I agree with that...in my country sometimes the second placer shines more than the grand winner. Example of this is charice, she is second place in some singing contest but in the end she got international break. Sometimes things happened in a very unexpected ways.


• Philippines
18 May 12
Hello Lady, It's just so happen that there is a saved, otherwise the fans would have totally regretted not voting for her. it's a lesson that when there is a Fil-am gifted then they should show support for each other and not become complacent with it



• Philippines
18 May 12
Jessica deserves to win based on her talent, so thus joshua, but comparing their fan base population, i think Jessica outnumbered Joshua's by a mile. Philip on the other hand with his astonishingly good looks and simplicity have captured a lot of the young female in America.

• Philippines
18 May 12
Hello Obe212003, Well, there are also other people voting for Phillip and not just teen girls in general. i think this is what America has chosen for the top 2. as for jessica, Latino, Filipino, other asian communities supporting other americans who love jessica sanchez. Phillip is nice and i think he can make it all through ou the finalle too.