Hot spring at Pansol Laguna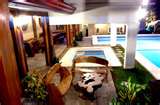 Philippines
May 18, 2012 8:02am CST
I have just returned from a 7-day seminar workshop at Pansol,Calamba,Laguna. The seminar workshop was excellent because everybody enjoyed the processes and the learning we gained from it.Moreso, the facilitators were excellent! The place is located at the foot of Mount Makiling where numerous hot springs are found. Since the place is surrounded with hot springs, the water coming out of the faucet is warm. I can't stand it because the place is warm and the bathing with warm water doubles the warmth I feel inside. The whole time I experienced a choking sensation that made me have a difficulty of breathing. I thought was going to have a heart attack but common sense dictates me to drink plenty of water. True enough it eased my feeling whenever I drink water. Hot spring bath is good during rainy season but not in summer . It can aggravate the stroke attack for people with heart disease. It's good that I had my laboratory work ups before going to the place and the results were all normal.
4 responses

• Philippines
22 May 12
Hi Janevi!

I grew up somewhere near in Pansol and my family and even my friends are fond of swimming on those resorts in that place. Whenever we go swimming on hot springs, we make sure that its early in the morning, about 4 am (that was when we are with my grandma, they say that the water is good for their body and their health and I also notice that there are lots of elders during that time) or we are having a night swimming. During that time the water is really great and relaxing. Whenever we swim during the day, we choose those cold springs. There are lots that you can choose from in that place since they are popular for resorts... May I know which resort you visited?

• Philippines
22 May 12
You are right in saying that the time to dip in the hot spring is at early morning or late afternoon or early evening.One can really maximize the benefit from bathing in the warm water. It just so happened that I am so sensitive that time of the warm temperature. It was the temperature that provoked that choking sensation because when I went to Tagaytay right after Pansol, the choking sensation subsided.:-) There are really lots of resorts there to choose from. My experience was just extra ordinary and is not common to all who will dip or swim in hot spring.:-) Cold spring would be a good alternative during summer.

• Philippines
20 May 12
I never try to be in a hot spring. They say that it is relaxing and enjoy to go to. I better try it soon.

• Legaspi, Philippines
18 May 12
Hi Janevi! I've never been in that place. How I wish I could also visit other places in our country one of these days. Honestly I never experienced also the feeling of bathing in a hot spring.

• Philippines
19 May 12
You try to visit the place. It's fun .Be sure that you have no heart problem. Another hot spring is in Ardent at Camiguin Island. At least these are the two hot springs I've been to. Going to Pansol is very easy. You can take the bus from Cubao going to Pansol.:-)

• Philippines
20 May 12
We have been going to that place ever since I was a kid and tried out a lot of resorts like Pansol. "batis ni Makiling" the many "cuyabs", "Agua Caliente" etc.. as well as private pools. If it was not a seminar, I think night swimming is better if you are going to the hot springs during summer cause the heat could be unbearable to some individuals, I think it's practically fine to swim anytime for the strong and healthy ones. The sulfur in the water is good for the skin too.