how does your gaeden grow?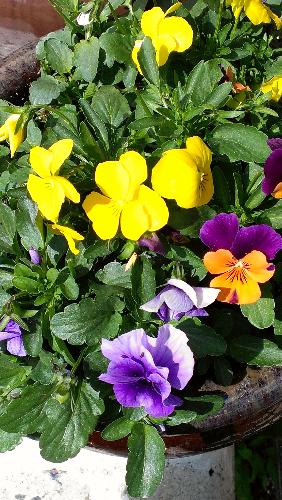 Canada
May 19, 2012 11:23pm CST
My garden Is off to a great start and I'm loving it! My carrots are sprouted parsley is up and every thing is green and beautiful. Flowers are blooming. I like this time of the year were everything is fresh. What plans do you have for your garden? Pansies are eatable, just don't tell little kids, they'll want to eat the flowers, put the flowers in salads and on desserts too!

6 responses

• India
20 May 12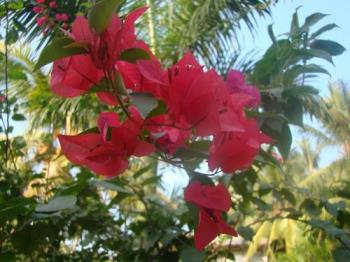 "With silver bells and cockle shells and pretty maids all in a row" Mine is better than that

Now is the season for bouganvillae and I have them all over my garden quite a few varieties. I love my garden which is landscaped to attract birds with a water fall, a bird bath and lots and lots fruit trees and luch greenery.

• Canada
20 May 12

your garden sounds beautiful! We put out a bird feeder out in the winter time, when the ground is covered in snow. We have a bird bath and enjoy watching the robins splash. My herb garden has expanded and is now teared. Gardening can be such a joy! The bouganvillae is lovely, wonderful picture!

• India
20 May 12
I can perfectly understand the joy that you must be deriving from your garden because I do. Here is a video clip of some of the birds that visit us. I have several species that keep coming every single day. http://www.youtube.com/watch?v=1Ttv5AEXV2I

• Chile
24 Jun 12
I am growing some Winter produce here as I live in the Southern Hemisphere. Fortunatly we have a mild climate so my lettuce and kale will thrive with the aid of a plastic roof. Dandelions are eatable too.

• United Kingdom
25 May 12
In my home country the weather has been dry so the lawn is not looking at its best. It has trimmed today so the grass is nice and short. I have got a problem with a weed called horse tail. It is hard to get rid of. My hardy palm trees look lovely still. I had some daffodils in March and April then some blue bells in late April and early May. In my front garden I have a tree with pink flowers. I wish to carry on getting rid of the horse tail weed. I am planning to decorate inside my shed that is meant to be a summer house. Your garden sounds delightful.

• United States
20 May 12
I'm enjoying my garden, too! There are lettuce, radishes, carrots and beets up and growing right now. I planted okra, beans, corn, squash of various kinds and pumpkin, but they're not up yet. It's a little early for them here. It won't be long, though. I transplanted tomatoes, too. The back yard is looking better all the time. The strawberries are blooming, the horseradish and rhubarb are growing well and the garlic is almost two feet tall!

• Philippines
20 May 12
Hi amfyre,since I am living in the urban area where the space was limited, I've collected empty baby milk cans to serve as pot to save money and make a small garden infont and back of my house. Infont my house I have some flowers like roses and sunflowers. At the back i've decided to put some vegetables like eggplant, bellpepper, tomatoes, chili and some herbal plants. I love my garden especially when I am cooking, when I am running of some ingredients I just get some in my garden at the back. I also teached my nephew and niece to plant to know the real value of the flowers,trees and vegetables.

• United States
20 May 12
We tried the garden thing for 5 years here in Florida. Unless you are willing to put in a sprinkler system, with our dreaded heat in June July and August the plants start off looking really good. But during those three months you go somewhere for a weekend, when you come back they have all wilted and gone to God's garden. We spent a lot of money (even bought a tiller) but nothing worked. I think the sand absorbs the water and the plants get little to none. Glad your garden is growing good!