Laramie Strawberrys

Boise, Idaho
5 responses


• Boise, Idaho
29 May 12
No. Just be sure they have a good amount of sand in the soil and plant them in the sun.

• Philippines
21 May 12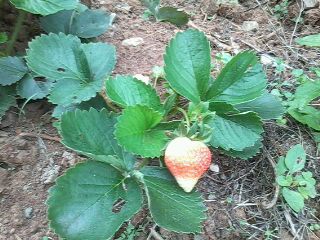 Hello there, how nice to hear you gathered some fruits of your strawberry plants. I also had planted some and was successful. I also gathered some fruits but my problem is that my strawberries had fruited a few. For one plant, I counted only 3 fruits. What do you think is the best method to make the strawberries bear more fruit?

• Boise, Idaho
23 May 12
It may be that the plant isn't mature enough, might not be getting enough fertilizer and the PH may not be high enough. Here is a really good article about growing them that may be of help to you: http://www.ehow.com/how_5616195_strawberry-plants-bear-fruit.html

• United States
20 May 12
That sounds like a good variety for your area. I ought to look and see if I could find them some place like Jackson and Perkins. They have excellent garden plants.

• United States
20 May 12
That is a great idea. I have been wanting to get outside and plant a few vegetable plants and some flower bulbs I have, but haven't found the time yet. I had it on the agenda for today but I had to go into town, do laundry and then I came home and goofed off here on the computer.

• Boise, Idaho
21 May 12
I would love to have a garden. We can't plant things here.

• Indonesia
20 May 12
When I'm in Middle School, my school give an project for it's student. Each student will get a small pot containing strawberry plant. We have to take care of it by ourself. We place it near my school gate and because we life in dormitory, we can see it anytime we want...