My bathroom looks really good.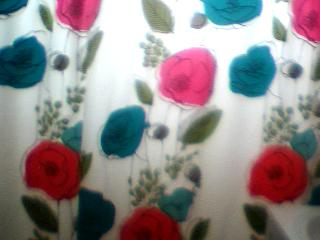 United States
May 23, 2012 12:23pm CST
For some reason the camera is not working right. I put up the colorful shower curtain. I also found my matching towels. I have a towel rack that was filled with all her hair supplies. I put them all in a basket on the bottom shelf and put the matching towels on the top two shelves. Now,I have space in my linen closet and my room closet. I will see if I can get the camera to work to show you a picture. All I need now is to get the matching rug from my friend. He will give it to me after he gets one for his bathroom. It is a nice orange rug. I got the camera to work now.
9 responses

• United States
23 May 12
That is great that you are getting everything the way you want it. I'll be glad when I move and get settled.

• United States
23 May 12
I will be happy for you as well because it is a new start for both of us. I would like to see your room if you have pictures. I will be putting my pictures here soon as well. take care.

• Canada
23 May 12
A colourful room always makes a person smile, so I see. I guess I'm a boring person, our bathroom is mostly white, and we just get cheap, dollar store stuff intead of investing in a good solid shower curtain. I would like to have a clear one that's durable and a blue shower curtain over that, that'll be pretty. Not sure about having a rug in the bathroom, I mean that would be hard to keep clean and mold-free, wouldn't it? Just curious on that one.

• United States
23 May 12
The rug dries out after a while and only gets a little we when we step out of the shower. it is a little square in front of the tub. thanks

• Italy
23 May 12
Well, regardless of whether your camera functions or not, the important thing is that you have a care in the bathroom in a truly nasty. You know, you know that I, too, despite being a man, I have a very open-minded to cleanliness and order to the house. I always help my mother with the housework. Yeah, ok, I love living in the order and cleanliness. I would have many ideas to make my home really welcoming and "my way", but unfortunately at home, not living alone, everyone has their own mentality. Then after all is not that we have available a vast amount of money to really be able to afford everything we want.

• United States
23 May 12
I got this shower curtain from a friend of mine who hated it. I am glad your a clean man as well. they are really hard to find. take care


• United States
23 May 12
Your right it is spring like in my room that i never thought about it.

• United States
23 May 12
It is fun to re do and reorganize things just the way you want them. I am glad you are enjoying this.

• United States
23 May 12
That's a great bathroom I think we're due for a new bathroom, too!

• Philippines
26 May 12
I like the flowery design of your curtain, I have one too in my bathroom but the color is pink. Actually all colors are pink from rugs to curtains and even on walls, even the basins and dipper and even candles, racks

. I love going to my bathroom when my eyes are full of pink.

• United States
25 May 12
wow sounds like things are really coming together for you, im happy that you have your pretty bathroom now.. i need to clean out o ton of junk in my hall closet and even go thur towels we dont use and get rid of them make me more room i just dread getting started..