would you buy undergarments in "ukay" or second-hand clothes store?

Philippines
May 27, 2012 5:51am CST
Although I am an "ukay" enthusiast, but I have never tried buying undergarments like bras and panties in used clothing stores. In our place, such stores have an array of lacey bras of all sizes and panties too which still look good. Some of those who buy say that they wash it thoroughly, in fact some say that they actually pour boiling water into these things. How about you? Suppose these undergarments are like branded like Victoria Secret or Triumph--would you perhaps buy them?
9 responses

• Philippines
27 May 12
Im not fond of ukay and i think it is not proper to buy undergarments too just to have signature panties and bras like Victoria secret. I observed also that the price in ukay is somehow the same in low class brand new dresses that sold in the tiangge which is more better for me. Although the quality is not that good but still the style is in fashion. Not like in ukay yes they are branded but sometimes out of style and second hand.


• Philippines
27 May 12
Maybe I just don't have time to be in Ukays that's why I can't find more fashionable, I'm not that picky but I always sneeze when I'm inside and my arms can't stand to dig just to find good clothes.

• Malaysia
27 May 12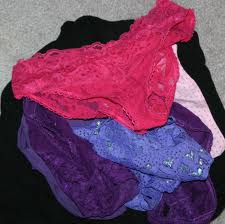 I guess i will buy if it is very cheap and also in good condition , can always wash it in bleach and disinfection and wear in safe and hygiene.Money save is money good to be used in food and paid bills. I envy those countries where they are good stores selling good 2nd hand clothes.Even distribution 2nd hand clothes. Here people don value recycle goods and throw into the distbin landing in the landfill polluting land and air.

• Philippines
27 May 12
I am ukay2x addict also but except for the undergarments.

• Philippines
27 May 12
I'd rather buy undergarments in ukay-ukay even if they're the cheap ones. I just find it very unhygienic because you're not certain that it's clean. Some just say that they washed it to make you buy them. I still wouldn't buy second-hand panties and bras even if they are branded. It's just.. :)

• Philippines
29 May 12
I would never buy any undergarments in "ukay". Not in a million years.

It's okay to buy shirts or pants or jackets, especially jackets but never any undergarments. You see, most of these collect dust over time and are just displayed there where different pests like rats can actually crawl on them. So even if you have to wash them thoroughly with the strongest detergent you can possibly think of, I don't think I can get the thought out of my mind to buy second-hand undergarments. Safety and health comes first before any quality or material or brand they say it is.

• Israel
28 May 12
No never.........I even wash new clothes before I wear them so cannot even dream about buying used under-garments...., but if someone is buying then due to lack of money and has no other choice, then I will not make fun of him, but have sympathy with him or her. Life is not so easy. Things that we cannot even imagine are actually happening, so we should not be proud, but understanding..........


• Delhi, India
28 May 12
I have not heard about this kind of store and it is not there in our city. Even if such a store is there, I would not like to buy used/second hard undergarments at any cost.

• Philippines
28 May 12
i love to wear skirts but i cant find the right design and the exact fit in the mall for my age and for my body size so i have to buy my skirts in the ukay ukay. there are endless choices for me and i completely enjoy myself when 'm in the ukay ukay store but i never buy undergarments there i prefer to buy my undergarments brand new.