How many of you can touch your nose with your tounge?

India
May 27, 2012 10:38pm CST
hello friends, This may be silly, right. But its very interesting one.We (children) used to play this game in school. Let me explain, when ever ,there was a leisure period, or just the teacher was not teaching anything, we children used to make alot of noise in the class room( as you all know children always try do do some mischievous things). Teacher used to say she wants pin drop silence in the class, or just hold your tongue ,so that we wont/cant talk to each other, and then she used to carry on her work, like correcting of notes etc. But we children , in the mean while, used to talk to each other, through signs, and one child used to just say to the other to try to touch the nose with your tongue..and this used to go on , till the teacher used to see us, and when we notice that the teacher is about to see us, we used to sit silently , as we didnt do anything. This is one of my childhood memory which i suddenly remembered, friends do remember about those silly/mischievous things which you did in your childhood ,which you remember,if so please share....
3 responses

• Philippines
29 May 12
Hello prashnu! :) I thought you are still a child now...hehe Well, have you touched your nose with your tongue when you are little?

I can't reach it!

Yeah, there are moments in childhood which makes us laugh and miss those times cause we can't turn back time. I remember when I was student, my classmates have this kind of slimy thing that they tend to stick on the ceiling whever the teacher is not around and then when the teacher arrives, it will drop to her/him which makes her/him angry at students...bad little students heheh

• India
30 May 12
hi,annavi23 no i too cant touch mu nose, i tried a lot , but no result, nice to hear about that ceiling , story.yes we cant get back the time, how nice it would have been if we can do so...

• Philippines
30 May 12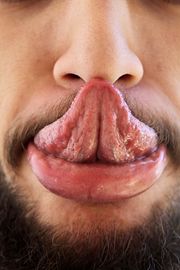 hehe, yeah it is really hard to reach. I think no one can do that...unless they have fake tongues or something magic thing...

oh, wait...while commenting on this one, I have tried searching for pictures of tongue but then I have searched the right one for the right topic. Here it is: http://www.wikihow.com/Touch-Your-Nose-With-Your-Tongue I can't believe there's such person or people who can actually do that trick huh? oh well, I hope that helped you. I even tried it out myself but, nothing happened. I don't like the smell of saliva either...hahaha

Enjoy!



•
31 May 12
Haha No, i cant touch my nose with my tongue. But i did number of things in my child hood that i still remember. Playing gulli danda (Indian sport) i still remember. The best. And Playing hide and seek in school ( recess time or whenever the period was empty ) And playing Dam Dam Dup (Sport played sitting with both hands) was also quite fun ( Got my hand red number of times, giving punishment and vice verse :D ) And Hand Chain , Vish amrit . I love the innocence of child hood.

• India
13 Nov 12
yes many do it during childhood. Very few can reach the nose. Yes we try lot of things during childhood and we enjoy it.

• Philippines
28 Jun 17
This is a silly thing but I find it so funny haha! I cant do that!