wall art made from wood scraps...anyone?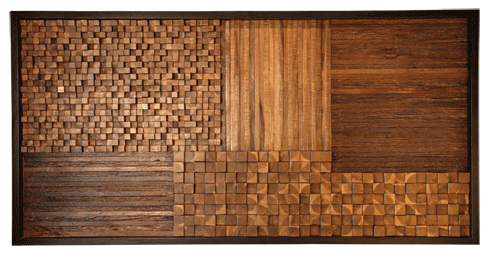 Philippines
May 29, 2012 3:54am CST
Hello guys, Do you have ideas how to personalize recycled wood scraps and make a wall art out of it? I really need some ideas I can't find something that interest me. Do you know some sites where I can see some wall decors made from wood? which are easy to made even for a non-professional artist,like me?

I'd like to see something like this picture I have provided. Also if there are those which has spaces between some scraps to see through the other side of it... Glad to hear from you..thanks!

2 responses

• Gold Coast, Australia
29 May 12
Years ago I was planning on making picture frames out of old fence palings. We replaced our fence and I kept those palings for years until we sold the house, but I never actually did anything with them!

I just finished reading only a few minutes ago a page on recycling furniture. Not really wall art, but you still might find some inspiration there. http://www.squidoo.com/used-furniture-diy-ideas

• Philippines
30 May 12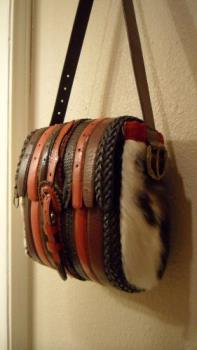 Hello RawBill! Thanks for the link. It really helps a lot cause it brought me to some sites which I have never seen before. I never knew old belts can be recycled and been able to repair a wooden chair. plus those of belts made as floor mats or belts used as tags in bags and cameras or holders and even made it to a bag of its own...http://www.squidoo.com/up-cycle-leather-belts plus the shim chick, which are wood leftovers as well made as wall decor... http://veryirie.blogspot.com/search/label/recycled%20crafts thanks for the link...very well appreciated!


• Gold Coast, Australia
31 May 12
Glad to help.

Squidoo is a wealth of knowledge for crafty things that people have done themselves. You look at one page, then find another and another, before you know it you have been browsing pages for hours and have all sorts of great ideas! Love it!


• Philippines
31 May 12
Hello again, rawbill! I guess squidoo is not only for those art crafty workers...it depends on what you want to write about. there are writers there who also talks about different things in life. which can be really useful plus those of tags written underneath the pages that keeps the search going on. Yes, I have had fun browsing most of the sites and gives me ideas but yeah time consuming because of browsing such facts. but then it is a way of opening our minds to new possibilities of creating things to another. Making life more easier when recycling and upcycling things. It's good to make use of things you don't know you can still make use of. you just have to research and learn things not just throw them away. adding more garbage to mother Earth...

Have you created things from recycled ones or upcycled anything yet? Do you like doing arts or crafts or so...? I have made such when I was still studying...I made a post of that in the next responder in here. Tried to make a letter inside the casette tape..


• United States
22 Sep 12
I am an artist but I use wood and old wood pieces to use for signs. I have seen a ton of ideas on Pinterst for such as your interest in wall decor. I am constantly amazed at what people come up with with just a spark of imagination. I recently saw a clock made from shims, using them in a radial pattern. The new, "it" thing is to recycle wood pallets and crates into something else creative/functional. I use Pinterest all the time and am one who actually will do the crafts and bake the recipes and it hasn't failed me yet....fingers crossed.

• Philippines
25 Sep 12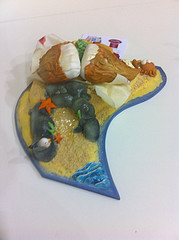 Hello artsy!

I hope I can be creative as much as I can. But sometimes, I really need lots of ideas to start something with. I also think that you should have provided a link on what you are stating cause I am qite confused in here now...

Oh, well, are you also doing those crafts made from wood pieces? also the baking stuffs? Sounds great huh?

• United States
25 Sep 12
Sorry, I didn't think I could provide a link. Anyway, you don't really need one- just go on the Pinterest site and type in "pallet art" or "upcycling wood" and all sorts of pictures pop up and offer websites with instructions. I found that clock idea made from shims by typing in "shims" and found a sunburst mirror idea, similar to it. You do have to keep in mind that some people just pin what they like with a picture but no instructions. What I mean about Pinterest is that most creative things I'm interested in are all on that site and functions much like a virtual scrapbook for ideas I like or am interested in trying. I've used some of the craft ideas on Pinterest but am pretty imaginative all on my own. Yes, I do use the recipes and ideas all the time.