Been really busy... cleaning kitchen floor and my bathroom floor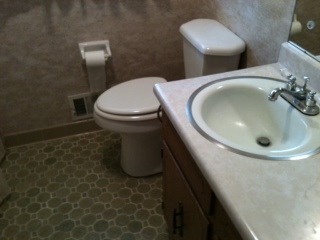 United States
May 29, 2012 2:04pm CST
Whew! I'm wore slap out! Not only did I go for a walk this morning with my daughter to walk the dog, I got busy with the cleaning around here. It's not that dirty.. you have to really look for it… but I found scuff marks on the hardwood floor in the kitchen and where there had been some spills. I paid special attention to the corners. You know how pesky those corners are. You can't get them clean with a mop. You have to use some elbow grease. Then it was lunch time and I put a potato in the microwave to bake while I cleaned my bathroom. You couldn't see much dirty, but I saw around the base of the toilet where it had got a little dirty.. so I gave all that a good scrubbing and then took a picture of it. It shines! I'm so proud of myself. B is coming over tonight to 'inspect' to see what we have done. She wants our house to look like a show place at all times; that's why there can't be any eating anywhere but the kitchen and dining room. That's why we have to take our shoes off in the foyer when entering through the door. We have a shoe cabinet by the door to put our shoes in when we come in the house. No shoes can touch the carpet. I actually like the rules because I know the rules will keep the house looking as nice as it does right now. I guess, because we didn't have to pay a security deposit, it is a good thing. She wants to protect her investment, so that if we don't buy the house in a few years, she can turn around and sell it to get her money back. She didn't have to buy this house for us. She could have let us worry about finding a place to live on our own, and worry about first and last months' rent and security deposits. She was willing to shell out so much of her own money to give us a nice place to live, anything she asks… is only to help us and to keep our place looking nice. Yes, she is very picky, but at the same time she is the owner and investor in this property… and she is giving us the option to buy it within 7 years time. If we don't .. too bad for us. If she dies, then the house goes to S and his sister… and S will have to buy out his sister's share of the house. So I hope S and my daughter will buy it within the 7 years. Has anyone done something big for you and asked you to take care of it in a picky way? Did it upset you, or were you grateful for the opportunity? I'm grateful.
4 responses

• United States
29 May 12
I did those exact chores today too! Must be a chore day :)

• United States
29 May 12
Since I wrote this I also swept the carport and the driveway, and the mat at the outside of the door. I figure to keep it all swept to keep from tracking the dirt in the house.

• Canada
30 May 12
she is not asking anything a normal family doesn't do anyhow. We are all supposed to keep our house clean whether we rent or own. So there is nothing strict or unreasonable about her wanting the house clean. Nope nobody bought anything that big for me. But you know my friend Joe has helped me out financially a lot over the years, nothing big like a house mind you but has sent me money whenever I needed it.

• Philippines
30 May 12
I also don't want the shoes and slippers from outside go inside the living room, that's why I have separate slipper outside and inside the house. It's seems you busy all day from cleaning, your bathroom looks nice. That's the first thing I gave too much attention when I'm cleaning the kitchen and the bathroom.


• United States
30 May 12
It's great, isn't it? We track less dirt in by not wearing the same shoes inside and outside. I don't have any inside shoes yet but I will have. Maybe just house slippers.

• Lippstadt, Germany
2 Jun 12
hi dearest PQ I wonder why B didnt make the last tenants clean up really meticulously when they left the place which would have been the decent thing to do. Now you are scrubbing specks of dirt here and there that strangers caused. Thats the same unfair practice my old landlord in my first rented place used on me in old hometown. I was scrubbing the mold out with a toothbrush in between the tiles in the bathroom. Grrrr I also asked him why didnt you ask the young couple who were tenants before to do that. The shoes off rule really pays off. We have rented this place as well no house but a simple apartment but we make our own rules. The Lord firbid our landlady would put any more rules on us than the "no kitties no dogs" rule put in the contract. I digress, so back to the shoes off rule. I insisted on it when we moved in here and theres a bit of dust here and there where a dry swiffer will be enough to take care of no scrubbing any more. Thats really helpful.