Keepsakes or Junk

United States
May 30, 2012 1:34pm CST
I've met people on both sides of this argument but it seems to be a reoccurring theme in my life. Lets say things like the first cell phone I ever owned that my grandmother who passed away bought for me, the broken best friends bracelet from first grade, the letters I've received over the years, the t-shirt from my high school with signatures on it from my friends, that I keep but never wear. My room mate has driven me insane talking about how if they were her things she would just throw them away. This argument started up again recently after I told her she couldn't use my dress for her upcoming wedding to save money. It's a wedding dress I bought, 7 years ago, when I was planning my life with my fiance who was taken from me in an automobile accident just a month before we were to be married. It's never been worn besides the fitting, and even if I ever do get married, which I don't plan on doing, I don't plan on wearing it. It's mine. It's a piece of my history, my life - a reminder of happier times. Now the dress along with everything else, she calls junk because I won't give her my expensive dream dress, that means more to me than any amount of money I spent on it. Do you keep 'irrational keepsakes' and if you do, have you encountered people who have reacted this way to them? Or are you someone who thinks its silly to keep them, if so, could you please explain to me why?
8 responses


• United States
30 May 12
She doesn't have to understand why I keep what I keep, and why I won't give her the dress. She just has to accept that I keep them, and it's my dress, and that she has no right to act like a child and throw a fit, or at least recognize that I don't have to listen to her throw her fit over it. I actually like that idea about the t-shirt. When I have more free time, I may pull out the sewing machine and do that! Thanks for the inspiration. :)

• United States
31 May 12
You are right, she doesnt have to have any explanation. Tell her NO and that that is the end of it. =)

• United States
30 May 12
These things that you have are definitely not junk because they have a meaning to you. Now, granted, there are people that don't understand the emotional attachment that you have to those things and to those people, these things are seen as junk. It really does go to show that the term "One man's trash is another person's treasure." As for me, I still have a lot of things that I've held on to because of who gave those things to me or because there is a special memory that is attached to those things. Over the years there have been some things that I've been able to let go of, but other things I will never let go of.

• United States
30 May 12
I am aghast that your roommate would even suggest the use of your wedding dress. How insensitive and selfish is this person? It is beyond comprehension. As for her judgment that your keepsakes are junk, what an idiot! First, your life and your keepsakes are none of her concern and are simply not worthy of a response. I do keep things to which I have sentimental attachments. I recognize that my attachments may not even make sense, but I really don't care. For many of these 'things' they are all that I have left of people who are special to me. I cannot fully explain my attachments, and I don't feel the need to. I don't think that they are 'irrational' any more than someone who collects spoons that they hang on a wall, or someone who collects more vehicles than they have drivers for, or someone who is fanatical about a sports team. There is nothing rational about all that, and yet it's accepted as normal. Yes, people think some of the things I have are junk. I have a shirt that I have kept that belonged to each of my three sons. It is old and ratty looking, and I plan to frame it. I have my father's pocketknife and untold number of pens of his, as well as other things that mean nothing to anyone, but mean a whole lot to me. They help me cope, so that is enough. Some of us may be more sentimental, or sensitive than others. I don't belittle people who keep nothing. That is there choice. As mine is my choice.

• United States
30 May 12
I agree with you it is our right to be sentimental. I've never attacked her collection of anime action figures or anything else she collects that I don't quiet understand. It's never even occurred to me to. Which is why I was so shocked that she would react so childish over my things. She's hurt my feelings, not by calling my things trash, but for even mentioning my dress again. I think her problem isn't so much that I collect and keep these things, but that she is acting childish because she wants one of them and I won't give it to her. Right now I'm so upset that I can't even talk to her about it, because I have nothing to say to her.

• United States
30 May 12
I think that you are correct about her motive, and that's really sad. I dare say that a person with just a smidgen of compassion wouldn't even consider making such a request. It's outlandish! I see no reason to discuss it further with her. You're just wasting your breath.

• United States
30 May 12
I had already given up on discussing it with her, and am now over at a friend's home, and maybe it's childish nature or paranoia but I brought my dress with me. It's still in it's covering so it won't get damaged or anything, but I didn't feel comfortable leaving it there when I wasn't with all the drama going on around it. I had to get out of the house and away from her for awhile though.


• Philippines
30 May 12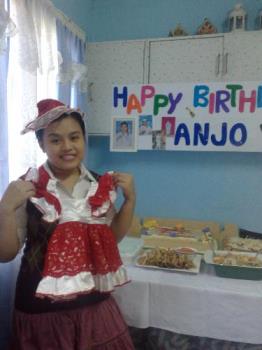 Okay, your friend is immature. Sorry, but that's my opinion. If she cannot understand your views, why can't she just keep mum and leave her ideas inside her head. I do the same, I am a sentimental fool. From gift wrappers, candy,chocolate wrappers that means a lot- I have all those intact for many years. Who gives a damn if those things are junks. I have all my babies navel,their first nail cut, hair cut, their first baby dress and a lot more kept for them to see a part of their life. I know some people find me amazing for keeping those things- and some people raise their eyebrows- so be it. Here's my daughter during her 18th birthday showing her dress when she is one year old. I keep this dress among with other of her memorable stuff so she have something to see and recall during her baby days.

• United States
30 May 12
I agree with you that she is immature about how she reacted to the whole ordeal. I think it's sweet that you've kept all of those things, and we're able to show them to her once she got older. My Grandma kept a lot of my things too, and now since she passed away I have them. And they mean a lot to me, not just because they tell the story of me, but because she took the time to care about me and the story of my life. Thank you for sharing the photo of your keepsake. :)

•
30 May 12
There are a lot of things that people think they want to keep during the course of their lives, but if they carry on thinking like that, they're going to just end up with a house full of things that they don't have any room for. I have kept a small box of things from my childhood that mean something to me, for example reports from when I was at school, and a couple of toys that were my favourites for many years, but I don't think that I should have kept these. You will always have your memories, and the physical things that are associated with those memories don't really matter all that much.

• United States
30 May 12
It's not like I have rooms full, or even closets full of things. I have a few small boxes, a few things I set out, and the dress. I understand what a hoarder is, and I'm not a hoarder, but these few things of mine are very important to me. They don't replace the memories you're right about that, but sometimes when I'm really upset, I like to hold them, look through them, just to remind myself that they were real, and that I was happy once before, and will be happy again.

• United States
30 May 12
Your roommate is way out of line! It isn't her place to decide what is junk and what isn't. Plus it is very presumptuous on her part to even consider "borrowing" your wedding dress. If she wants to save money, she should check the area thrift shops to find a dress. They are low in cost and very often you can find beautiful designer dresses. To want to borrow yours with such deep meaning is so far out of line it is on its way back. Your roommate is an insensitive boob that has her gall to tell you that your stuff is junk that she would throw out...then she wants to "borrow" your wedding dress! She has more guts than a slaughter house!!!! This woman would have a field day with my home. I have bracelets from when I was five years old. I have old stuffed toys from my childhood...a charm bracelet from high school. Each item have memories that are very important to me. If someone came in and told me that it was junk and that they should be tossed would get that person tossed out the door on their fanny! It isn't their place to make comment on items in their home. My favorite response to someone who is throwing their weight around and spouting such things like "if they were my things..." I look them in the eye and state "Do you pay my bills? When you start paying my bills you can tell me what to do or what you would do. Until you do start paying my bills, please quit telling me what you would do with my possessions. I don't care what you would do with them, they are mine and they are my treasures, my memories, symbols of my life. They are important to me and having you tell me that they are 'junk' and you would throw them out hurts deeply. So, if you want to tell me what to do with my stuff, start paying my bills...and you had better get three more jobs because I will get VERY expensive to maintain!" You will always meet people on both sides of the argument. What is important is what those items mean to you. Ignore what your room mate has to say about the stuff. Don't pay attention to other people's opinions about what is so important to you. These are your treasures, your memories, your possessions. If ANYONE comments on your stuff again, look them in the eye and tell them that it is extremely RUDE to comment about your stuff. I had something happen that is in a way related to your problem. I was driving a friend to town one day and I started to develop a headache. I asked the friend to grab my purse and get my pill box out for me. She complied and I got the Tylenol. The next thing she was spouting was about all the items in my purse! I was so embarrassed. Then, I was driving that same friend and her friend to a neighboring town. The friend that had gotten the pill box out of my purse looked back at the other woman and stated "What ever you need you will find in Lover Bear's purse! SHE HAS [B][I]EVERYTHING[/B][/I] in it!!!" I lost my temper and informed the pair that since I live thirty miles from town I have to carry everything I need with me. It isn't like if I forget something I can drive five minutes to get home to pick it up. It didn't shut the woman up, but I don't go anywhere with her anymore.

• Philippines
31 May 12
You find sentimental values on these stuff and that is the reason i could see why you could not give up on these things... they mean a lot to you and have been pieces of your life... I am that way actually, but lesser now as i do really tend to stack them up thus creating "junks" as my hubby says at home..and tend to eat space. I have old letters from my best friend, those little love notes from best friends those ones we pass during high school, old friendship bracelets.. you name it i have those... but there was one time when we were changing house, somehow i lost those. It really broke my heart - i think somehow hubby found a way to throw those "accidentally"

but it taught me a lesson, it made me realize that even those are memorable, the best memories i have of them are in my heart and mind.. as for your dress, i would also feel that way syramoon.. keep it as long as you want. it is yours. not hers.

• Philippines
31 May 12
I keep everything even the ticket on the first movie that I went to watch with my husband. I still have them and he was asking me to throw them since its only trash for him. I'm such a sucker on the sentimental value of the things I have but then again when I got moving from one place to another a lot of those things were thrown by my mom because she thought they were trash. At first I was devastated but then again as the years pass by now I realize that I don't need them actually for my life to move on. I'm not saying that you throw them away or let your friend wear the dress you yourself doesn't want to wear but its your choice. Its your keepsake or its your junk. I feel for you since I've been through this as well but with my experience I'd rather let someone have that "thing" which I'm just keeping so that it can have more or another meaning.