Is the average person too stupid for their own good?

United States
May 30, 2012 10:12pm CST
Ok, I'm not trying to insult people with this topic, but I'm going to. I just read a story on Yahoo about how scientist have been able to store data on atomic particles. This break through can lead to a new age of computers that make the ones we use today as obsolete as that big old white computer you use to use in the 80's. I start reading the comment section of this article, and I see instead of the wild excitement I felt, people were mocking the article for being to techy to understand. Has the minds of people been so exposed to Snooki and J Wow, that their brains are nothing but mush. Technology is on the verge of making computers that can think for themselves, do things we could never imagine, and people aren't smart enough to understand the implications of it all.
9 responses

•
31 May 12
Never underestimate the stupidity of the average person! But what you are really talking about here is the dumbing down of cultural aspirations and yes, I agree with you. Trouble is the lunatics run the asylum, the media is populated by gibbering half-wits who have extreme difficulty understanding anything remotely more complicated than tying their shoes up (Well they probably have shoes without laces) The media have promoted their own values such that it has become fashionable to boast that one does not understand maths or anything vaguely scientific or technical. Anyone with an IQ over 5 or who endeavour to understand such things are decried by these window-lickers as boring or a nerd or some-other meaningless derogatory term. Even universities have dumbed down and subjects such as English have become a kind of mix of political correctness and sub-standard philosophy all the best urban

•
31 May 12
Did you read this somewhere? "Technology is on the verge of making computers that can think for themselves" This I suspect is an example of exactly what I am talking about above, the reporter clearly has not understood what the issues are. A computer that thinks for itself will not be possible until someone solves the frame problem (Amongst other problems) all the best urban

• United States
31 May 12
No urban it's just my enthusiasm over the whole news. The manage to save two characters on gaseous particles. Not exactly a big leap forward, but I can understand what the future will hold for us. As far as everything else you said. Too funny. LOL

• Cebu, Philippines
31 May 12
While that a sensitive topic about people's opinion. It is no ones fault really. We live in a society (all societies, races, creed, all rolled into one big ball of clueless people) where we are dumbed down. I can say that for my country as well as yours. People have been encouraged to be stupid. Bombarded with false hopes, false dreams, an altered reality and too many distractions so we all loose focus on the real issues of the world. That we way we all won't know what hit us until its too late. Yes I agree that people really don't see it. As much as technology is concerned, they're all missing the point. We are gearing towards development and yet they ridicule new inventions. They don't even realize that they're barking at their selves. Some of them are probably even posting using their smart phones. Duh. Same thing isn't it. Computers used to be a big machine on the desk. Now the iphone has the processing power and data storage that makes computers of the 80s an extinct device. Yet, there is also a fraction of society who are intimidated with new things. My old grandmother was intimidated with the calculator some 30 years ago. So in any sense, this is a defense mechanism for some people when they are intimidated. Yes that is ignorance hiding behind a rock. But then again it is not their fault as we are all meant to be in this altered state of reality. Can you post a link to that article? That sounds interesting. hehe.

• United States
31 May 12
I'll message you with the link since I can't post them of yet. Really, I'm just waiting for the day when I can think something and the computer will make it happen.

• Cebu, Philippines
31 May 12
Yeah we will get to that point in technology. All in due time my friend. This nano thing is a big leap if ever they pull it off. Looking at great possibilities in the future. Finally the holographic display may just sneak out of that too. And of course some of my ideas for a new pointing device without having to have one. But that is reserved for another discussion I will post later. And yes with a rant.


• United States
31 May 12
Pointing device? I gotta hear this one. Whats really messed up is Holo technology has been out for over 2 decades, but they haven't really tried to utilize it, because it was too expensive. I remember the video game that came out. It was called Time Traveler.


• Goa, India
31 May 12
I am not sure it is a revolution : due to the fact that this technology can work only at very low temperatures -- I read that 5° Kelvin was too much

--, if will be possible to use it in the future only for RAM memory. It looks more like a technical exploit than anything else, as the carbon nanotube technology is more promising for RAM, except if this new "atomic" technology can bring a serious acceleration to RAM speed and solve the actual memory wall problem, and I did not read that it was the case. The average person understand enough to technology to know that his car will not work without gas and his computer without electricity. For the rest, he knows that there is breakdown mechanics, repairmen and people working in computer maintenance. He is not stupid, but he should refrain himself to post comments under articles he does not understand. I will add by experience that it is frustrating for an author to be said "too techy to understand", but over time you end up to not worry about it

.

• United States
31 May 12
Hey I'm not asking for the technology to come out tomorrow, but it's good to know scientist are working on these things and really thinking out of the box about them.

• United States
31 May 12
Philly, the day is here when you can think something and the computer will make it happen. It is not just De-javu. Peace Friend!

• United States
31 May 12
I might need to find the little green pill then.

• Japan
31 May 12
Yes, there are many stupid people. But you know what mockery means? Means someone is terrified. There's nothing as cruel as to laugh and mock others, but I read in psychology that it's because the one that is laughing is terrified so they try to look superior or bring others down to ridiculous so they are in a equal level. Now, when you see someone making fun, mockering, you know what's deep inside their soul.

• United States
31 May 12
So what you're saying is we should pity these people, because deep down they feel like insignificant ants. I think I'd rather buy a can of Raid and call it a day.

• United States
31 May 12
I agree Philly, We can not worry about mockery r show any kind of sympathy in this day and age, because MOST people have never been singled out or had the guts to look a little deeper in life to realize the weight that they put on the rest of us. There can only be one (to have worldly peace), and few people are one in the same with the truth of it all. SOMEDAY, they could be networked into the frey I guess, but it will feel like having robots for company...or we will be overcrowded by 7 year old kids who are still "Innocent"

• United States
31 May 12
I think world peace can be obtained once we understand how small and insignificant we are compared to the rest of the universe.


• United States
1 Jun 12
You shouldn't feel that way. You're an okay guy.

• Philippines
31 May 12
I agree with you. Most of them are always complaining.

• United States
1 Jun 12
I hate when people try to make themselves feel more important, by bashing another persons thoughts and actions.

• United States
31 May 12
Maybe not for thier own good, but have faith in God and this world that you partake in will be ok (maybe not the world of someone else though). Nano tech and Psychotropic,psyonic,psychotronic weapons and doctrines, have made this world a little more difficult for some, the chosen few, but I hope there are at least a couple of us who will still continue to believe there is a way out of this scientific,war ladden knowledge mess....I see the light. Do you? I KNOW FOR FACT THAT THEY (sheep.goyim) ARE IN TEHE DARK AS HELL but it does not matter, they feared evil instead of God and chose to mock science and disbelieve everything other than whats been put on a one way track for them.They are brainwashed. That's just the way it is. NOT ALL PEOPLE, but most, are not ignorant, but lacking knowledge rather. STUPID is a way to put it, but UNKNOWING is a nicer way to put it. BLIND best desribes the subject. There is a Hero out there that will make it right, SLay the Dragon,end the war of worlds, what-ever...I Hope I sure as hell will try until I am gone. I will give it my best shot. I am just an old man though... PEACE! PS. If this data storage is true and the Allele (hope I spelled it right) process transfers info from cell to cell even skipping the cells between, then a simple germ going through a blck hole could be in a sense, TIME TRAVEL and it is probably best that everyone is , as you put it, TOO STUPID FOR THER OWN GOOD. Stupid is harsh though, God forgive me/us.

• United States
31 May 12
I know science has gone too far on some occasions. Like creating the atomic bomb, but this is more because people always have to create bigger and better weapons to make themselves feel important. Time travel might not be such a bad thing if we could ensure a simple step back in time would not cause a paradox. I'm one of those believer that believes science and God can co exist. God created man based on his laws of physics. The better we understand those laws the more we know what not to mess with in the future.

• Omagh, Northern Ireland
31 May 12
I was reading a quote online that had been attributed to Einstein.. (I may be paraphrasing a little!) "Anyone can be a Genius...but if you judge a fish on its inability to climb a tree,it's going to go through life being made to feel stupid"...

• United States
31 May 12
It's a shame that people mock what they don't understand. Sometimes you have to be a bit open minded, and life will reward you.

• Malaysia
31 May 12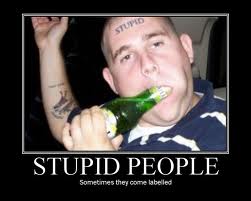 Yes some are ignorant and naive, and some are plain stupid and not knowing they are stupid are the worst time.No shame and proud of their own stupidity, so stupid1 people are scare to tell them that they are stupid.They are usually blinded by greed,lust , jealousy and laziness.These are people who choise to follow the path of stupidity.