Something is Biting Me...

United States
June 2, 2012 10:09pm CST
And I don't know what it is.

It happens all throughout the day, as well as night when I am asleep. I know that it is not bed bugs.

But I cannot figure out what it is. The bites are slightly itchy and leave big red bumps. The bites are occuring all over my body. Even during the day I have been bit yet seen nothing. I cannot figure out for the life of me what it would be. It is too big to be flea bites. Not horrible enough to be a spider and not itchy enugh to be a bedbug.

Have you ever been bitten by a stranger and couldnt figure out what it was? Have you had a similar experience? What did you do
9 responses

• United States
3 Jun 12
It sounds like it could very well be bed bugs. Mosquitoes are a likely suspect as well. You won't notice bed bugs till they become full grown adults. The babies are nearly invisible and will feed off you without too much irritation. Mosquitoes tend to attack during the night time, but id you are in mosquito territory you'll get a bunch of bumps. If the bumps look like a rash then you might even be dealing with scabies. I recommend spraying cedar oil all through your house and get some repellant.

• United States
3 Jun 12
I am almost certain it isnt mosquitos. I have dealt with bedbugs before, unfortuantly, and if it is bedbugs they aretaking on a different MO than what I had experienced before. These biets comes all through the day, and they do not itch like what I have known a bedbug to itch, however they do itch a bit. I want to spray some sort of spray but if I do not know what it is I am trying toget rid of I do not know what to spray! What will cedar oil do?

• United States
3 Jun 12
Cedar oil seeps in through the exoskeleton of most insects and suffocates them. It's effective on almost every type of insect including roaches. What ever it is will die, and whats better is it will kill any eggs laid by the insect as well. It's all natural and harmless against human. I actually stayed indoors while an exterminator bombed one of the stores I use to work for. It smells like your in a forest full of fragrant trees. Although I don't recommend staying in doors cause it is a little overwhelming.


• United States
3 Jun 12
I've woken up with bug-bites, but I usually know what the bug was. I've never had the misfortune of being tortured by fleas or bedbugs, but mosquitos absolutely LOVE ME. I've woken up to find the lone mosquito in my room found me in the night and bit me a few times. Not sure what bug is bothering you. Maybe it's time to Raid the sheets? Of course then they'd probably need to be washed before they could be slept in, which also might be good to get rid of the darn buggies. How about ants? You seen any of them?

• United States
3 Jun 12
Lol

I know what you mean about the mosquitose! They love me, too and keep me inside the house most of the nights. I have washed the entire house, including the slip covers on my couch and same results. It isnt ants...And I have never seen anything on me when I have been bit, which make it even more mysterous.


• United States
3 Jun 12
Sounds like you've been pretty througho and have yet to see a suspected culprit. That must be frustrating. Are the bItes big and itchy or are they smaller and have a rash/hives like appearance?

• United States
11 Jun 12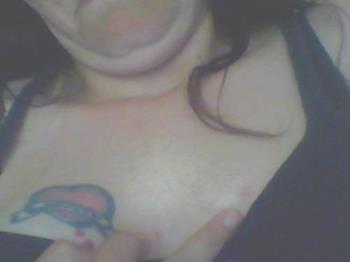 I am uploading a picture (sorry this is the best one i could get) The bites are where my fingers are...the two red spots... they aren't small...but they aren't big either and nope, still no culprit. I am wondering if it is dust mites or something....


• Bhubaneswar, India
3 Jun 12
ANTS! They are the ones doing all that to you for sure. I have been fighting them since a long time now... the small red ones which are the ones that bite, dont seem to show on the bedsheets unless you have a plain white bedsheet. Alternatively, these signs can also be some kind of allergy. First check out if these are ants and if not, consult your doctors... (now, this is going to be a costly affair

)

• United States
11 Jun 12
Nah, noy ants. I can remember being bitten by ants when I was younger...They have a bite that stings more than itches...and these itch...My bed sheets are white and I have seen NOTHING! Though just a moment ago i seen this tiniest little black thing crawling across my laptop screen. Had he not been moving I would not have noticed it and once i touched the screen the thing was like demolished it was no bigger than a speck of dirt...

I would think it was an allergy bit they are biting my son, too. And, it happens on my couch, in the bed just walking through the house! I am not being bitten in the lst couple of days but I do need to go to the doctor. I am not even sure they will know what it is though but always worth a shot. A Mylotter above recommended cedar oil so I might also try that. Thanks for the cmment!


• United States
3 Jun 12
Since it is all over your body, is it possible they changed the formula of your laundry soap and you are allergic? Do you get it on your face as well? Other than that I would say it was gnats. Some places they are called "no see ums"

• United States
3 Jun 12
I think that I said it wrong in my post... The bites aren't all over my body, I have bites on various parts of my body, such as my legs, arms back and chest. I have used both Tide and Gain since it began so I do not think that is it. So far there hasn't been anything on my face. I did not know that gnats bit! I will definitly go see what kind of images I can pull up on that. it really resembles a bedbug bite...but it isn't bef bugs. I dont know bt guess I need to head o n to the doctor. it is biting my son, too.

• United States
3 Jun 12
hi erikmama, NO I have never been bitten by a stranger but I have been bitten by misquito during the day and/or night..they do get into the house somtimes... It wasn't a nice feeling..but it was a nice bite...I just treated it s such and went on with my life....

• Philippines
3 Jun 12
hi erikmama. i just want to know if you have pets? because pets can have lies that bite and leave big red bumps. you have also mentioned that it's all over your body, what does the bumps look like? is it like a red map? because this kind of rashes is different.

• United States
3 Jun 12

No, no pets, but the people that lived here before me had like 8 cats from what I gather. I dont have it all over my body, I think that I wrote it wrong but they are biting me on all areas. I have them on my arms, back, chest, and legs. I have yet to see anything and I dont think that it is fleas. I have been here for 5 months.

Hi!

• United States
12 Jun 12
Personally I hope you have considered being checked out by a Doctor, and have just to be on the safe side washed all your bedding and such. It could be a staph infection or allergic reaction of some kind, or just something you cannot see. But I know myself sometimes it happens due to being Diabetic so I always am careful to watch when they are happening for sure.

• China
9 Jun 12
It was neither bedbug nor flea nor spider, then what type of insect was it? Isn't it mosquito? There is another insect called midge or biting midge,a kind of brown or black insect smaller than the mosquito and the female sucks the blood of men or animals.Mind you,sometimes ant may bite people.